Tigers' Bryan Holaday calls shot, hits first career homer
Tigers catcher Bryan Holaday hit his first major-league homer on Thursday, and that's where the story begins.
More MLB: Scoreboard | Standings | Probable Pitchers | Sortable Stats | Odds
In the course of the Tigers' 7-6 loss to the Twins on Thursday, rookie Bryan Holaday did this ...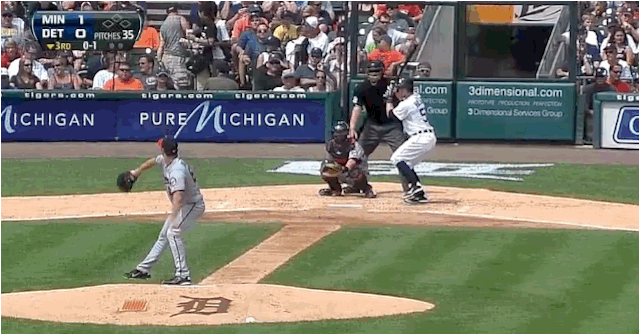 (MLB video of the homer, which isn't embeddable, can be found here.)
That, friends and observers, was Mr. Holaday's first major-league home run. That's pretty notable in and of itself, but now regard this layer of intrigue from MLive.com's Gillian Van Stratt: 
Holaday watched Andrew Albers' first pitch zip by. 83 miles per hour sinker. Strike one. Then, on the second pitch, just as he had predicted, he hit his first major league career home run. And it landed just a few rows behind the bullpen.

"You know what's tripped out?," Torii Hunter said following the Tigers 7-6 loss to the Minnesota Twins. "He said, before he went up there, he told me, 'Tell the bullpen to wake up, because something's coming out there.'

"I swear to you. I swear it. He did. And then he hit it and I was like, 'Whoa.'"
Torii Hunter tells no tales, one presumes.
With that said, shame on Holaday for hitting it over the bullpen and thus rendering the particulars of his called shot a bit inaccurate.
The Grapefruit League and Cactus League seasons started on Friday

Data will be collected and then used to determine whether humidors are necessary in 2019

Spring training play began on Friday, and the Stoneman Douglas tragedy was on the mind of MLB...
Baseball players forced to take pictures usually lead to fun for all of us

One of the most celebrated programs in baseball is looking to continue its run

A closer look at the teams in the Cactus League and Grapefruit League