Tigers' Dombrowski gets July deals done, and results show in October
Year after year, the Tigers get a significant July deal done. GM Dave Dombrowski's persistence and boldness pay off.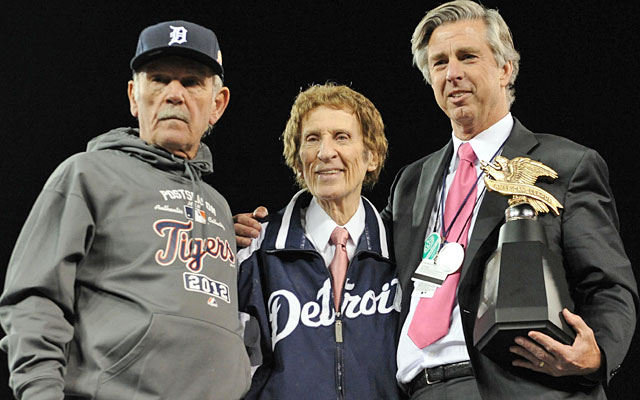 The Tigers have been in the ALCS two straight years, and were in the World Series last year.
The Pirates haven't had a winning record since 1992.
The Tigers made two big trades this week, and busily triws to make another one right up until Wednesday's 4 p.m. ET non-waiver deadline approached.
The Pirates? The word is they didn't even come close.
As one rival executive said Wednesday morning, there may be no team in baseball that needed a deadline deal more than the Pirates, even though they entered the day with baseball's best record. There may be no general manager in baseball who more needs to learn from what Dave Dombrowski has done.
Perhaps no GM in the game has been more aggressive than Dombrowski at the July deadline. Perhaps no GM has more consistently addressed his team's midseason needs.
People around the game will debate his decision to trade Avisail Garcia and Brayan Villareal for Jose Iglesias, but the sentiment Wednesday seemed to be heavily in favor of what the Tigers had done.
Garcia could turn into a star, but the Tigers needed a young shortstop now and into the future, particularly with a Biogenesis suspension looming for Jhonny Peralta.
The Tigers' public position had been that they didn't need to make a deal. Privately, Dombrowski continued to work the phones. He knew that not only were there very few available shortstops now, but that there likely won't be any more available this winter.
The Tigers, according to sources, repeatedly engaged the Rangers in an attempt to get Jurickson Profar. But even with the need for an outfield bat, the Rangers weren't interested in moving Profar for Garcia (and few would blame them). Dombrowski realized he just didn't have enough for Profar, and likely wouldn't this winter, either.
Tigers scouts loved Iglesias. They believe he will hit, and also think that with Miguel Cabrera at third base, having an outstanding defender at short is a huge plus.
Dombrowski had let the Red Sox know repeatedly that he had interest in Iglesias, but no deal seemed possible until the Red Sox and White Sox ran into trouble coming up with a match on Jake Peavy. The White Sox already have Alexei Ramirez, and their scouts didn't value Iglesias nearly as highly as the Tigers scouts did.
But because Dombrowski had stayed on the Iglesias trail, the Tigers were a natural to be brought in as the third team in the deal. The Red Sox got the top starter they needed, and the White Sox got a group of prospects topped by Garcia.
And the Tigers got their shortstop, a day after they got the late-inning reliever they sought in a deal for Jose Veras.
Dombrowski's willingness to be bold in parting with a top prospect paid off, as did his persistence in continuing to pursue Iglesias even when it seemed there was no chance to get him.
We shouldn't be surprised. The same thing happened last year, when the Tigers got Anibal Sanchez and Omar Infante at a time when many other clubs didn't even realize the Marlins were willing to trade them.
The same thing happened in 2011, when Dombrowski kept calling the Mariners on Doug Fister, even when they kept saying no.
Dombrowski has a history with these deadline deals, and it's not a coincidence that his team has a history of playing in October.
It's a history that some other teams might think about trying to emulate.
Gallardo spent the first eight years of his career in Milwaukee

MLB revenues are at a record high right now, but teams aren't spending it on players

Chicago added Tyler Chatwood earlier this offseason but might not be done adding to the ro...
The Dodgers and Braves pulled off a whopper on Saturday

Sabathia will reportedly spend a 10th season in the Bronx

Fowler suffered a knee injury at Chicago's Guaranteed Rate Field