Tigers drop Jackson from leadoff spot for ALCS Game 4
Tigers manager Jim Leyland dropped the struggling Austin Jackson from the leadoff spot for Game 4, and moved everyone else up a spot.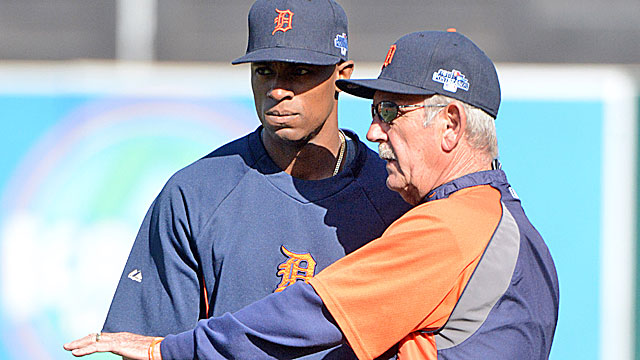 DETROIT -- After watching leadoff hitter Austin Jackson struggle through the first eight games of the playoffs, Tigers manager Jim Leyland understood a change was made.
For Wednesday's Game 4, he's going without a leadoff hitter.
Not literally, but Leyland dropped Jackson from first to eighth in his batting order. And rather than find someone new to lead off, Leyland simply moved the rest of his order up a spot each.
Torii Hunter will lead off, with Miguel Cabrera batting second, Prince Fielder third and Victor Martinez fourth.
"I wanted to get him away from the magnitude of the leadoff spot and relax him," Leyland said. "There's not much speed up there [at the top], but the speed we had wasn't getting on base."
Jackson has been on base just five times in 35 plate appearances in the postseason, and has scored just one run. He has 18 strikeouts in 33 at-bats.
His failures have helped slow the entire Tiger offense. Cabrera has had just two postseason at-bats with a runner in scoring position, one in the first inning of Game 1 against Oakland, and the other in the eighth inning of Game 3 vs. the Red Sox. 
"I think everyone would agree we have to try something," Leyland said. "We've got to try something. We've got to get on the board somehow. You can't really change players. You've got to be a little creative with what we've got. That's what I tried to do.
"Maybe a little something to churn up the butter a little."
The Tigers have scored just six runs in the first three games against the Red Sox (Boston has only seven), and just 23 in their first eight postseason games. Jackson is hardly the only issue, but his inability to get on base has been a major problem.
Leyland said Tuesday night that he could play Don Kelly in center field instead of Jackson, but decided against it in part because Jackson has good career numbers against Red Sox starter Jake Peavy (.321 batting average, .367 on-base percentage in 30 career plate appearances).
Hunter has batted leadoff 15 times in his career, but the last time was in 1999, when he was a 23-year-old kid playing for the Twins. Cabrera has hit second just twice, both times in 2004 with the Marlins.
Gallardo spent the first eight years of his career in Milwaukee

MLB revenues are at a record high right now, but teams aren't spending it on players

Chicago added Tyler Chatwood earlier this offseason but might not be done adding to the ro...
The Dodgers and Braves pulled off a whopper on Saturday

Sabathia will reportedly spend a 10th season in the Bronx

Fowler suffered a knee injury at Chicago's Guaranteed Rate Field