Tigers have issues, but they also have another Game 5 vs. A's
It's easy to talk about what's wrong with the Tigers, but after Tuesday's Game 4 win, they find themselves in Game 5 against the A's for a second straight year.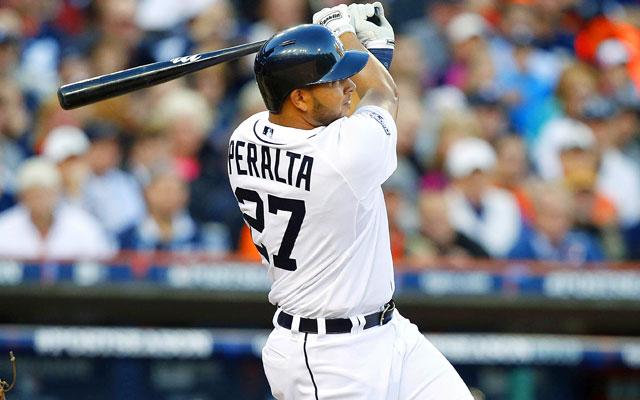 DETROIT -- Their leadoff hitter doesn't get on base. Their best hitter in baseball is clearly hampered by injury. Their right fielder has a sore shoulder and can barely swing. Their $214 million first baseman hasn't driven in a run in two weeks.
And the Tigers are still going.
Still going, for at least one more game, a Game 5 of this crazy Division Series with the A's, Thursday night in Oakland. And the Tigers have Justin Verlander ready to pitch.
How bad is that?
"I think I said at the beginning of the series this would be a tough one," Tigers catcher Alex Avila said, after Tuesday's wild 8-6 Tigers win in Game 4. "It's been tough, but fun to watch."
Game 4 was great to watch (although certainly more fun for the Tigers). Game 5 sets up to be great, too, whether the A's send Bartolo Colon or Sonny Gray out to start against Verlander.
A's manager Bob Melvin wouldn't commit to either one on Tuesday.
"I haven't decided yet," he said.
Colon lost to the Tigers in Game 1, but followed a three-run first with five shutout innings. Gray was brilliant in Game 2.
Colon is 40 years old, but he has been the A's ace all year. Gray is 23, but has a 1.85 ERA over his last seven starts.
Colon hasn't won a game over the Tigers in 10 years, going 0-8 in 14 starts for three different teams. But he pitched well in many of those starts, including all three this year.
"We haven't decided anything yet," Melvin said.
The Tigers have issues, but the Tigers aren't done. The A's have questions, but they're not done, either.
And now here they are, headed for Game 5 in Oakland for a second straight October. The Tigers won last year, because Verlander threw a four-hit shutout.
The A's looked stronger this year, and with Miguel Cabrera hurting and Austin Jackson struggling, the Tigers looked weaker. But here we are again, with the A's needing to get past Verlander to advance, and the Tigers hoping Verlander can help them forget all that's not working (last year, the bullpen; this year, the offense).
The Tigers will find encouragement from their Game 4 win on Tuesday, and especially from their eight runs. They'll hope that Jackson's shattered-bat single in the seventh inning, the one that gave the Tigers their first lead since Game 1, will help him shake a slump that has led their offense to stagnate.
They'll hope that Cabrera can feel good enough to drive the ball (he did hit home runs to center field in batting practice Tuesday), that Price Fielder can finally perform (he did have a single to start their three-run game-tying rally), and that Torii Hunter's left shoulder isn't so sore that he can't contribute.
The A's, who felt they might have beaten the Tigers last year had Colon not been suspended for failing a drug test, could hope that Colon is the difference for them this time around. They'll hope that their home crowd (louder than Pittsburgh's, they insist) will help carry them to what would be just their second postseason series win in the Billy Beane era.
The Tigers' home crowd wasn't much of a factor the last two days, in part because people around here seem to have become somewhat jaded. The seats were filled, but for much of Games 3 and 4, the fans were subdued.
They did come alive as the game went on, after Jhonny Peralta tied it with his three-run home run in the fifth, after Victor Martinez tied it again with a leadoff home run in the seventh, and after Jackson finally got his second hit of the series (he was 0 for 13 with 10 strikeouts since the first inning of Game 1).
The A's aren't without offensive issues of their own. Their MVP candidate, Josh Donaldson, is without an extra-base hit or RBI in the series. Until Yoenis Cespedes' two-run single off Joaquin Benoit in the ninth inning Tuesday, the A's had actually been outscored for the series, 14-13.
But none of that really matters right now, does it? What matters is that both of these teams, who have produced two memorable five-game series in two years, get one more chance to determine who goes on to the American League Championship Series.
From the rebuilding Marlins to the aggressive Angels, here's how the most active teams made...

Plenty of other teams are involved, of course

Where might the Orioles third baseman land?
Kinsler will slot in at second base for the Angels

The Marlins got a better return for Ozuna than Stanton or Gordon

The two teams are going about things in very different ways