Tigers have troubles; it's time to go get Drew (or Didi) plus Schierholtz
Detroit has suffered injury blows in back-to-back days during a difficult spring, and must now address real issues with worthwhile solutions. One plus: Drew, the best shortstop answer available, is believed willing to come on a one-year deal.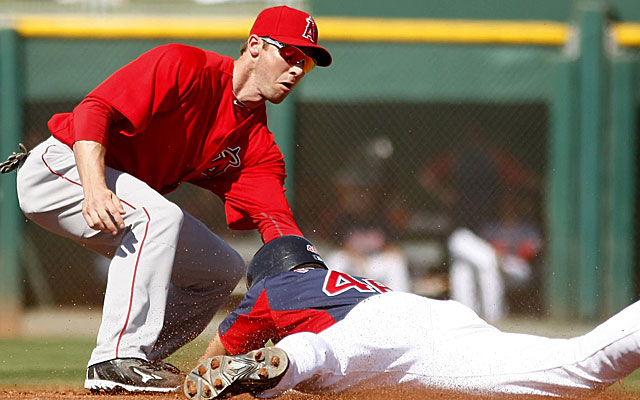 MORE: Spring Training | Scoreboard | Team previews | Jon Heyman
LAKE BUENA VISTA, Fla. -- The Detroit Tigers acquired journeyman shortstop Andrew Romine for a spare bullpen piece, and got an enthusiastic reaction. From Romine, anyway.
"I'm pumped," Romine told Angels writers upon hearing of his trade to Detroit, for lefty Jose Alvarez .
And why shouldn't he be? He's going to a team with championship aspirations, and he's going to start, at least half the games anyway, as Romine is being penciled in split the position with the winner of the Danny Worth- Hernan Perez battle that's currently going on in camp.
As for the Tigers, Romine won't hurt the situation, but he's not likely the answer. The Tigers are a great organization and great team on an impressive several-year run, but ultimately, they probably need to find some real solutions to their sudden issues.
"It'll be all right, boys," Jim Leyland, the iconic former Tigers manager, declared at lunch Friday in hopes to cheer up the troops, down after a second straight day to announce a vital player lost to injury.
Hard-throwing reliever Bruce Rondon will have Tommy John surgery, and is out for the year, the Tigers said Friday, only one day after acknowledging that slick-fielding shortstop Jose Iglesias was more likely than not lost for 2014 with bilateral (one in each leg) shin fractures.
Tigers clean-living manager Brad Ausmus, originally perceived to be the luckiest rookie skipper in baseball history to take over a team ready not only to win but to dominate, declared with a smile to Tigers writers, in reference to the situation and deference to Leyland, "I just went out and bought my first pack of Marlboros."
Ausmus clarified that he was only kidding about smoking, but he well understands this is no laughing matter. "It's not ideal for us. We certainly didn't draw it up this way," Ausmus said. "(But) ... life can give you lemons."
This is a team that shouldn't have to just suck on those lemons. This is a team in position to answer its serious questions now with a couple bold moves.
This isn't a team known for acquiring 4-A shortstops and perceiving them as a real upgrade.
This is the team that spent $214 million on Prince Fielder , a team that has an M.O. to win and not to cut corners, a team that acquired Miguel Cabrera , Max Scherzer and Austin Jackson all via trades, and also a team that is guaranteed only one more year with both Scherzer and Justin Verlander together combining to form the most dynamic one-two pitching punch in baseball.
This is a team that wants to win now, and needs to act now.
The Tigers have an issue in left field after the loss of Andy Dirks , and they have an even bigger issue at shortstop with Iglesias going down. This team should take a close look at free agent shortstop Stephen Drew , and perhaps outfielder Nate Schierholtz . Both players seem to be under some consideration by the Tigers, and they should be.
And while a person familiar with the Tigers' thinking characterized the chances to sign Drew as "doubtful" the other day, that could change as the need becomes more obvious. They talked up Romine as a good defender with the recommendation of new Tigers coach Omar Vizquel, but with hit-first rookie Nick Castellanos , an impressive slugging type, manning third base, they are very likely going to need a surer thing at shortstop.
Fortune has not been kind to the Tigers lately. But as luck would have it, not only is Drew available, he is believed willing to come to the Tigers on a one-year deal.
Drew, fresh off a World Series victory as a Red Sox, would like to join the Tigers, with the one probable small caveat being that the signing would occur the day after opening day so he wouldn't be subjected to the dreaded qualifying offer again next winter.
If the Tigers were to sign Drew, he would actually allow them to maintain their overall shortstop level from a year ago, when the departed Jhonny Peralta had a 3.6 WAR for them as their main shortstop. Drew's WAR was a comparable 3.4 last year. In fact, five of the six division winners had three-win shortstops, with the lone exception being the Cardinals, who went out and got Peralta. (Iglesias incidentally had a 1.8 WAR.)
The Cardinals spent $53 million on Peralta, so while the Tigers would have to forfeit a late first-round draft choice should they sign Drew, he'd come for something much more resembling a bargain.
Drew fits the Tigers perfectly because he's a reliable defender who also happens to bat left-handed, another sudden need with the loss of Dirks (back surgery). If not Drew, then Didi Gregorius , a superb defender who also bats left-handed, would work -- though that might be more a difficult proposition for Detroit because the Tigers aren't necessarily well-stocked with viable starting pitching prospects at the upper levels, which is what Arizona seeks.
Left field is a problem, too, now. Rajai Davis is expected be back playing in a few days (he's due back from hamstring trouble Sunday or Monday), but he wasn't expected to be anything close to the full-time left fielder. He isn't particularly adept at hitting right-handed pitching (which represents about 75 percent of the league), as evidenced by his .228 batting average, .273 on-base percentage and .594 OPS vs. righties last year. Which is why Ausmus said they may go with the "mix and match" plan in left field, just like at shortstop.
That's where Schierholtz could come in. As Bruce Levine of CBS Chicago reports, the Tigers have been eying Schierholtz, a solid ballpalyer and lefthanded hitter who'd make a nice platoon tandem with Davis. "Schierholtz fits the Tigers perfectly," one rival scout said.
GM Dave Dombrowski has been looking around at both spots while suggesting the team is most likely to go with internal options at shortstop and the bullpen. That may be true, but that's also what a good and experienced horse trader says. Dombrowski is one of the best. And you can see the experience on the long yellow notepads he totes around, '80s style. (He's actually been doing it that way since the late '80s since he can best see all his notes at once on the old-style notepads, he explained.)
Dombrowski is one of the best GMs in baseball, if not the best, and Mike Ilitch may be the best owner, too. He is a guy who doesn't ever use a mid-market, mid-revenue excuse. In Detroit, he goes for it year after year, the balance sheet be damned.
But the Tigers, perceived as AL favorites again, aren't quite the team they were last year. At least they don't appear to be at the moment.
The estimable old hand Joe Nathan shores up their closing situation. But they are weaker at shortstop and in the outfield, the Rondon loss stings, and it's obviously an an unknown whether Drew Smyly can replicate what Doug Fister did and whether Castellanos and Ian Kinsler can make up for the losses of Fielder and Omar Infante .
They've taken two direct hits in two days, and that hurts even a good and deep team like the Tigers. It's time to act now to re-establish themselves as the power they have the potential to be.
From 1 to 25, the L.A. Dodgers have the squad to overcome the pitfalls of October baseball

After Tuesday night's win over the Cubs, the Dodgers are now 6-0 in the 2017 playoffs

Los Angeles beat Chicago once more in Game 3 of the NLCS in Chicago
The 2017 World Series begins Oct. 24

The Astros will need Dallas Keuchel and Justin Verlander to take the pressure off in Games...

Judge and Sanchez played huge roles in the Game 4 comeback