Tigers helped Red Sox, Red Sox helped Tigers, and now they meet
The Tigers and Red Sox got together in a fascinating three-team deal in July. Now that deal has helped both teams get to the ALCS.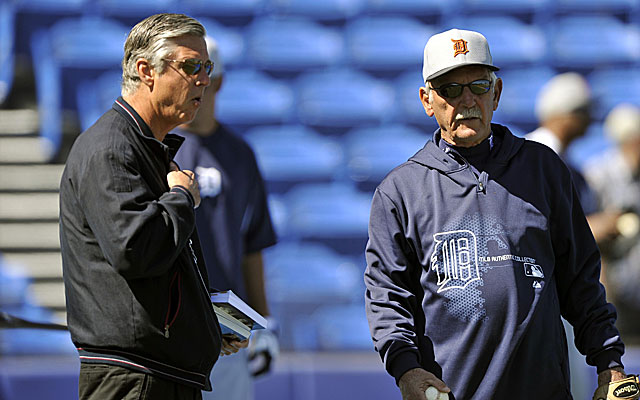 Without the Tigers, the Red Sox don't get Jake Peavy. Without the Red Sox, the Tigers don't get Jose Iglesias.
Do the Red Sox get to the American League Championship Series without Peavy? Perhaps, but he did start the clinching game against the Rays.
Do the Tigers get to the ALCS without Iglesias? Perhaps, but only if they could have found another answer at shortstop during Jhonny Peralta's 50-game suspension.
No matter what, the most fascinating trade of July has become a fascinating factor in October. No matter what, another three-team Dave Dombrowski trade has a chance to work out all three ways.
Dombrowski is one of the best and most successful general managers in the game, in part because instead of insisting on "winning" every trade, he simply believes in making deals that can make his team better. It's not the same thing.
"I don't know where the idea came from that you can get talent without giving up talent," Dombrowski likes to say.
So even though he liked outfielder Avisail Garcia, he realized that the 2013 Tigers needed Iglesias much more.
Red Sox general manager Ben Cherington had the same plan. Even though he liked Iglesias, he understood that the 2013 Sox needed Peavy more.
The Red Sox weren't able to make a two-team trade for Peavy, because the White Sox weren't interested in Iglesias. The White Sox were interested in Garcia.
Normally in July, a team that expects to win isn't going to be terribly interested in helping another contender, let alone one in the same league. But this trade worked for everyone, and it got done.
And now the Tigers play the Red Sox in the ALCS ... just as they played the Yankees in last year's ALCS, with Austin Jackson in center field for Detroit and Curtis Granderson in center field for New York.
That was Dombrowski's other successful three-team deal. And even though Granderson got hurt this year and can now be a free agent, and even though Jackson struck out in almost every at-bat against the A's this week, and even though the Diamondbacks eventually felt a need to dump Ian Kennedy on the Padres, that one worked out in some sense for all three teams, too.
The Tigers got Max Scherzer in that trade, along with Jackson and Phil Coke. They've been to the ALCS three times since then, and to the World Series once.
The Yankees got two 40-homer seasons out of Granderson, and went to the ALCS twice with him in center field.
The Diamondbacks got a 21-win season out of Kennedy, and rode him to the playoffs.
So there's the lesson. Do a three-team deal with Dave Dombrowski, and you might end up in the ALCS.
Just don't be surprised if he gets there, too.
The two NL Central rivals opened a four-game series at Miller Park on Thursday night

Thursday brings us plenty of stretch-drive MLB action, so keep it right here

The ballparks in Cincinnati, San Diego and Seattle will have expanded netting in place by Opening...
Mondesi spent six years as the mayor of San Cristobal in the Dominican Republic after reti...

The veteran skipper has been Mets manager since the start of the 2011 season

The Baltimore third baseman is eligible for free agency following the 2018 season