Tigers host Zubazpalooza II on Monday
Prince Fielder, noted Zubaz enthusiast, will experience his first Zubazpalooza on Monday, as the Tigers celebrate the comfortable stripped pants.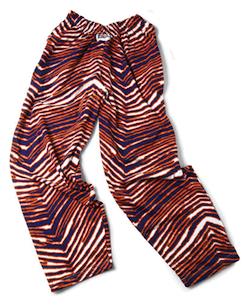 For $30 a a bit of planning, these beautiful Zubaz pants could have been yours. (Tigers.com)
I'm so disappointed in myself I can't tell you -- I've failed not only you the reader, but myself. Monday night the Tigers are hosting Zubazpalooza II at Comerica Park.

For the low, low price of $30, fans could purchase a special package for the game against the Yankees that includes not only a Mezzanine ticket, but also a pair of Tiger-colored Zubaz pants. Those packages sold out, but you better believe I'll be on the lookout for Zubazpalooza III and a road trip will be in order.

As the Roman numeral suggests, this is the second Zubazpalooza, with the team holding an event celebrating the pants last season. This year it may be extra special because this will be Prince FIelder's first Zubazpalooza as an employee of the Tigers. When his father was with the Tigers, a much younger Fielder famously sported the striped pants for a photo that was sent around the internets after his signing.


JACKPOT! Chubby, very young Prince Fielder throws a baseball during Tigers batting practice. And he's wearing Zubaz: twitter.com/si_vault/statu…

— Andy Gray (@si_vault) January 24, 2012

For more baseball news, rumors and analysis, follow @EyeOnBaseball on Twitter, subscribe to the RSS feed and "like" us on Facebook.
Rasmus essentially walked away from baseball during last season

Forrest Whitley is the Astros' top pitching prospect and set to work in Double-A this year

Jonah Keri talks to Orioles manager Buck Showalter
Contreras said on Tuesday that he's willing to pay the price

And their offseason decisions prove it

Hosmer recently signed an eight-year contract with San Diego, and his usual No. 35 was spoken...