Tigers in the market for a closer; who could be available?
The Tigers are a closer short of being baseball's most dangerous team, so let's look at some potential bullpen trade targets.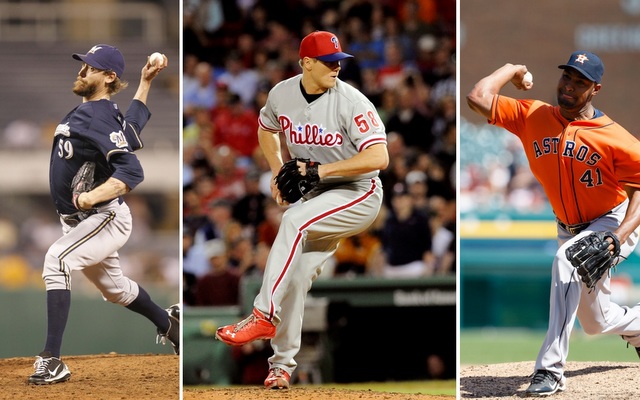 More MLB: Scoreboard | Standings | Probable Pitchers | Sortable Stats | Odds
Looking at just rotation-lineup combinations, there might not be a better team in baseball than the Detroit Tigers . They average 5.02 runs scored per game, the fourth-highest mark in baseball and second-highest in the AL. Their rotation has a 9.5 K/9 and 3.36 ERA, the best and third-best rates in the game. Detroit's offense and starting staff are dynamite.
And then there's a bullpen. Manager Jim Leyland's relief corps ranks in the middle of the pack with a 3.93 ERA and 1.31 WHIP, and it is clearly the team's weakness. Closer Jose Valverde , who signed a minor league contract in early April and resurfaced later that month, has blown two of his last five and three of his last nine save chances. He's also surrendered five homers in 18 1/3 innings.
As Danny Knobler of CBSSports.com reported a few days ago, the Tigers have "been looking hard" for bullpen help in recent weeks. Drew Smyly (2.09 ERA) and Joaquin Benoit (1.88 ERA) have been bright spots, but it's clear the Tigers need to upgrade their bullpen if they want to improve their chances of a World Series title. Given how much money they've spent and how many prospects they've traded to improve the rotation and lineup, it's safe to say they're very serious about winning.
Here are five closers who could wind up on the trade market this summer and give the Tigers some much-needed bullpen help. They're ranked Plan A (the best!) through Plan F (the worst).
Plan A: Jonathan Papelbon , Philadelphia Phillies
The Phillies are spinning their wheels in the middle of the NL East pack at 33-36, and they've lost six of their last eight games. The 32-year-old Papelbon is quietly having a fantastic season, going a perfect 13 for 13 in save chances while posting a 1.46 ERA and 0.69 WHIP in 24 2/3 innings. His strikeout rate is way down (career-low 8.4 K/9) and he's owed a ton of money (roughly $31 million through 2015), but there is unlikely to be a better reliever available via trade this summer. For a team as all-in as the Tigers, adding an established elite closer with a World Series ring and big market chops like Papelbon could be the move that puts them over the top.
Plan B: John Axford , Milwaukee Brewers
Axford, 30, lost his closer's job within the first two weeks of the season after allowing nine runs in his first 3 1/3 innings of the year. Since then, the right-hander has pitched to a 2.10 ERA and 1.36 WHIP with a 9.8 K/9 in his last 25 2/3 innings. Axford will earn $5 million this year, and his salary will only go up as an arbitration-eligible player in 2014, 2015 and 2016. The small market and struggling Brewers could better invest that money elsewhere now that Jim Henderson has settled in as their ninth-inning man. Axford has some blow-up potential, but when he's on, he's one of the best relievers in the game.
Plan C: Steve Cishek , Miami Marlins
The Marlins are impossibly bad. Like worse than the Houston Astros and on pace to go 48-114 bad. The 26-year-old Cishek is their seldom-used closer and one of their more tradable commodities even though they've insisted he isn't on the market. He's gone 8 for 10 in save chances with a 1.18 WHIP and 8.0 K/9 in 28 innings this year after going 15 for 19 in save opportunities with a 2.69 ERA and 9.6 K/9 in 63 2/3 innings last season. Cishek will remain under team control through 2017 as an arbitration-eligible player, and while he doesn't have the track record of Papelbon or Axford, he showed last year he can be just as effective.
Plan D: Jose Veras , Astros
In his first year as a closer, the 32-year-old Veras has gone 13 for 15 in save chances with career-bests in WHIP (1.10), BB/9 (3.9) and K/9 (10.8). He owns a 3.60 ERA in 30 innings. Veras, who is signed for $3.25 million this year plus a club option for 2014 at the same salary, has less closing experience than Cishek but more big league experience overall. The Tigers love hard throwers and that describes this right-hander, who averages 93.2 mph with his fastball according to PitchFX. I think I'm underselling Veras as Plan D, so let's call him and Cishek plans C1 and C2.
Plan F: Carlos Marmol , Chicago Cubs
Marmol, 30, is the "break glass in case of emergency" guy. The Cubs are paying him $9.8 million this year, and they would trade him today if someone made a reasonable offer, with a reasonable offer being a warm body and salary relief. Marmol has posted career-worsts with a 4.78 ERA, 1.60 WHIP and 10.6 K/9 in 26 1/3 innings this year while saving two games. He's lost the closer's job to various teammates over the last 14 months or so, and it's been three seasons since he was last truly dominant. Yes, Marmol has closing experience, but the bad outweights the good. If the Tigers get desperate, very desperate, they could turn here.