Tigers intend to pick up Peralta's $6 million option after his brilliant postseason
The Tigers have concern about the range on the left side of their infield but Peralta's play in October has convinced them that his $6-million option needs to be exercised.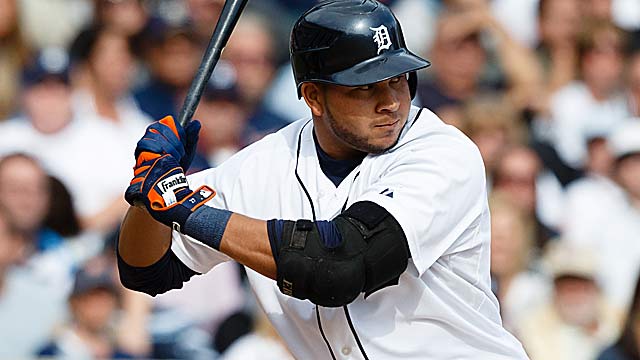 After batting .239 in the regular season, Jhonny Peralta hit .389 in the ALCS against the Yankees.
(US Presswire)
SAN FRANCISCO -- For a while, it seemed like there was a chance the Tigers might not pick up shortstop Jhonny Peralta's $6 million option. But after Peralta's brilliant postseason, his option has become a no-brainer to exercise. In fact, word now is that they plan to do just that.
Peralta's option is seen now as "reasonable'' by the Tigers person in recent days, according to someone familiar with their thinking, and indeed, it does seem so now.
Peralta hit .389 in the ALCS sweep over the Yankees, and he played brilliant defense, as well. He added a late two-run home run in the 8-3 defeat by the Giants in Game 1 of the World Series.
Peralta hit just .239 in the regular season, but the real and understandable worry on the Tigers' part has been whether it might make sense to have a shortstop with greater range now that the surehanded but range-challenged Miguel Cabrera is their third baseman. But while there is still concern about that, Tigers people still view Peralta as an asset.
Heading into the postseason though, there seemed to be considerable question whether Detroit would pick up the option, and some within the organization appeared to favor the $500,000 buyout. But that's a tough case to make now.
The free-agent shortstop market doesn't offer overwhelming alternatives, and the Tigers appear to have no interest in the Blue Jays' Yunel Escobar, who could be had in trade. Optimally, they would love to have a shortstop with tremendous range, so there's a chance they could still view the market after picking up the option. But there's no reason not to pick up Peralta's option now.
Could catcher J.T. Realmuto be the next Miami player to be traded?

If the slow-play for Martinez, Hosmer and Arrieta sounds familiar, it should

The Nats will host the All-Star Game in 2018
The Orioles are looking to trade Machado heading into his walk year

The Cardinals have been linked for a while to the Baltimore star

Gallardo spent the first eight years of his career in Milwaukee