Tigers' Leyland believes in closers, but also in 100 mph fastballs
The Tigers made their decision, and they're sticking to it. They really have little choice now, because if 22-year-old rookie Bruce Rondon can't handle the closer role, the Tigers left themselves with few other good options. It was an interesting decision for a "win now" team, one that could determine whether they do indeed win.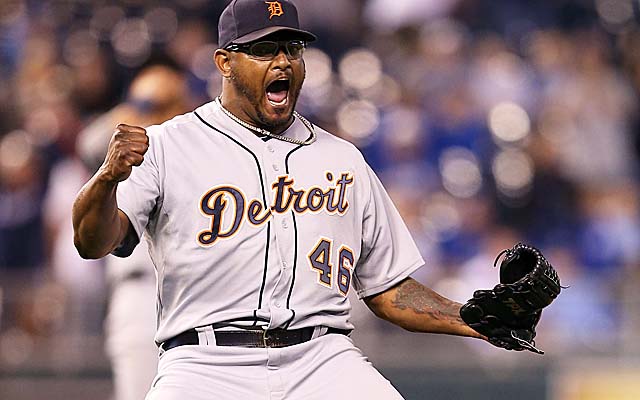 The Tigers let Valverde go after a postseason meltdown in 2012, a year after he led the league in saves. (Getty)
LAKELAND, Fla. -- The Tigers made their decision, and they stuck to it.
They don't regret it, not one bit.
Not yet, anyway.
They allowed Jose Valverde to leave as a free agent. They really had no other choice after his postseason collapse.
They didn't sign or trade for anyone to replace him. They did have a choice about that.
They stuck to the decision to leave the closer job open for Bruce Rondon, the hard-throwing 22-year-old who began last season in Class A and has yet to throw a major-league pitch. They insist they're not just going to hand the job to him (manager Jim Leyland even said Monday he has "no idea who would close on opening day"), but it's also clear that on one of baseball's most "win now" teams, the easiest way this season could go wrong is if Rondon can't handle the job.
Leyland said Monday he has other options to close, but he also admitted he's not sure any of those other options (Octavio Dotel, Joaquin Benoit or Phil Coke) would work as a full-time closer. And he said he much, much prefers to have a full-time closer, pointing to recent World Series champions who relied on dominant closers.
"Some people don't believe in closers, but Jim Leyland does," he said. "I'm a big believer in closers. Look at (Brad) Lidge with the Phillies (in 2008). Look at (Mariano) Rivera, (Jonathan) Papelbon, even back to (Troy) Percival with the (2002) Angels. Those teams that win, most of them have closers."
The Tigers are supposed to win. And yet, they're prepared to head into the season with a closer who has two saves above Double-A.
"It's a concern, but I'm really looking forward to it," Leyland said. "Am I concerned about it? Yes, but I'm really excited about it. I like talent."
Leyland and the Tigers have proven that in the past. Justin Verlander was just 23 years old when Leyland put him in the Tigers rotation in 2006, and that same season, Leyland put 21-year-old Joel Zumaya in the Tigers' bullpen. On opening day that year, Leyland's first with the Tigers, he had Zumaya make his major-league debut in the seventh inning of a 2-1 game.
Still, that was the seventh inning, not the ninth. And while the 2006 Tigers ended up in the World Series, they didn't begin with near the expectations or pressure to win that the 2013 team will carry.
Like Zumaya, Rondon can top 100 mph with his fastball. The Tigers also insist that Rondon's secondary pitches are impressive.
Leyland said he wants to see those pitches this spring. He won't mind seeing that fastball, either.
"I love 100 mph, like everybody but the state trooper," Leyland quipped.
The problem is that the closer job is by far the hardest one to judge in the spring. There is no ninth-inning pressure in spring training, and there's really no way to simulate it.
Leyland said he'll watch how Rondon reacts, and he'll talk to him. He'll hope the kid can handle the job, because really, the Tigers have left themselves little choice but to have him handle it.
"I've got several guys who can close a game, or two games," Leyland said of his backup options. "I'm not sure I've got guys who can be a pure closer."
No one other than Rondon, that is. No one other than the kid who throws 100 mph, but hasn't thrown one pitch in the big leagues.
And they've left themselves little choice but to hope he can do it.
Here are the bullet-points of what went down Tuesday regarding MLB and the Braves' punishm...

The owners need to ratify on the new system in place, but the takeaway here is Ohtani is coming...

A preliminary report National Transportation Safety Board has shined some light on details...
John Coppolella was placed on the permanently ineligible list by MLB on Tuesday

Among other sanctions, Atlanta lost the player who was deemed the No. 1 international signing...

Among other penalties, No. 1 international prospect Kevin Maitan is now a free agent