Tigers love Iglesias, but expect Leyland to tone down some flash
Jose Iglesias can be brilliant at shortstop, but sometimes can get needlessly flashy. Expect manager Jim Leyland to take care of that.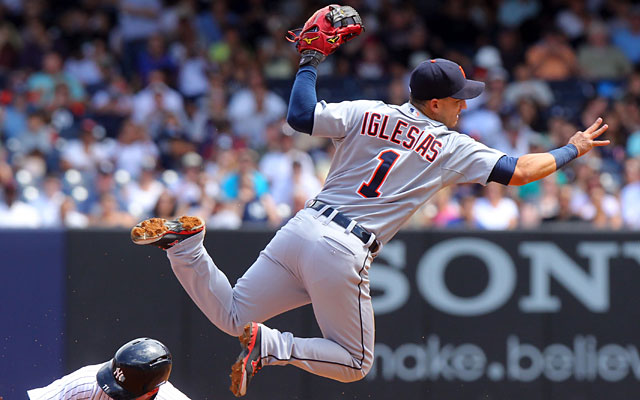 Even before the amazing play Jose Iglesias made Monday night in Chicago, Tigers players were already raving about his defense at shortstop.
But there's another thing they've noticed.
Iglesias can sometimes get a little too showy (and possibly careless) for manager Jim Leyland's tastes.
"Skip will take care of that," one veteran Tiger said.
Leyland didn't want to say much on the topic, but it's a safe bet that he'll find a way to get Iglesias to tone down some of the needlessly flashy parts of his game, without taking away what makes him so good.
The Tigers almost can't believe their good fortune in landing Iglesias, who dropped in their laps when the Red Sox and White Sox couldn't find a direct match on Jake Peavy. While the Tigers had expressed interest in Iglesias before, they had very few conversations about him in the weeks leading to the July 31 deadline, in part because they didn't see a path to get him and in part because they weren't looking seriously for a shortstop until they became convinced that Jhonny Peralta wouldn't appeal his Biogenesis suspension.
The Tigers had a few other shortstop possibilities beyond Iglesias, but none of them were nearly as attractive. By getting Iglesias, they not only solved a potentially huge problem for the final two months of this season, but also answered what would have been perhaps their biggest question for this winter.
Iglesias is hitting .286 in 10 games with the Tigers (after hitting .330 in 63 games with the Red Sox). Club officials believe he can settle in as a .260-.270 hitter (many Red Sox people thought the same), and believe that with his often-brilliant play at shortstop, that will be enough.
People who know Iglesias expect that he will thrive with the Tigers, who have a strong core of veteran players (including some respected Latin American players) who can help him develop.
The Tigers don't want to do anything to take away that brilliance at shortstop. But you can bet that Leyland will be working to keep the flashiness from becoming a problem.