Tigers' new secret weapon has Prince Fielder smiling (and raking)
The Houston Astros could no longer afford the luxury of employing a left-handed batting practice pitcher, so the Tigers pounced. And it is paying off this summer for Prince Fielder.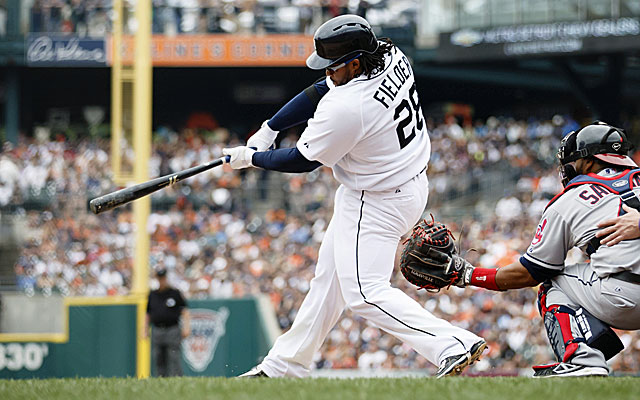 DETROIT -- The Tigers' secret weapon is 55 years old, was the Twins' fifth-round pick in the January 1979 draft and, upon retirement, spent seven years working as a cop in Johnson City, Tenn.
"No, no, no, no," Ed Hodge says, refusing to take any credit whatsoever for Prince Fielder's perked-up numbers against left-handed pitchers this year. "I'm not a secret weapon."
Fielder's splits suggest otherwise.
And the story of how Hodge landed in Detroit as the Tigers' left-handed batting practice pitcher is a perfect illustration of how sometimes a club's key financial decisions don't always come in the neon lights of the winter free-agent market.
Hodge spent the past two seasons as a batting practice coach for the Houston Astros. But he was pink-slipped after last season simply as a cost-cutting measure.
Veteran Tigers hitting coach Lloyd McClendon was tipped off by his friend, Astros coach Dave Clark, and suggested to manager Jim Leyland that maybe Hodge could help Detroit in general -- and Fielder in particular.
The Tigers moved just before spring training, and Fielder ever since has been as gleeful as a kid walking around with his favorite blanket.
"It's helped me a lot against left-handed pitchers," Fielder says. Don't just take his word for it; look at the numbers.
In 108 plate appearances against lefties in 2013 entering Thursday's series finale against the Angels, Fielder was hitting .337/.426/.533 with four homers and 23 RBI.
In 248 plate appearances against lefties last season, Fielder hit .289/.363/.445 with six homers and 46 RBIs.
Overall, he was hitting .281 with 12 homers and 60 RBIs -- fourth in the American League -- through Wednesday.
Not only did the Tigers not employ a lefty BP pitcher last season, it was the first time in Fielder's eight years in the majors that he tackled a season without one. Think of an accountant going to work without extra batteries for his calculator.
The Brewers, Fielder says, had a lefty BP pitcher in every one of his seasons there.
Fielder, who signed a nine-year, $214 million deal with the Tigers two winters ago, says he noticed that something was missing last spring as soon as he reported to Lakeland, Fla.
This year, he and Hodge have been practically inseparable since Day One in Lakeland.
"Prince has really worked extremely hard," McClendon says. "Last year, lefties walked Miguel [Cabrera] quite a bit to get to him, and he's worked at it."
For several months beginning in the spring, Fielder took batting practice every single day against Hodge. The daily routine has slowed some in the past month simply because of the necessity to manage energy while working through the grind of a season. But Hodge still throws often to Fielder, including in the batting cage during games when the big first baseman feels the need.
"Ed has a rubber arm," says McClendon, who had not met Hodge until the Tigers hired him. "He goes at it pretty good. And he throws strikes, which is the most important thing."
Talk about a secret weapon: Hodge pitched professionally 1979-88 in the Twins, Braves and Reds organizations, he worked as a minor-league coach and he threw batting practice for the Orioles (2010) and Astros (2011-12) … and he has never had arm trouble. No surgeries. No procedures. Nothing.
"I've torn up everything else, but I'm hanging in there," Hodge says.
He went to work in the Johnson City police and fire department after he retired as a player in 1988, figuring that was it for baseball. He quickly learned that the scary, real-life stuff doesn't only happen on television.
"Your butt is on the line every day," says Hodge, who, in his one season in the bigs, went 4-3 with a 4.77 ERA in 25 appearances (15 starts) for the '84 Twins. "I almost got blown up in a fire once."
It was former major-league outfielder Leon Roberts who helped lead him back to baseball as a pitching coach in the Reds and Phillies organizations. And even though he didn't make a career of it -- he went back to law enforcement in Sarasota, Fla., -- Roberts' words rang prophetic.
"He told me years ago, 'I know you love being a pitching coach, but you have value [beyond that],'" Hodge says. "'Someone is going to grab you and take you back to the big leagues.'"
One thing led to another when the Orioles moved their spring base to Sarasota, where Hodge was back in law enforcement, and they hired him as a batting practice pitcher in 2010.
Now, he's a hired -- and important -- hand (arm?) as the Tigers take aim at their first World Series title since 1984 after dropping last year's Fall Classic to the Giants. They went down meekly against lefty Barry Zito in Game 1 last October (one run and six hits in 5 2/3 innings) and, during the regular season, went just 26-25 against rival lefty starters.
Against right-handed starters in 2012, the Tigers were 62-49.
"We've had left-handed batting practice pitchers in the past, but they just haven't been very efficient," McClendon says. "He's an ex-big league pitcher, and he can work the ball in and away, he can cut it, he can sink it."
What the Astros could not afford definitely is the Tigers' gain.
"He's there to make me feel good," Fielder says of Hodge, before adding with a competitive grin: "And I crush him every time."
"I love it here," Hodge says. "It is a great place to be. They are so professional. You would think that with all of these big, high-profile guys, they could act any way they want to. But they don't. Every single one of them is a great guy.
"I call this the varsity team."
That's the plan here in Detroit. With Fielder, Miguel Cabrera, Torii Hunter, Justin Verlander and the rest, they continue swinging to add another October stripe to the Tigers' lair -- and lore.
And when September and October come and the inevitable, key lefty-lefty matchups arrive, well, who knows? Maybe this time things will turn out happier in the end for the Tigers.
"It's good," Fielder says. "He's good people. It's always easy to get along with good people.
"I'm just happy he's here."
Dioner Navarro still hopes to return someday

Christian Yelich's agent says his client's relationship with Marlins is 'irretrievably bro...

The free-agent market has been slow and one player is bracing for an even longer wait
The Mets didn't want to trade a young outfielder for an older one

Josh Harrison doesn't sound pleased Gerrit Cole and Andrew McCutchen have been traded away

The team's media contracts expire following the 2019 season