Tigers not on Lincecum no-trade list but trade/pen plan 'far-fetched'
San Francisco's Tim Lincecum has shown he can come out of the bullpen, and it isn't shocking that the Tigers and other teams might wonder if he'd make sense as a closer candidate via trade. But, according to CBSSports.com's Jon Heyman, execs see such a scenario as a major long shot.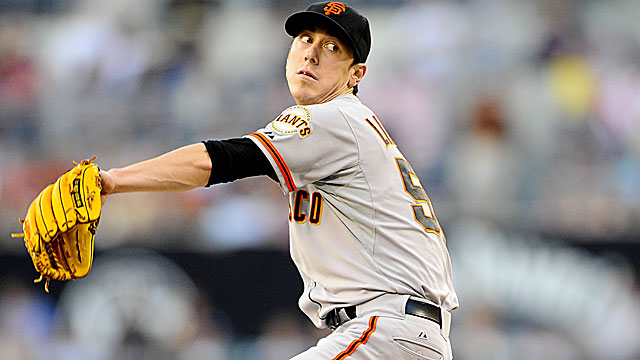 Giants no-hit pitcher Tim Lincecum has a limited no-trade list that does not include the Tigers or Red Sox, two teams expected to seek closers before the trade deadline this month.
But several baseball executives still see a trade of Lincecum and simultaneous switch of jobs from starter to reliever as unlikely.
"Far-fetched," one National League executive called the scenario whereby Lincecum is traded to a team that immediately turns him from starter to closer.
Lincecum pitched brilliantly in relief in the postseason last year, helping the Giants to a second World Series title in three years by going 1-0 with 17 strikeouts in 13 innings and posting a 0.69 ERA in relief. So it isn't altogether surprising that teams might have interest in him as a potential closer. Jon Morosi of Foxsports.com reported the Tigers could be such a team.
However, there is really very little precedent for a big-name starting pitcher being acquired and immediately transformed into a closer. Lincecum's pitching coach, Dave Righetti, along with cross-Bay Hall of Famer Dennis Eckersley, John Smoltz and a few other big-time pitchers are major stars who eventually made the switch from starter to reliever. However, those changes didn't come as part of a mid-season trade.
It's understandable, considering the Tigers' struggles so far at closer and with the trade market exceedingly thin for proven closers, why they might dream of such a scenario, even with Lincecum making $22 million this year, more than double the 2013 salary of all-time great closer Mariano Rivera.
But, as the execs said, it's a long shot, a major long shot, to actually happen.
Lincecum loves San Francisco. He also loves starting, and he'll be a free agent after the year, so there's no reason to suspect he's at all eager to switch from starter to relief two months before he's expected to hit the market. While the Tigers and Red Sox aren't among the eight teams listed on his previously unreported no-trade list, it is hard to imagine either team would compel a long-time star to switch roles so close to free agency.
Lincecum, after a year and a half of uncharacteristic inconsistent rotation work following the brilliant start to his career, also provided a very big sign he might be en route to regaining his Cy Young form with his brilliant, 13-strikeout, 148-pitch no-hitter at San Diego in his most recent start.
Plus, there's no evidence yet the Giants have determined they will sell and give up their chance to repeat as champions.
But even if they do, it's still extremely hard for baseball executives to imagine any starting pitcher -- much less a two-time Cy Young winner who just threw a no-hitter -- happily agreeing to go to a new team to take a new role in the bullpen.
Piscotty's mother was diagnosed with ALS earlier this year

From the rebuilding Marlins to the aggressive Angels, here's how the most active teams made...

Plenty of other teams are involved, of course
Where might the Orioles third baseman land?

Kinsler will slot in at second base for the Angels

The Marlins got a better return for Ozuna than Stanton or Gordon