Tigers now want to trade for a closer, but it won't be easy
The Tigers realize now that they have little choice but to try to acquire a closer on the trade market this spring. They also realize that it won't be easy to find one.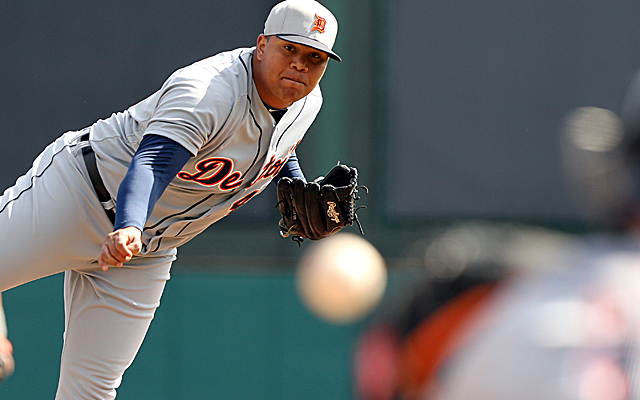 Spring training trades aren't easy. Spring training trades for closers might be even tougher.
But the Tigers now realize they have little choice.
With hard-throwing rookie Bruce Rondon already showing he can't handle the job, and with no other good options available in their own camp, the Tigers are already pushing hard to find a closer on the trade market, according to major-league sources.
Now, will they be able to find one?
The Nationals would seem to have an extra closer, after signing Rafael Soriano to add to a bullpen that already includes Drew Storen and Tyler Clippard. But the Nationals are telling teams that they have no interest in moving any of their late-inning relievers, because they want to be able to match up with the rival Braves at the end of games.
The Red Sox have an extra closer after trading for Joel Hanrahan. But it's not clear how much the Tigers think of Andrew Bailey. As of Tuesday morning, the Tigers had yet to contact the Red Sox about him.
Carlos Marmol is obviously available, and the Rockies have some extra relievers, but it's not likely that the Tigers would see any of those options as an answer.
The Tigers have six starting pitchers, so they could make Rick Porcello available. But Porcello has looked very good this spring, so it's unlikely the Tigers would want to deal him for anything but a proven closer.
And there might not be any of those available.
Two closers remain unsigned on the free-agent market. But the Tigers have basically ruled out a reunion with Jose Valverde, not surprising considering Valverde's stay in Detroit ended with an ugly postseason failure last October. And as of yet, the Tigers don't seem that interested in Francisco Rodriguez.
They do realize they have to do something.
Rondon has been so bad that the Tigers decided this week to hold him out of spring training games to get extra work on the side. Manager Jim Leyland said at the start of camp that none of his other late-inning options (Joaquin Benoit, Octavio Dotel, Phil Coke, Al Alburquerque) profiled as a full-time closer, and nothing has happened to change that opinion.
It's a problem, one that was predictable when the Tigers decided not to pursue a closer last winter.
They're looking for one now. And they know it won't be easy.
If the MLBPA wants to fix MLB's economic system, it should push for more money for young p...

Fans aren't happy Gerrit Cole and Andrew McCutchen have been traded away

Acuna is arguably the best prospect in baseball
Kent had a good career, particularly with the bat

This would undoubtedly be the worst trade in Miami Marlins history

The Pirates recently shipped Gerrit Cole and Andrew McCutchen to Houston and San Francisco,...