Tigers pitchers continue no-hit ways early in Game 3
After going three straight games with a no-hitter through five innings, the Tigers starting pitcher (Justin Verlander) went 4 2/3 innings before coughing up his first hit Tuesday.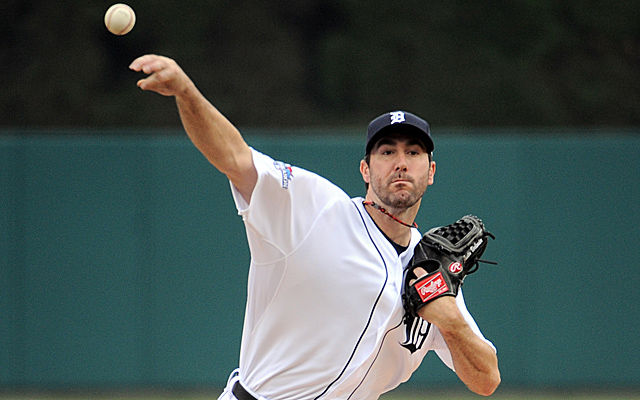 Justin Verlander ties postseason record with six straight strikeouts
After Game 1 of the ALCS against the Red Sox, the Tigers became the first team in postseason history to hold their opponents hitless through five innings in consecutive games. And then they went out and did so in Game 2 with Max Scherzer.
Tuesday in Detroit for Game 3 was a similar beginning, though Justin Verlander didn't quite make it through five.
Instead, Verlander worked 4 2/3 innings before allowing a hit. The hit to break up the no-no was a grounder up the middle by Jonny Gomes that was fielded by shortstop Jhonny Peralta. Peralta's throw to first base bounced and Prince Fielder was unable to haul it in.
Thus, the Tigers starting pitchers were mere inches away from doing something four straight times that no other team has ever done as much as twice in a row.
Iowa and Missouri are two programs mixing technology and analytics

Sunday's MLB roundup features the D-Backs clinching a postseason spot and the Mariners going...

The 2017 season has been, by far, the worst season of Cabrera's career
The Mariners were eliminated from postseason contention with Sunday's loss

Maxwell became the first MLB player to kneel during the national anthem Saturday

The Blue Jays are not expected to bring Bautista back next season