Tigers pitchers lose no-hitter with one out in ninth inning of Game 1
Former Red Sox farmhand Anibal Sanchez no-hit his former club through six innings in ALCS Game 1 before the bullpen took the reins.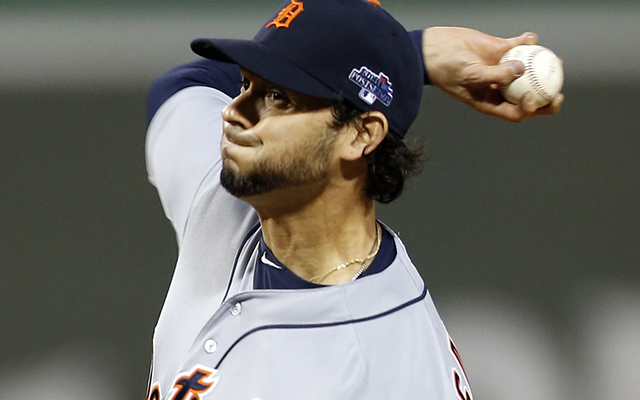 BOSTON -- The Tigers were looking to set the tone in Game 1 of the ALCS and boy did their pitching staff do just that. Anibal Sanchez, Al Alburquerque, Jose Veras, Drew Smyly and Joaquin Benoit combined to take a no-hitter in the ninth inning against the Red Sox before Daniel Nava broke it up with a solid one-out single in the ninth.
Sanchez pitched the first six innings of game, walking six and striking out 12. He threw 116 pitches before being replaced by Alburquerque to start the seventh. Sanchez's season (and career) high was 130 pitches back in May. He is the first pitcher to be lifted after the sixth inning with a no-hitter intact in postseason history.
The Red Sox hit just three balls out of the infield before Nava's single: fly outs by Will Middlebrooks, David Ortiz and Dustin Pedroia. That's it. Alburquerque struck out two in his inning, Veras struck out the two men he faced and Benoit punched out one in the ninth. The 17 total strikeouts tie the most in playoff history and is a new dubious postseason team record for Boston.
In 29 starts this year, Sanchez went 14-8 while leading the league with a 2.57 ERA (163 ERA+). He struck out 17 batters in a late April start against the Braves and also threw a no-hitter while with the Marlins in September 2006.
Sanchez originally signed with the Red Sox out of Venezuela in 2001 but was traded away as part of the package for Josh Beckett and Mike Lowell following the 2005 season. The Marlins traded him to the Tigers at the trade deadline last year.
There have only been two no-hitters in postseason history: Don Larsen's perfect game in the 1956 World Series and Roy Halladay's no-hitter in the 2011 NLDS. Cardinals rookie Michael Wacha took a no-hitter into the eighth inning in the NLDS against the Pirates.
In the first inning of Game 1, Sanchez became the first Tigers pitcher in history to strike out four batters in one inning. He's the first pitcher to do that in the postseason since Orval Overall in the 1908 postseason.
The last Tigers pitcher to throw a no-hitter was Justin Verlander in May 2011. The Red Sox have not been no-hit since Chris Bosio of the Mariners got them in April 1993.
The Tigers took the 1-0 lead thanks to Jhonny Peralta's two-out, two-strike single in the top of the sixth.
Despite an awful month, the Dodgers are again NL West champions

The record of 38 previously belonged to Hall of Famer Frank Robinson

The report also says that Jeter had outgoing president David Samson do the firing
This wasn't a traditional hidden ball trick, but the Blue Jays pulled it off

The Tigers essentially fired Brad Ausmus on Friday, but things are going to be ugly for a...

The club made the announcement on Friday