Tigers' pitchers piling up strikeouts in ALCS by shelving their fastballs
With a breaking ball and offspeed heavy approach, the Tigers pitching staff has piled up the strikeouts in the ALCS.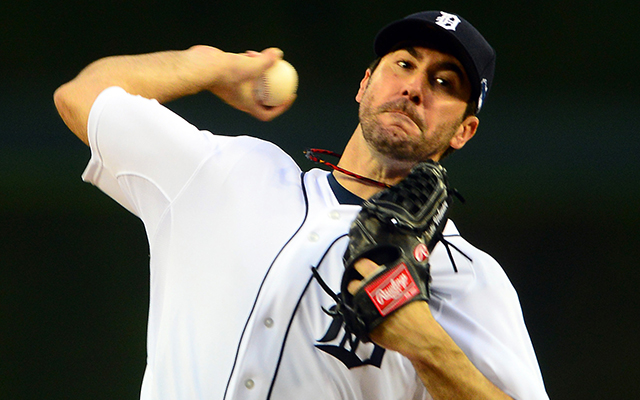 More ALCS: Game 3 recap | Game 3 quick hits | Game 3 grades
DETROIT -- No team in the history of baseball struck out more batters in a single season than the 2013 Detroit Tigers. Their pitchers whiffed a record 1,428 batters during the regular season (23.3 percent of batters faced), and they've not only carrried that into the ALCS, they've turned it up a notch. Through the first three games, they've punched out 43 of 101 Red Sox batters faced (42.7 percent).
"They're a good offense," said Tigers catcher Alex Avila following his team's 1-0 loss in Game 3. "We're a good pitching staff too. We hold that record for most strikeouts in a season. At this time of the year, pitching always dominates. Doesn't matter how good your offense is ... For the most part pitching will always dominate in the playoffs, for both sides."

Pitching has dominated so far for the Tigers, but it has not turned into enough wins. They're down two games-to-one in the best-of-seven series but could easily but up three games-to-none*. The two games-to-one hole doesn't fall on the shoulder of the Detroit pitching staff though, those guys have executed their gameplan to near perfection through the first three games.
* So could the Red Sox, for that matter.
The Red Sox as a team struck out in 20.5-percent of their plate appearances this season, the tenth highest rate in baseball. Nothing outrageous -- the league average was 19.9-percent. After shrinking the roster and sticking with their best players game after game, Boston struck out 33 times in 160 plate appearances against the pitching-rich Rays in the ALDS, or 20.6-percent. Their season average. Funny how that works.
The Tigers have racked up all these strikeouts in the ALCS not with pure power -- Anibal Sanchez, Max Scherzer and Justin Verlander didn't simply throw high-octane fastballs by the Red Sox hitters, though they're certainly capable of doing that. The Detroit staff has piled up the strikeouts by emphasizing offspeed stuff. I mean really, really emphasizing it. Here are some numbers, courtesy of PitchFX:
2013 Tigers Pitch Selection
 
Fastballs
Breaking Balls
Changeups
Regular Season
58.0%
25.2%
16.8%
ALDS
62.1%
22.3%
12.6%
ALCS Game 1
52.4%
32.3%
15.2%
ALCS Game 2
55.8%
24.2%
20.0%
ALCS Game 3
56.8%
35.7%
7.6%
ALCS Total
54.8%
31.0%
14.2%
The Tigers pitching staff as a whole has cut back on the fastballs and thrown more offspeed stuff (especially breaking balls -- sliders and curves) during the first three games of the ALCS. When you've got a guy like Scherzer emphasizing his nasty slider or Verlander throwing more knee-buckling curves than usual, strikeouts are inevitable. They've sure felt inevitable at times this series.
During the regular season, such a breaking ball and offspeed-heavy approach isn't really practical. There's an element of self-preservation during the 162-game season, and offspeed pitches tend to be a little tough on the arm. In the postseason, when winning is all that matters and each appearance could be a pitcher's last of the year, teams will throw caution to the wind and do whatever they need to win. The Tigers offense just hasn't held up its end of the bargain yet.
"I'm not really frustrated," said Avila when asked if it's frustrating to lost back-to-back very well pitched games. "They're pitching great and as long as they keep pitching great, we're going to have a chance to win. That's really all that matters. I can't be frustrated at all. It's turning out to be a great series."
The coveted right-hander would certainly be a fit in Milwaukee

We rate the best mustaches from random baseball cards because, why not?

Colon wants to break a Dennis Martinez record
The Twins have been rumored to be interested in Darvish all winter

Rolen is one of the best third basemen of all time, but you wouldn't know it based on this...

Neither Josh Donaldson nor Brian Dozier have talked about a new contract extension