Tigers rally late to force Game 5 in ALDS: Quick hits
The Tigers were down three runs as late as the fifth inning, but they rallied late to force a Game 5 in their ALDS matchup with the A's.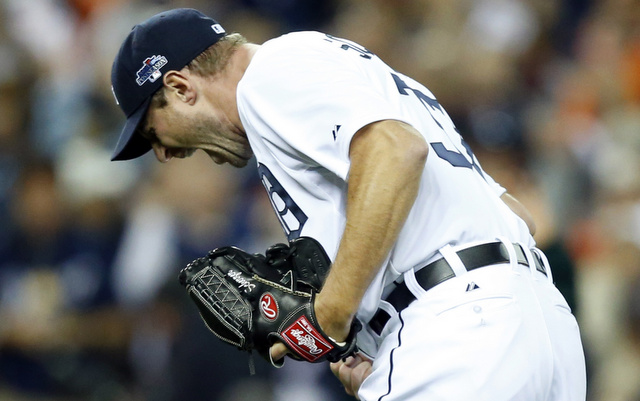 More ALDS: Game 4 box score | Peralta ties the game | Martinez's controverial homer
With their backs against the wall, the Tigers came through with a season-saving 8-6 win in Game 4 of the ALDS on Tuesday night. Well, temporarily season-saving, at least. The Tigers and Athletics are heading to a Game 5, but first, let's break down Game 4.
Hero: We could go in any number of directions here, but I'll take the easy way out and go with Austin Jackson for his go-ahead RBI single in the seventh inning. He came into Game 4 with one hit and seven strikeouts in 11 ALDS at-bats, and he was hearing some boos in the early innings. The jam-shot single gave Detroit the lead for the first time in the game and the first time since the end of Game 1.
Goat: Tough call, but it's Sean Doolittle. He surrendered the controversial game-tying solo homer to Victor Martinez and then the go-ahead single to Jackson in the seventh. He allowed two runs and four of six batters he faced to reach base, turning a one-run lead into a one-run deficit. Yuck.
Turning point: Jhonny Peralta's game-tying homer. The Tigers have had so much trouble scoring in this series that the early three-run deficit seemed insurmountable, but Peralta's blast put Detroit right back in the game and seemed to wake up the offense. It brought one of the best lineups in the league back to life.
It was over when: The A's failed to score despite having the bases loaded with nobody out in the eighth inning. Max Scherzer escaped the jam with two strikeouts (Josh Reddick and Stephen Vogt) and a line out (Alberto Callaspo) while hitting 101 mph with his fastball according to PitchFX. Down a run in the late innings, you couldn't ask for a greater opportunity if you were the Athletics. They blew it.
Next: These two clubs are going back to Oakland for the decisive Game 5 on Thursday. That one will start at 9:07pm ET (6:07pm local time) and feature Justin Verlander against Bartolo Colon. Verlander is starting (on normal rest) because Scherzer, the scheduled Game 5 starter, came out of the bullpen in this game.