Tigers-Red Sox ALCS Game 3 preview: Verlander vs. Lackey
The ALCS is a best-of-five series after the Red Sox and Tigers split the first two games. Justin Verlander and John Lackey will be on the hill in Game 3.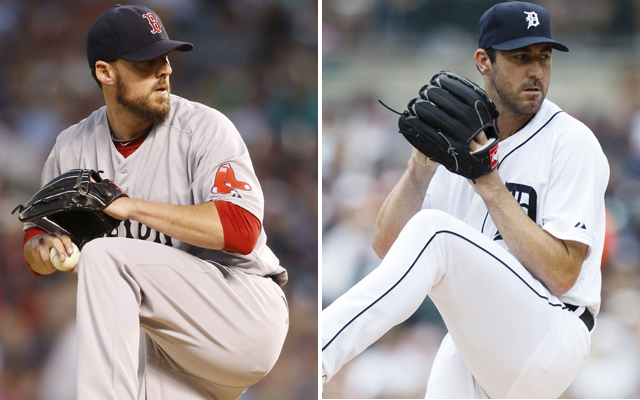 More ALCS: Knobler: Time for Verlander to shine | Who has the edge?
DETROIT -- After splitting the first two games of the ALCS in Boston -- rather dramatically, I might add -- the Detroit Tigers and Boston Red Sox shift their series to Comerica Park in Detroit for Game 3. First pitch is scheduled for a little after 4pm ET on Tuesday.
Following their disappointing (to put it mildly) loss in Game 2, the Tigers will give the ball to right-hander Justin Verlander (13-12, 3.46 ERA and 1.32 WHIP in 218 1/3 regular season innings). Pretty much exactly the guy they want on the mound. The Red Sox will counter with fellow righty John Lackey (10-13, 3.52 ERA and 1.16 WHIP in 189 1/3 innings). Let's break it down a little further.
Verlander vs. Red Sox
Verlander, who had a down season by his high standards, is coming off two dominant starts against the Athletics in the ALDS. He held Oakland to six hits and two walks while striking out 21 in 15 scoreless innings, including eight shutout frames in the decisive Game 5. On Monday, Verlander spoke of the adjustments that allowed him to get back to being himself late in the season.
It was a grind for me all year.  I could probably sit here and name 50 adjustments that I tried to make that didn't quite work or did help.  Who knows what helped along the way and what didn't.

But I really felt like the last month of the season I started to kind of get it to click.  And with all the adjustments that I made, and I talked about this a little bit before, with all the adjustments I've been making, when I'm out on the mound I've still got those in my head a little bit.  I try to shove them in the back your mind, you want to forget them and pitch.  When I know things aren't right and I'm trying to get them right, let's do this, let's do that.  I found the only thing is execution.  I feel like my mechanics are where they need to be and I need to execute.  Just forget about all that and just make my pitch.
Verlander only faced the Red Sox once during the regular season (four runs in five innings back in June), but he's been around a while and has faced Boston plenty of times before. He owns a 3-4 record with a 3.63 ERA and 1.20 WHIP in 74 1/3 innings across 11 career starts against the Red Sox, rates that are right in line with his career averages. Verlander spoke about the need to stick to his game when asked if facing such a tough lineup would make him change his approach on Monday:
No, I don't think it does.  Obviously most of the veteran lineups in baseball are guys that have professional at-bats and tend to extend pitch counts and do all the little things that they can to get the starting pitcher out of the game.

I think the only way you combat that is be aggressive, throw a lot of strikes and pound the zone.
David Ortiz has had, by far, the most success against Verlander among Red Sox players. He's gone 10-for-27 (.370) with two homers (1.174 OPS) against the right-hander in his career. Mike Napoli (.863 OPS in 28 plate appearances) has fared well, but that's about it. Jacoby Ellsbury , Dustin Pedroia , Jonny Gomes and Jarrod Saltalamacchia all have sub-.600 OPSes against Verlander.
It's worth noting Verlander actually pitched better on the road (3.19 ERA and 1.26 WHIP) than at home (3.73 ERA and 1.37 WHIP). He was also far better during the day (2.49 ERA and 1.19 WHIP) than at night (4.64 ERA and 1.47 WHIP), and I suppose a 4pm start qualifies as a day game.
Lackey vs. Tigers
In his lone ALDS start, Lackey allowed four runs in 5 1/3 innings despite getting the win over the Rays. While talking to reporters on Monday, the righty stated the obvious when asked about the challenges of facing the Tigers:
They're good.  It's a deep lineup.  One through through you've got to make pitches.  They wouldn't be playing at this point in the season if they're not pretty good.  All of them have some power and it's going to be a tough challenge, for sure.
Lackey faced the Tigers twice during the regular season, first holding them to two runs in seven innings in June before limiting them to three runs in 7 1/3 innings in September. The veteran has gone 6-3 with a 3.86 ERA and 1.32 WHIP in a dozen career starts against Detroit, but only four of those starts have come since 2008.
Unsurprisingly, Miguel Cabrera has had the most career success against Lackey among Tigers players, going 4-for-12 (.333) with a homer (1.051 OPS) against him. Small sample size, obviously. Lackey was asked about how he plans to attack the best hitter in the world during the off-day on Monday:
I'd be kind of dumb to tell you how I'm going to do that right now, I think (laughs). He's like David [Ortiz].  There's not one way I can go about it.  I'm going to have to make a lot of good pitches in a lot of different spots.  He's really good.
Aside from Cabrera, Victor Martinez has fared well against Lackey (.884 OPS in 34 PA) while Torii Hunter (.670 OPS in 61 PA) and Omar Infante (.624 OPS in 15 PA) have not. Prince Fielder has only faced him four times, going 4-for-9 (.444) with two doubles (1.111). Tigers players have a combined .303/.354/.436 batting line against Lackey in 212 total plate appearances.
Lackey performed substantially better at home (2.47 ERA and 1.03 WHIP) than on the road (4.48 ERA amd 2.27 FIP) this summer. His day/night split is pretty much negligible.
The Astros are still in control of the series, but have been unable to solve Yankees pitch...

The Astros and Yankees will play Game 4 in the Bronx early Tuesday evening

Yankee Stadium helped, but there's more to it than that
Aaron Judge and CC Sabathia had big games

Judge had an impact on both sides of the ball in Game 3

Ausmus most recently managed the Tigers, but won't be headed to Queens