Tigers-Red Sox ALCS Game 4 preview: Fister vs. Peavy
The Red Sox will look to take a commanding three games-to-one lead in the ALCS behind Jake Peavy in Game 4 on Wednesday night. The Tigers will counter with Doug Fister.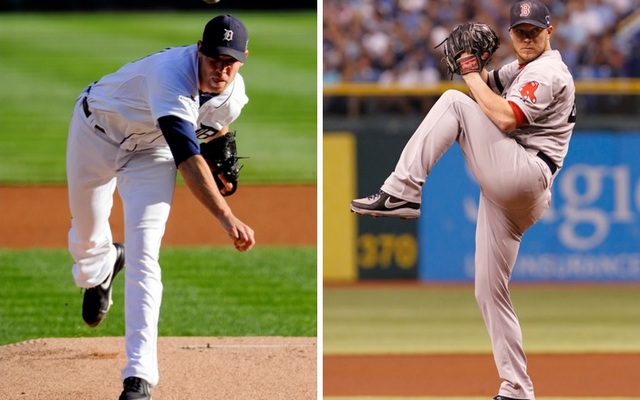 More ALCS: Tigers pitchers piling up strikeouts | Red Sox dominating Miggy with fastballs
DETROIT -- Through the first three games of the ALCS, one thing is very clear: this series is all about pitching. We've already seen two 1-0 games and more strikeouts than I care to count (68 total, actually). The Red Sox currently lead the best-of-seven series two games-to-one over the Tigers and the two clubs will meet for Game 4 a little after 8 p.m. ET at Comerica Park on Wednesday.
The Tigers will give the ball to right-hander Doug Fister (14-9, 3.67 ERA and 1.31 WHIP in 208 2/3 innings), who was their No. 2 starter in the playoffs in 2011 but is only their No. 4 this year because Max Scherzer has broken out and Anibal Sanchez was acquired. Detroit's pitching situation is pretty awesome. The Red Sox will counter with righty Jake Peavy (12-5, 4.17 ERA and 1.15 WHIP in 144 2/3 innings).
Given the way the series and the postseason in general has played out, there is little reason to suspect we'll be in for anything other than another pitching duel in Game 4. Let's break down the two starters a little further:
Fister vs. Red Sox
In his ALDS start against the Athletics, Fister allowed three runs on seven hits in six innings, but he was very shaky early before settling down in the middle innings. His home/road and day/night splits are tiny.
Fister faced the Red Sox twice this year. One start went terribly (six runs in 3 1/3 innings) while the other was outstanding (seven scoreless innings). He spoke about that second start with reporters on Tuesday:
I think a lot of it was the fact of executing.  Keeping the ball down, mixing pitches and not get in any sort of routine.  Their hitters are very smart, very intelligent.  We've seen each other a lot.  It's a matter of going out again and executing and making sure that each one of us do our jobs.
By virtue of being in a different division and not breaking into the big leagues for good until 2010, there isn't much history between Fister and the Red Sox hitters. David Ortiz has seen him the most (22 plate appearances) but hasn't had much success (.668 OPS). Mike Napoli (.393 OPS in 16 PA) and Dustin Pedroia (.516 OPS in 14 PA) haven't fared well either while Daniel Nava (1.167 OPS in 14 PA) and Jacoby Ellsbury (1.170 in 11 PA) have been very good against the tall righty.
Players currently on the Red Sox roster have hit .304/.377/.451 in 114 combined plate appearances, which isn't a whole lot of experience. I wouldn't take those numbers to heart. I do think it'll be interesting to see how Boston approaches Fister, who is a command/ground ball guy, compared to how they approached elite stuff/hard-throwers in Scherzer and Justin Verlander.
Peavy vs. Tigers
Peavy joined the Red Sox at the trade deadline and limited the Rays to one run in 5 1/3 innings in his only ALDS start. Home/road splits don't really do much for us since he split his year with two teams, but his day/night split is negligible.
On Tuesday, Peavy spoke about the challenges of facing the Tigers, a team he is very familiar with:
The Tigers create such a problem for most starting pitchers, you've got to keep the first couple guys off base.  Miguel, obviously, I think proved my point in the first two games.  You can't just throw this guy away and think he's got no power, he can't hit it the other way.  Miguel Cabrera is Miguel Cabrera, the best player in baseball over the last few years.  And you've got to pitch him as tough as ever and try to keep him in the ballpark.

. . .

So I do know those guys well.  We had a lot of matchups, some of them went well, some of them didn't go so well.  That's all out the window.  All I heard was the playoff starts, all of that stuff is out the window.  It comes down to tomorrow night, executing the game plan that we think we're going to go with and get those guys out.  It's a huge challenge with the way they swing the bat.
The Tigers knocked Peavy around for four runs in seven innings earlier this year, and in his career he owns a 4.83 ERA and 1.21 WHIP in a dozen starts against Detroit. That includes a 4.15 ERA and 1.13 WHIP in five career starts at Comerica Park. Peavy spent the last few years with the division rival White Sox, so he and the Tigers know each other.
Despite all that experience, Detroit's current crop of hitters haven't fared too well against him. Austin Jackson (.938 OPS in 30 PA) and Torii Hunter (1.283 OPS in 17 PA) have hit Peavy hard, Miguel Cabrera (.858 OPS in 49 PA) slightly less so. Others like Prince Fielder (.705 OPS in 38 PA) and Jhonny Peralta (.626 OPS in 37 PA) haven't done much of anything against Peavy.
In 261 total plate appearances, Tigers hitters have managed a .258/.310/.446 line against the Red Sox right-hander. That little bit of experience will help to some degree.
deGrom is set to become a free agent after the 2020 season

Perkins missed most of the last two seasons due to injury

Jonathan Singleton was suspended after a third positive test for a drug of abuse
Rodriguez will join Jessica Mendoza and Matt Vasgersian on the "Sunday Night Baseball" boo...

Jeff Wilpon talked about payroll on Tuesday, and it won't make any Mets fan happy

Yelich's agent recently asked the Marlins to trade him before the spring