Tigers shortstop Iglesias may miss significant time with leg injury
Jose Iglesias could be out half the year, or more. Free agent Stephen Drew would seem to be a logical candidate for the Tigers to consider.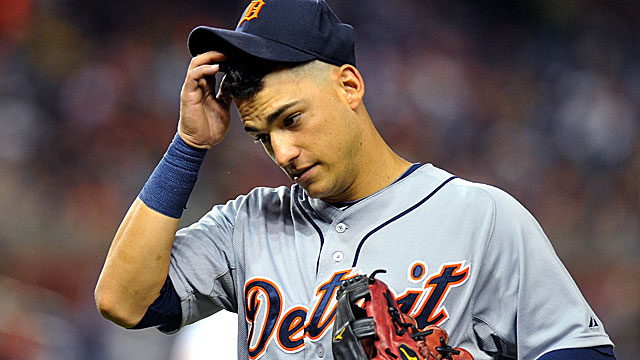 FORT MYERS, Fla. -- Tigers shortstop Jose Iglesias could miss half the year or more, with a leg injury, a former teammate of Iglesias confirmed.
Iglesias was originally believed to have shin splints but further evaluation apparently has turned up something more serious. Jim Bowden of ESPN originally reported Iglesias could miss "most of the year."
Iglesias, known as a fielding whiz who was acquired last summer by Detroit after Jhonny Peralta was linked to Biogenesis, tried giving the injury in his lower leg rest at first this spring. However, after the pain persisted, it is believed he went for further testing. This appears to be a recurring injury, as Iglesias had some issues in the shin area last year while a Red Sox.
The former teammate didn't believe the injury would be debilitating long term, but he said it's his understanding that Iglesias is indeed likely to miss significant time.
Speculation as a potential replacement is likely to center on free-agent shortstop Stephen Drew, who would seem to be a logical solution for the Tigers, who have World Series aspirations. They've had a rough spring with left fielder Andy Dirks going down, as well. Dirks is thought to be out three months after lower back surgery.
Tigers owner Mike Ilitch has been one of the best owners in baseball in terms of spending to win despite not being in one of the marquee markets. The Tigers have been seen as the favorite in the American League among preseason prognosticators.
Maxwell joins a growing movement across sports

The Yankees punched their ticket to the playoffs with a win over the Blue Jays on Saturday

Sabathia's stance seems to be an increasingly popular one among athletes
Plus the A's and Brewers have hope, Giancarlo goes deep again, and much more

Matt Chapman and Matt Olson give the A's hope

Despite an awful month, the Dodgers are again NL West champions