Tigers should start Max Scherzer in Game 4
The Tigers' backs are against the wall. So if I were Jim Leyland, I wouldn't start Doug Fister in Game 4. I would go with ace Max Scherzer.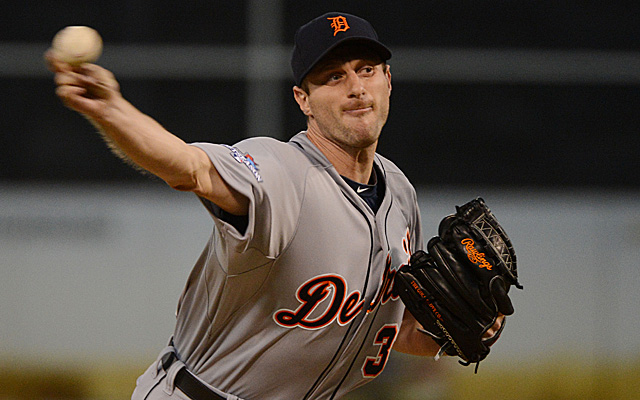 A's top Tigers, have 2-1 lead in best-of-5 series | A's batter normally stingy Sanchez
As the saying goes, desperate times call for desperate measures.
And the Detroit Tigers should be desperate right now. Not only are their backs against the wall -- facing a 2-1 deficit in a five-game series -- but they can't hit. They scored three runs in two different innings against the A's in the first three games, but otherwise they've put up zeroes in 25 of their 27 innings.
With injuries having relegated MVP Miguel Cabrera to a veritable singles hitter and poor performances littering their lineup, the Tigers have to head into Game 4 thinking there's no margin for error on the hill. They absolutely must allow a maximum of about one run. They may even need a shutout.
So, sorry, Doug Fister. You're a fine pitcher and make a great No. 4 starter, but if I'm Jim Leyland, I'm not even thinking about going to my fourth starter. I'm going to my first.
I'm turning to Max Scherzer on three days of rest.
Now, the naysayers to this plan have a case. Scherzer has never thrown on three days' rest and the numbers say that generally pitchers are worse on less rest. Plus, his routine is thrown off by having to start a few days sooner than he planned.
At some point, though, you toss out numbers. It's very simple. You absolutely have to win and your offense has been putrid in the postseason. So you turn to your ace and say throw me a shutout.
Plus, that would leave Justin Verlander on normal rest for a possible Game 5, if Scherzer did come through. And he was vintage Verlander in Game 2.
For me, again, it's simple. If I'm Leyland, I'm saying we absolutely have to win two games. If not, the season is a failure. So do I want to lose with Doug Fister or do I want to lose with Max Scherzer and/or Justin Verlander. In the former, there might end up being some regret. In the case of the latter, I feel like there would be a lot less regret. There's no shame in losing with your best.
This would undoubtedly be the worst trade in Miami Marlins history

The Pirates recently shipped Gerrit Cole and Andrew McCutchen to Houston and San Francisco,...

Surely, Martinez and his agent are holding out for more
The reliever had a very good 2017 season with the NL Central champs

We don't need to discuss Chipper's Hall of Fame case, so let's have fun instead

Dioner Navarro still hopes to return someday