Tigers still have a question to answer about their closer's role
The Tigers boast a dynamite lineup and a strong rotation, but they still have a question to answer about the back of the bullpen.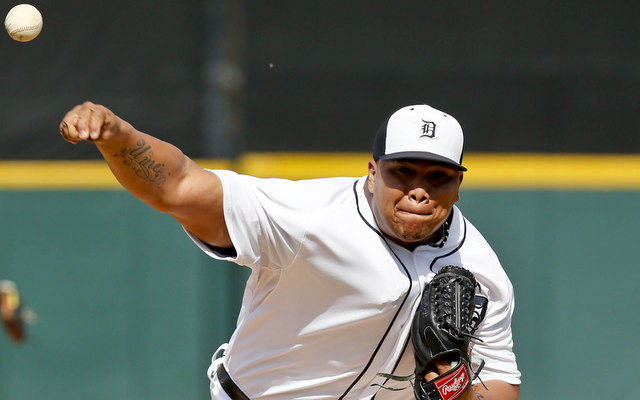 The Tigers have spent north of $300 million over the last two years to bolster their roster and make a run at the world championship. They were swept by the Giants in the Fall Classic last year, but they remain an excellent club and the clear favorite in the AL Central. That's why their passive approach to the closer's role during the offseason was surprising.
The decision to let 34-year-old Jose Valverde walk as a free agent was understandable. While Valverde saved 35 games and pitched to a 3.78 ERA for Detroit in 2012, he struggled in September (5.02 ERA) and was completely unusable in the postseason (30.38 ERA). It's no secret why the right-hander remains unemployed though spring training is well underway.
The decision to entrust the ninth inning to 22-year-old rookie Bruce Rondon is a little less understandable. The right-hander throws very hard -- Baseball America says he "touched 103 during the season and normally works at 97-100 mph" -- but he also struggles to throw strikes. Last summer, he walked 26 in 53 innings (4.4 BB/9), the year before that 34 in 40 innings (7.7 BB/9). Rondon has never pitched in the big leagues, and he has a whopping eight innings at the Triple-A level. At least one scout has some concerns:
"He's throwing 98 mph on March 1 and not missing any bats. Hitters see his fastball for some reason." #Tigers #Mets

— Joel Sherman (@Joelsherman1) March 2, 2013
Manager Jim Leyland does have a veteran setup crew at his disposal, including former closer Octavio Dotel. The 39-year-old has not closed in two years now, and he does struggle against lefties (108 OPS+ in 2013), making him a less than ideal candidate ninth inning candidate. Righty Joaquin Benoit, 35, has been rock solid for three seasons now (2.71 ERA), but he became alarmingly homer prone in 2012 -- 14 homers allowed in 71 innings (1.8 HR/9), including eight allowed during a 15 1/3-inning stretch at midseason. That's scary.
The Tigers got a little lucky in the postseason when 30-year-old Phil Coke did his best Billy Wagner impression. The lefty pitched to a 4.00 ERA during the regular season but replaced Valverde as closer in October, allowing only one run and striking out 13 in 10 1/3 innings. Young right-handers Al Alburquerque and Bryan Villarreal both miss bats with impressive stuff, so perhaps one of them or Coke emerges as a ninth-inning option come April.
2013 ZiPS Projections for Tigers' bullpen (via FanGraphs)
Player
IP
ERA
WHIP
RH Bruce Rondon
45
5.60
1.78
RH Joaquin Benoit
58
3.72
1.16
RH Octavio Dotel
46 2/3
3.47
1.16
RH Al Alburquerque
34 2/3
3.89
1.41
RH Brayan Villarreal
66 1/3
3.53
1.34
LH Phil Coke
59 1/3
4.25
1.43
LH

Darin Downs

56 2/3
4.45
1.45
Tigers GM Dave Dombrowski had an opportunity to not just replace Valverde this offseason but to improve his team's closer situation. Forty-two-save man Rafael Soriano was the big free-agent reliever on the market, but others like Jonathan Broxton, Koji Uehara, Ryan Madson, Joakim Soria and former Tiger Kyle Farnsworth were available as well. Former Giants closer Brian Wilson remains unsigned, but he is recovering from Tommy John surgery like Madson and Soria. Able bodies were out there if Dombrowksi wanted to add someone from the outside.
Leyland has reportedly expressed interest in re-signing Valverde as a "safety net," but that seems unlikely. Closers have a tendency to come out of nowhere, and we really needn't to look further than Coke in the postseason. The Tigers could very well have a lights-out closer already in house in Rondon or Alburquerque or whoever, but that guy hasn't stepped forward just yet. The closer's role is a question the team will have to answer during the regular season because they opted for a half-measure when it could have been handled over the winter.
For more baseball news, rumors and analysis, follow @EyeOnBaseball on Twitter, subscribe to the RSS feed and "like" us on Facebook. Also, individually interact with us on Twitter: @MattSnyder27, @daynperry and @mikeaxisa.

The Astros scored seven runs in Game 6 after scoring nine runs total in Games 1-5

The Astros are still alive, and Justin Verlander is the reason why

With a six-run lead in the ninth, the Astros used closer Ken Giles for 23 pitches
On Saturday night in Houston, it'll be CC Sabathia against Morton

The ALCS will go the distance after all with the Astros offense coming back to life in Game...

Verlander's stuff was insane during Game 6 of the ALCS