Tim Hudson as good as ever following major ankle injury at age 38
Tim Hudson is 38 years old, coming off a severe ankle injury, and one of the very best pitchers in baseball so far this season.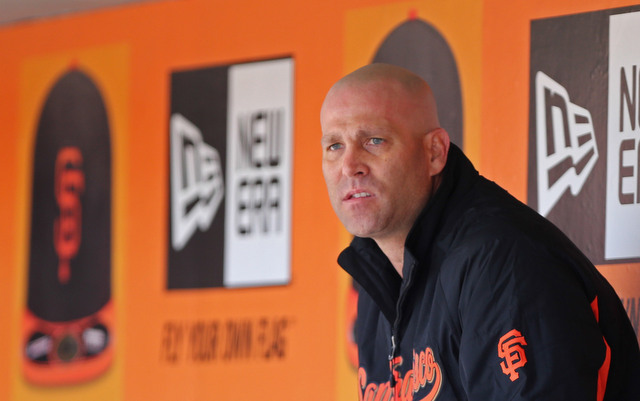 More MLB: Power Rankings | Expert Picks | Latest news & notes | Fantasy news
After allowing one unearned run in seven innings against the Nationals on Thursday afternoon, Giants right-hander Tim Hudson currently leads all of baseball with a 1.81 ERA. It was his ninth start of at least seven innings with no more than two earned runs allowed. Only Adam Wainwright and Johnny Cueto (10 each) have more.
The 38-year-old Hudson has proven to be the best value signing of the offseason among pitchers, giving San Francisco ace-like production after taking a two-year deal worth $23 million. That's nothing. Of course, Hudson was coming off a catastrophic ankle injury, and he is getting up there in years, so it's understandable why more teams didn't line up to sign him.
Perhaps the most amazing thing about Hudson is his consistency. Despite the injury and getting closer to his 40th birthday, his performance has not changed all that much in recent years. Check it out:
2011-14 Performance: Tim Hudson
Season
Strikeout Rate
Walk Rate
Ground Ball Rate
2014
17.0%
3.7%
57.4%
2013
17.8%
6.7%
55.8%
2011-13
16.4%
6.5%
56.1%
Hudson is pretty much the same guy year after year. Predictable and reliable is both boring and incredibly value. He has cut his walk rate almost in half this season though, and that doesn't appear to be a small sample size fluke.
Through Thursday's game, Hudson has thrown 46.1 percent of his pitches in the strike zone according to PitchFX, a rate that is right in line with 2013 (45.4 percent) and 2011-13 (46.9 percent). What has changed is how often hitters have swung at pitches out of the strike zone. This season that rate is 35.5 percent, up from 33.2 percent last year and 29.9 percent from 2011-13.
Hitters are chasing Hudson's pitches off the plate more than ever, which is exactly what he (and every other pitcher) wants. Hudson has always been a sinker/ground ball guy who thrived on getting weak contact -- chase a pitch out of the zone and it's tough to drive it with authority. He's made a very long and successful career out of doing just that.
The increasing chase rate could have something to do with Hudson's pitch selection. Here is how often he has thrown each pitch over the last four years, courtesy of Brooks Baseball:

The sinker and complementary cutter remain Hudson's weapons of choice, but he has slowly been increasing the usage of his split-finger fastball over the years. The emphasis on the splitter could certainly explain why hitters are offering at more stuff out of the zone -- the splitter is designed to look like a strike, get the hitter to start his swing, then dive out of the zone at the last second. A quality splitter is the most brutally effective pitch in the game.
The Giants took a risk signing Hudson this winter, especially within the context of guaranteeing multiple years to a 38-year-old with nearly 3,000 innings on his arm who was coming off a major ankle injury. If he struggled this season, it would not have been the most surprising thing in the world. Instead, Hudson has been one of the best pitchers in baseball and has helped the Giants become one of the best teams in baseball.
They still would much rather grab the AL East, however

Sale becomes the first AL pitcher to reach 300 strikeouts since 1999

Steve Balboni's long-standing record of 36 has finally fallen
Several players called for the netting to be extended down the base lines following Wednesday's...

Maria made landfall as a Category 4 on Wednesday

The players are trying to do their job and don't want to see anyone hurt