Time for Mets to stick to alleged plan: Commit to Duda, trade Davis
The last thing the Mets need is a first-base controversy.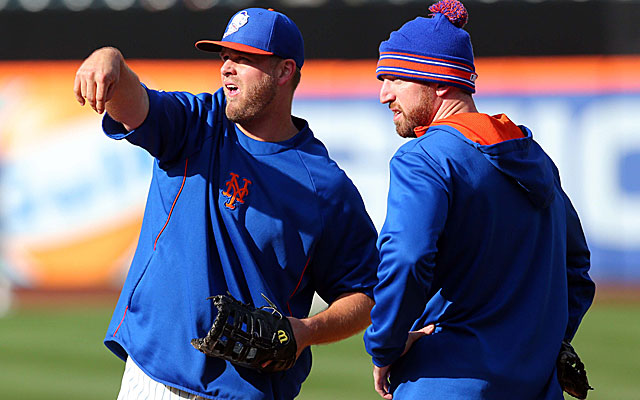 More MLB: Scoreboard | Standings | Probable Pitchers | Sortable Stats | Odds
Do the Mets still have a first-base controversy?
It appears they might, and if so, the best thing for all concerned is to trade Ike Davis, who spent most of the winter on the trading block anyway, and really commit to Lucas Duda as the starter.
Keeping Davis gives the Mets a big bat off the bench and a little security should current starter Duda have an injury, but in the end the current alignment is a drawback for both players. Davis is good enough to start for someone, or at least have the opportunity to start for someone. And Duda doesn't deserve to be looking over his shoulder.
Mets manager Terry Collins made what looked like a decisive call to go with Duda after three games of rotating the two of them plus the righthanded-hitting Josh Satin. However, even though you'd think Duda solidified things with a two-homer, four-RBI game in a 4-3 victory over the Reds in his first game after being named starter, it doesn't feel that way.
Davis soon hit a dramatic game-winning pinch-hit grand slam, only the third of its kind in Mets history, and he appeared to be back in the picture. At least a little bit.
"We've got to at least stick by our plan a little bit," Collins recently told New York writers in what seemed like something less than a 100-percent endorsement of Duda.
Meanwhile, Mets people suggest they aren't anxious to trade Davis, something that seems believable considering their seemingly high asking prices this winter. They reportedly asked the Brewers for top righthanded pitching prospect Tyler Thornburg and the Orioles for top left-handed pitching prospect Eduardo Rodriguez over the winter.
The Pirates, another team that's shown interest in Davis, would seem to be among the more logical fits now, as journeyman Travis Ishikawa won a spot to share the position with Gaby Sanchez in Pittsburgh, while the Astros are another team that may be looking at their first-base situation.
The Mets may be uncertain about their selection of Duda at first base, and they may be a tad nervous about whether Davis could come back to haunt them if he thrives elsewhere, but the season is here, the Mets know both players well and the time has come to really commit.
Outfield prospect Clint Frazier may be part of the talks

Boston wants to add two big bats to their lineup, not just one

Even more relievers signed on the final day of the Winter Meetings
Keep tabs on the top 50 free agents right here

The league is not happy Ohtani's medical information leaked

Kansas City and Baltimore were quite busy at the Rule 5 Draft