Time for realism: the Dodgers' wild and fun ride could be over soon
Los Angeles has overcome a lot this year, but not against the Cardinals.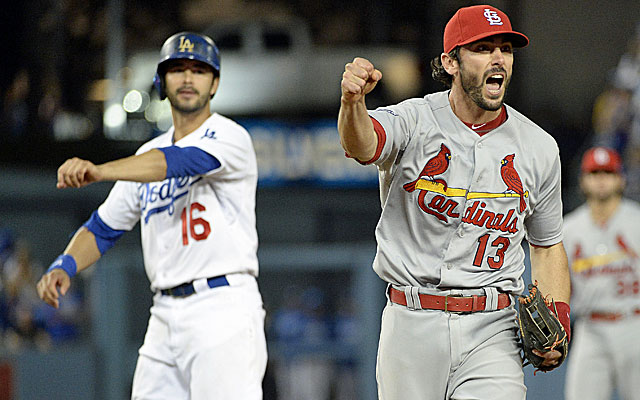 LOS ANGELES -- There was the dreadful start to the season for the $220-million team … the lost starting pitchers … all the injured outfielders …  the emergence of multitalented wunderkind Yasiel Puig … the Hanley heroics … the 42-8 run … the splashy pool celebration …  and the Juan Uribe NLDS bomb.
It's been quite an interesting, winding ride for the Dodgers. But it could all end here Wednesday afternoon.
The deep and dependable Cardinals hold a commanding 3-1 lead in the NLCS after playing flawlessly in Game 4 and beating the Dodgers 4-2, thanks to the long ball, and a lot more. There were dejected looks in the Dodgers clubhouse, maybe even a few suggesting resignation.
Dodgers players said some nice things from the ravine they've dug themselves. But they recognize the size of the hole.
"We've been through a lot this year," Dodgers catcher A.J. Ellis said. "We've overcome a lot."
Indeed, they sat in last place in June, and their run to the championship was historic if not quite unprecedented. But let's not forget they weren't exactly swimming in deep waters, so to speak. They deserved and enjoyed a fun swim in the desert. But realistically, no other team in the NL West finished above .500.
The Dodgers are in deep now. Of that there is no doubt. The Cardinals have power and poise, and those bullpen arms keep coming at you.
That the Cardinals blew the same 3-1 lead to the Dodgers' archrival Giants in last year's NLCS isn't necessarily a plus. It just means St. Louis will be better prepared this time around.
There aren't too many ways to spin this positively, but Don Mattingly, described by Ellis as an "eternal optimist," gave it a shot, pointing out that the rotation to go, with Zack Greinke, Clayton Kershaw and Hyun-Jin Ryu all lined up on proper rest (the result of the rightheaded call to give Ricky Nolasco the Game 4 start, even if he didn't keep the Cardinals down) gives them some hope times three.
As Mattingly put it, he has "one of the best pitchers in baseball" going Wednesday, followed by "probably the best pitcher in baseball," followed by Hyun-Jin Ryu, a guy who "hasn't been bad."
Nice try. But some of the looks told a different story.
They are smart enough to know the Cardinals have excellent pitchers, too, including Wacha and Wainwright, the brilliant bookends. Plus, they have a difficult lineup to navigate, including the greatest postseason hitter by percentages ever in Carlos Beltran. Not to mention that shutdown bullpen. Closer Trevor Rosenthal throws so hard his pitches on occasion are only a rumor.
The Cardinals keep coming. And they come hard, as in 100 mph (Carlos Martinez joined Rosenthal in the 100-mph club in Game 3).
And, as far as $147-million man Zack Greinke going Wednesday, followed by probable $200-million-plus Clayton Kershaw, well, as Ellis mentioned, as great as they are, "those guys lost" the first time.
That wasn't resignation, just realism.
The odds against the beloved boys in blue are higher than the San Gabriel Mountains that guard Dodger Stadium to the north.
Ellis didn't mean what he said in a bad way. He just meant the Dodgers couldn't produce enough runs to make their star pitchers' fine performances hold up.
The Dodgers haven't hit much at all in the series. Their slugging percentage, .309, is dreadful. They have yet to homer.
"We are where we are for a reason," Ellis said.
More realism: They won't have anything close to a healthy Hanley Ramirez, who had to leave Game 4 in the fifth inning. He answered, "Oh yeah, definitely," to the question of whether he will play in Game 5.
He hopes, anyway.
Ramirez didn't sugarcoat the pain. He felt crummy from the moment he woke up Tuesday.
So the team that overcame a lot of injuries and adversity has even more to overcome, and a short time to do it. There isn't a lot of time to think about the situation, which may be one good thing.
"It's a quick turnaround," Mattingly said. "We don't have time to feel sorry for ourselves."
Nor perhaps to re-visit the relative strengths of their competitors, the Cardinals, who bounced back from one of their worst performances of the year with a near flawless game. Matt Holliday crunched a two-run homer. Shane Robinson, who has five career homers, added a surprise dinger.
Every single one of manager Mike Matheny's moves worked, and that's about the troops more than the stratagems. Matheny stayed with starter Lance Lynn just long enough, then made all good calls in the pen. Robinson played a surprise hero as a pinch hitter. Defensive replacement Pete Kozma came in for four innings, and looked a lot like Ozzie Smith in those innings.
If the Dodgers think about things, well, there isn't much good to think about this.
"We are a group that stays and fights to the end," Dodgers star Adrian Gonzalez said.
That surely is the case. But the end appears fairly near now.
The lefty starter is coming off a terrible season

After acquiring Ian Kinsler and Zack Cozart in recent days, the Angels are trending upward

Cozart's coming off a big season as the Reds' shortstop
The veteran slugger spent the last eight seasons with Cleveland

The Padres may be poised for an active winter

Yes, Bryce Harper is going to make a lot of money next winter