Time to commemorate the Yankees' season; unlike Jeter, it is over
A loss to the Boston Red Sox realistically leaves the Yankees as non-contenders.
NEW YORK -- The Yankees unveiled a commemorative uniform patch honoring the retiring all-time great Derek Jeter, and while Jeter is noticeably alive and active, the commemorative part is fitting since the 2014 Yankees are actually dead.
Not technically dead, but realistically dead.
The Yankees started what was viewed as a vital nine-game homestand with a drubbing at the hands of the rival also-ran Red Sox. And for those living in the real world, that is it for the storied $200 million-plus team, at least for this season.
Let the Derek Jeter Farewell Tour begin in earnest.
Yankees manager Joe Girardi told us in spring training that he didn't sign up to manage the coming tour, but this is exactly what it's come to. Jeter, the least productive player in the American League in August among full-time players (.487 OPS), continues to bat second. The feeling is that he'd bat second if he hit half of that.
Jeter isn't dropped in the Yankees order, of course, because he is an all-time great, an iconic player who brought only honor to the pinstripes. It's not because the other guys aren't doing so great, either, or because Jeter is great when the chips are down, as Girardi suggested Tuesday. No really, Girardi said before the game that by virtue of the fact the wins are almost necessary now, he's viewing them as playoff games, and Jeter is very good in playoff games, which is why he should bat second.
Except there will be no actual playoff games for the Yankees, who can only see the far-ahead Royals, Tigers and Mariners with binoculars, and very powerful ones at that. The Yankees have to catch two of those teams, all better than them. They haven't a prayer.
Of course, the reality is that Jeter is batting second as a tribute to a man who will one day have a monument, not just a plaque, in Yankee Stadium. It's just like the patches, a nod to greatness. The pregame video showing Jeter's 10 greatest plays (he's so great The Flip wasn't even No. 1!) was yet another honor, too.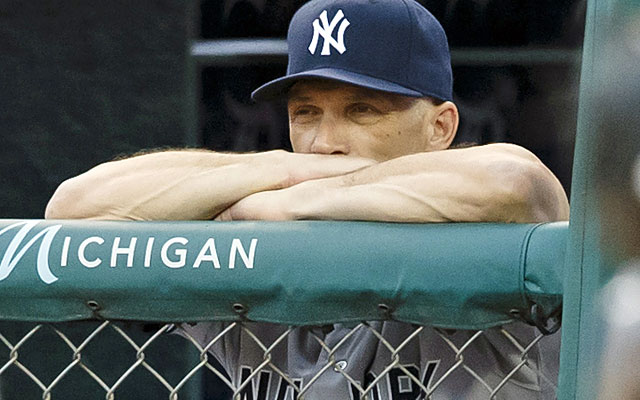 The whole season is a tribute to the great man's career, not that there's anything wrong with that.
There is an amazing statistic in the Yankees media guide that says Jeter played only one game in his entire career that had no implication on the pennant race. That came on the final day of the 2008 season. (Jeter didn't play late last year, when the Yankees were out of it a bit earlier.)
Well, you can now add September 2014 to that list. Because the Yankees are done.
They are 70-66, and not as good as that even. Their run differential is negative. So is the trend (they've lost three straight). They are tied with the Indians, let alone the bona fide contenders.
"They are not very good," one top AL executive said of the Yankees. "They are lucky to be where they are."
There might be some websites that suggest some percentage chance for the Yankees to make the playoffs. But those sites are just running numbers through a computer and spitting them out.
If you've been watching the Yankees closely you know they are not a postseason team.
Actually, a pretty strong case could be made that they are fortunate to have gotten this far. They lost 4/5 of their starting rotation, and most of it early (though one of them, Michael Pineda, eventually made it back).
A great lineup on paper has looked mediocre, at best. There isn't a player on the team with an .800 OPS. No one will likely hit .300. No one will come close to knocking in 100 runs. Jacoby Ellsbury is the RBI leader with 64, in fact. These are the Bronx bummers.
If not for the late-inning relief combo of Dellin Betances and David Robertson, they'd have been dead and buried long ago.  That pair was spectacular all season, and helped them cover a fair number of sins.
But not nearly all of them.
On this day, their old nemesis, the Boston Red Sox, who have been dead for weeks, if not months, battered rookie right-hander Shane Greene, one of the brighter spots of the Yankees season.
Daniel Nava, one of many Red Sox who had a career year last year and has done nothing this year, homered. So did Xander Bogaerts, who came into the year seen as one of the best prospects in baseball. So did Mookie Betts, who looks like he's going to be a pretty good hitter one day, once Boston figures out where to play him.
There was almost no pregame buildup or buzz at Yankee Stadium considering the opponent was Boston, and what buzz there was was all about Jeter. The highlight of the game came when an out call on Jeter at first base was overturned after he legged out an infield hit with the bases loaded. He still can run a bit.
That made it 7-3 Boston, heading to a 9-4 final.
The Yankees didn't do enough against St. Louis import Joe Kelly, part of the new-look Red Sox, who at least got a jump on their rebuilding process.
Now the Yankees' season is over.
Maybe they can issue a commemorative patch for the season, such as it was.
Marcell Ozuna figures to be the next Marlins star on the move

Several relievers have signed in the last two days

Several teams are interested in the switch-hitting first baseman
Neshek and the Phillies are closing on a two-year contract

And the team that first drafted Cole is interested

This scout was SUPER into Jeter