Time was up for Ichiro in Seattle, but maybe it'll work with Yankees
It is best for Ichiro and the Mariners that the Ichiro Era ended in Seattle.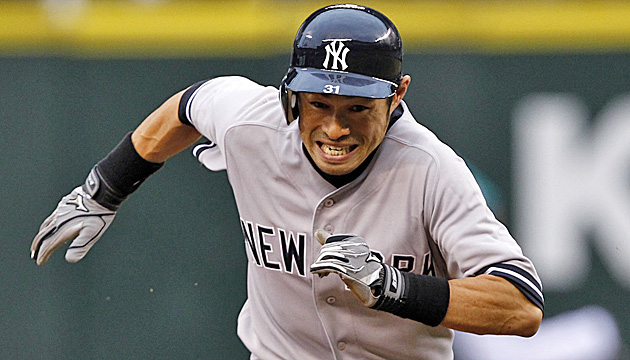 Ichiro doesn't have to be a star in New York, just a reliable outfielder and slap hitter. (AP)
The wild Ichiro-to-the-Yankees trade just might work for the Yankees, and here's why.
While Ichiro Suzuki had to leave the Mariners, and he knew it, he may be energized going to baseball's most watched, most star-studded team. Maybe Ichiro was bored in the Great Northwest the past couple years.
Give him this, though. He knew a change was for the best.
Mariners boss Howard Lincoln revealed Monday that Mariners ownership approached Ichiro about an extension in June, and Ichiro, understanding the time was up there, wisely turned it down.
Ichiro's well-known pipeline to the Mariners owner Hiroshi Yamauchi, the Nintendo chairman, wasn't healthy for the organization, the team, the manager or the other players. Mariners great Jay Buhner was speaking for many an ex-Mariner when he publicly said he'd "want to vomit'' if the Mariners gave Ichiro a multi-year contract extension. Time deifinitely was up.
Yamauchi always was more an Ichiro fan than a Mariners backer, and even the idea of extending him when his career was in a slide at age 38 and the team was continuing to lose shows at least the love Yamauchi had for Ichiro, who always denied that he had the ear of Mariners ownership.
People who've worked there insist Ichiro did indeed hold major sway over the owner. And if so, his last suggestion, which was to be dealt, was appropriately adhered to.
Already, the change is evident. Ichiro, who never batted below third in a Mariners lineup, hit eighth in his first Yankees lineup.
Ichiro is only expected by the Yankees to fill injured Brett Gardner's shoes, which means to be an excellent defensive outfielder, basepath demon and solid .260s slap hitter. Despite his slide -- he is hitting only .261 and has an OPS of .640 (his .510 OPS against lefties is fifth worst among major leaguers with 100 at-bats, according to Joel Sherman of the New York Post) -- he may do more than that in New York.
Ichiro seemed very excited to be on the Yankees. Alex Rodriguez, who once himself disdained the calm and anonymity of Seattle, said Ichiro will love the bright lights of New York. Something had to change, and the Mariners sent him to the locale that was the diametric opposite of Seattle. Who knows, maybe Ichiro lights up New York.
The lefty starter is coming off a terrible season

After acquiring Ian Kinsler and Zack Cozart in recent days, the Angels are trending upward

Cozart's coming off a big season as the Reds' shortstop
The veteran slugger spent the last eight seasons with Cleveland

The Padres may be poised for an active winter

Yes, Bryce Harper is going to make a lot of money next winter