To right the ship, the Giants need Matt Cain to be Matt Cain
The Giants are in a free fall, and if they want to stop it, they need Matt Cain to be himself.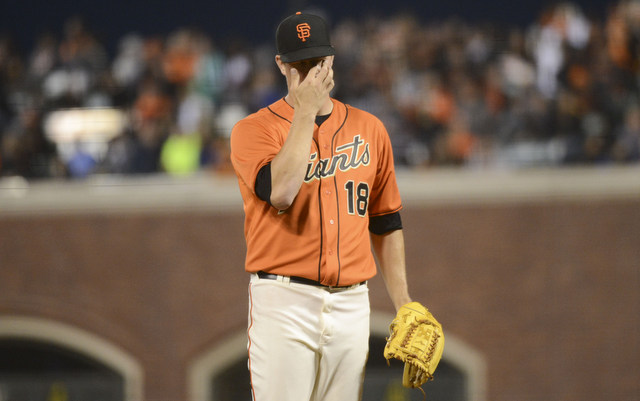 More MLB: Power Rankings | Expert Picks | Latest news & notes | Fantasy news
The Cardinals beat the Giants by the score of 7-2 on Thursday afternoon (box score), continuing San Francisco's stunning fall following an outstanding start to 2014. The Giants have now lost 17 of their last 22 games to erase a 9.5 game lead in the NL West.
A skid like that takes a total team effort. This isn't one or two guys in a slump. The offense hasn't produced (2.95 runs per game during the last 22 games), the pitching staff hasn't kept them in games (4.72 runs per game), and the defense has been a mess (.688 defensive efficiency). It's hard to win when you're bad in one phase of the game, nevermind all three.
The Giants will welcome Brandon Belt back off the disabled list on Friday and that will help, but San Francisco's first basemen did hit .311 with six home runs during his 49-game absence. The position wasn't a black hole. Belt will still help though.
More than anything, the Giants need their rotation to sort itself out. A strong pitching staff has been the club's trademark during their recent run of success, but right now only Madison Bumgarner and Tim Hudson are pulling their weight. Ryan Vogelsong has been solid and Tim Lincecum occasionally brilliant, though the consistency is not there.
And then there's Matt Cain, the team's long-time rotation stalwart. For years he just quietly plugged along, chewing up innings with ace-caliber performance while Lincecum was winning Cy Youngs and Bumgarner was the next big thing. Cain was the perfect star player -- effective, reliable, durable and low-maintenance.
These days Cain is a little less of all of that. He will head into Friday's start against the Padres with a career-high 4.38 ERA as well as a 1.23 WHIP that is his highest in six years. Despite throwing seven shutout innings against the Reds last time out, Cain has still allowed 18 runs in 24 1/3 innings over his last four starts.
His struggles are not the only reason the club is in a tailspin, but they are a big part of it. The Giants play in a big ballpark in a division with other big ballparks. It's a pitching first environment, and right now San Francisco isn't getting enough of it. Cain turning his season around would not just give the team another quality starter, but it would take some pressure off the bullpen.
The problem is that Cain's struggles started last season, when he pitched to a 4.00 ERA in 184 1/3 innings. He managed a 2.93 ERA in almost 900 innings from 2009-12 before that. His career-long ability to prevent the long ball (0.76 HR/9 from 2009-12) has suddenly deserted him (1.27 HR/9 in 2014), which could stem from slight drop in velocity with age. Hitters are squaring him up a bit more often.
If this was just a one month blip, it wouldn't be a huge deal. Pitchers go through it all the time. But this has gone on since last year now, and when it goes on that long, it's less likely the pitcher will snap out of it. That's a big problem for the Giants and not only because there is nearly $80 million left on his contract. He's supposed to be a linchpin in the rotation.
The silver lining to this slump is that the Giants were so good early in the season that they are still in a virtual tie atop the division depsite all the recent losing. This 5-17 stretch has not buried them in the standings. They've used up their cushion though, and now they have to get things back on track to keep pace with the Dodgers. Getting Cain back to being himself is a necessary part of that turnaround.
Boston wants to add two big bats to their lineup, not just one

Even more relievers signed on the final day of the Winter Meetings

Keep tabs on the top 50 free agents right here
The league is not happy Ohtani's medical information leaked

Kansas City and Baltimore were quite busy at the Rule 5 Draft

Piscotty's mother was diagnosed with ALS earlier this year