To the negative reviews, Yanks' Cashman says: 'Don't count us out'
Scouts are suggesting the Yankees, who have averaged 97 wins for 17 years, may finally be in trouble after Mark Teixeira's injury.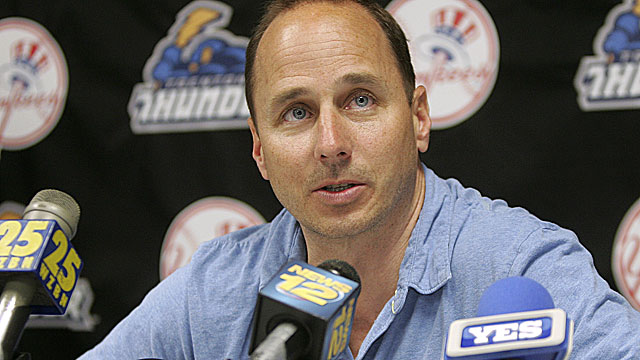 The Yankees are the talk of Florida, though not in a good way. With anything less than the playoffs seen as an abject disaster in the Bronx, scouts and other baseball people are starting to speculate about how far the mighty might fall this year.
Some are predicting as low as last place in a wide-open division where anyone is seen as a potential division winner. Not so fast, says general manager Brian Cashman. He has a word of warning for anyone who foresees their ruination.
"Don't count us out yet, buddy,'' Cashman asserted in a phone interview.
It probably is too soon to count a team that's been by far the most successful in the majors over the past decade and a half -- it has averaged 97-plus wins over the past 17 seasons, not kidding that's the average -- but its disastrous spring combined with something less than its usual strong depth have folks speculating this could be the end of the dynasty.
"I can see a situation where they have one last hurrah but it just seems unlikely, especially with the [Mark Teixeira] and Curtis [Granderson] injuries,'' one American League scout said. "Their rotation should be solid but their pen is a bunch of question marks and the lineup is old and beat up.''
"It could be bad,'' another A.L. scout said succinctly.
The opinions aren't good, but they aren't quite unanimous.
"I could see them going either way. They could do their usual or they could go far south,'' said a third A.L. scout.
There was a bit of skepticism to start spring because the Yankees, while usually among baseball's oldest teams, this time didn't have their usual excellent depth, which Cashman acknoweldeged. That issue has come to the fore now that Granderson will miss a month or so after breaking his arm when he was hit by a pitch, and Teixeira is out for at least 8-10 weeks after suffering a wrist injury while hitting off a tee in a WBC practice.
Cashman pointed out they recently improved their depth by signing Ben Francisco and Brennan Boesch. Although, they obviously aren't the equals of Granderson and Teixeira (and neither of them plays first base), they can't hurt.
About the bad early reviews, Cashman said, "I can understand why people are saying that. We've lost some key people. We lost Alex [Rodriguez]. We lost Teix. We lost Granderson. That's not going to stop us from trying to put forth a team that's going to make the playoffs.''
The Teixeira injury hurts because there is no obvious replacement, and no certain return date (Cashman said 8-10 weeks is the mostly likely scenario but acknowledged there's a "30 percent" chance surgery will be needed for Teixeira, which would mean 5-6 months out, and likely the season). Kevin Youkilis, a wise signing especially now, will man either third or fiirst with the in-house candidates to man the other corner including first basemen Juan Rivera (really a converted outfielder) and Dan Johnson and third basemen Ronnier Mustelier andJayson Nix.
The Yankees also lost Nick Swisher and Russell Martin, who left via free agency, this winter. So their power numbers were going to suffer, even before Granderson and Teixeira got hurt. They led the A.L. with 245 home runs in 2012.
Teixeira suggested he could be out slightly longer than 8-10 weeks upon his return to Yankees camp, and though Teixeira and the Yankees have fairly portrayed surgery as not that likely considering his tendon is intact and tendon sheath has only a partial tear, a 30 percent chance to miss the season still sounds rather ominous.
"It has a 70 percent likelihood of this resolving itself on its own,'' Cashman said.
The Yankees' chances to continue their excellence don't look quite so high for the first time in a long time. They've missed the playoffs only once in the last 17 years.
Cashman acknowledged the wrist is a tricky thing. Blue Jays star Jose Bautista thought his wrist injury would heal without surgery last season, but eventually it got to the point where he had to have the operation.
Teixeira hurt his wrist while taking four swings off a tee at a WBC workout. He said he felt "tight'' after the swings, and his WBC teammates who saw it were stunned he had suffered such a serious injury. The good news is, the sheath isn't completely torn and the tendon isn't torn at all. Had either not been the case, Cashman said, surgery would have been automatic.
Cashman acknoweleged, however, "Anything with a wrist [is tough].''
The injury is unpredictable. And for the first time in years, so seem to be the Yankees.
No, you're not imagining things. This MLB offseason has been very slow compared to the last...

Francesa will retire from radio next month, so he'll have plenty of free time next summer

Get your sports fans something that they'll wear all year
Get 15 percent off any order of more than $75 at CBS Sports Shop

The Twins need help in the rotation, and they may look to the trade market to find arms

Here are the bullet-points of what went down Tuesday regarding MLB and the Braves' punishm...