Tommy Hanson's woes another reminder of the perils of pitching
Once one of baseball's brightest young starting pitchers, Tommy Hanson couldn't make the Rangers' injury-riddled rotation at age 27. Part of the issue? His past shoulder woes have derailed his effectiveness.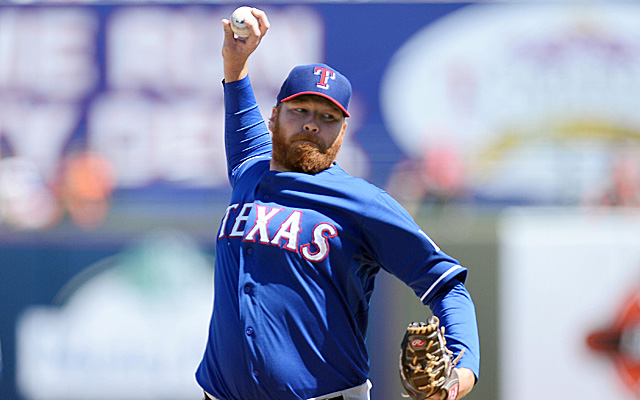 MORE: Spring Training | Scoreboard | Team previews
Despite being down Yu Darvish, Derek Holland and Matt Harrison to open the season, the Texas Rangers released rotation hopeful Tommy Hanson on Wednesday. It was yet another, sobering reminder that the human body isn't meant to repeatedly throw a baseball at a high velocity while occasionally twisting one's arm sideways in the process.
Obviously, lots of pitchers avoid major injury throughout their careers. Many do not. Possible Hall of Famers like Chris Carpenter are relegated to "Hall of the Very Good" status. Others see once-promising careers ruined -- whether relative no names or high-profile cases Mark Prior or Brandon Webb. There are historical cases like Mark Fidrych, who was never the same after a torn rotator cuff, or Sandy Koufax -- who was a stud long enough to gain induction to the Hall of Fame but had to retire after his age-30 season.
So Hanson's case isn't special. He's another in a long line of guys who seemed to have an arm injury crush a career.
Remember what Hanson was?
Prior to the 2009 season, Baseball America ranked him as the fourth-best prospect in all of baseball. He was that Archie Bradley/Taijuan Walker type prospect fans clamor over these days. He would go out and post a 1.49 ERA in 11 Triple-A starts that season before his promotion. All he'd do in the majors was go 11-4 with a 2.89 ERA, 1.18 WHIP and 116 strikeouts in 127 2/3 innings. This was all at age 22.
It has been five years, but think about how we'd be viewing a player with the above paragraph as his resume heading into the 2014 season. We'd love him. Even fans of the Phillies and Mets would be saying things like, "Man, I hate the Braves, but Hanson is a stud. I wish we had him." I'm guessing many did say that, in fact.
He would follow up the effort with a good 2010 (3.33 ERA, 117 ERA+, 1.17 WHIP, 202 2/3 innings) and then was 11-7 with a 3.60 ERA in 2011 before going down with a rotator cuff issue. Since then he's also dealt with tendinitis, inflammation and a forearm strain at different points.
Since 2011, Hanson's also lost around three mph off his fastball while his curve and slider have tailed off as well. His control and command have faded while his strikeout rate has down down and his allowed hit rate has gone up.
And after a spring in which he allowed 14 hits and 11 runs (10 earned, good for a 6.43 ERA) in 14 innings, Hanson is again looking for work. At age 27.
He'll surely get another chance, but the fact that he couldn't make a Rangers rotation that is in absolute shambles after being one of baseball's brightest prospects just a handful of seasons ago speaks volumes to how easily shoulder and/or elbow injuries can ruin pitchers.
Perhaps Hanson can take solace in the success Scott Kazmir had last season in his comeback with the Indians -- which he parlayed into a two-year, $22 million deal with the normally-frugal A's. And, again, Hanson is only 27. There's still time.
It's just that in Prior, Webb and the like, we've seen the flip side of Kazmir all too often. As I said earlier, the human body just isn't meant to do that.