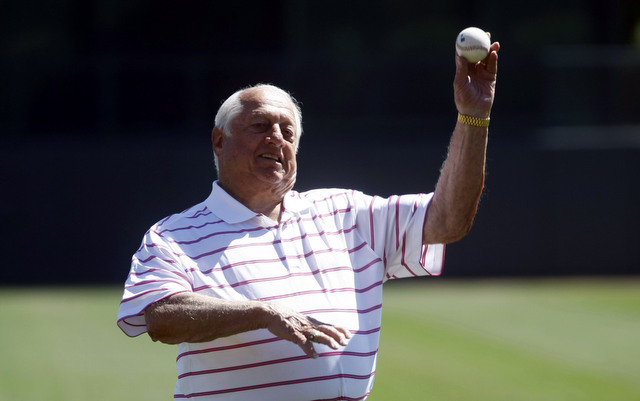 More MLB: Power Rankings | Expert Picks | Latest news & notes | Fantasy news
Last week, the NBA fined Los Angeles Clippers owner Donald Sterling $2.5 million and banned him from the league for making racist remarks. The conversation with V. Stiviano, Sterling's girlfriend, was recorded. She reportedly tried to extort money from him in exchange for the recording.
Longtime Dodgers manager Tommy Lasorda has known Sterling for years and, according to CBS News, he told a Florida television station: "It doesn't surprise me that he said those things. And he shouldn't have said it."
That's the logical and diplomatic response to a question about the Sterling situation. Nothing controversial at all. After that though, Lasorda went off the rails. Here's what he had to say about Stiviano:
Based on his tone, Lasorda was not joking when he said, "I don't wish that girl any bad luck, but I hope she gets hit with a car."
That's not appropriate at all. I get that Lasorda is 86 years old and comes from a very different time, but saying you hope someone gets hit by a car on television should be an obvious no-no.
Lasorda is an ambassador for both the Dodgers and MLB, and is one of the game's most beloved people. Something like this is a problem, though. It's offensive and not something anyone should be saying, let alone someone in Lasorda's position. Let's hope the league takes some action.
For everything you need to know on the Donald Sterling situation, check out Eye on Basketball.