Tony La Russa defends Diamondbacks, calls criticism unfair
In light of much recent criticism concerning a certain hit-by-pitch, Tony La Russa believes the Diamondbacks are being treated unfairly.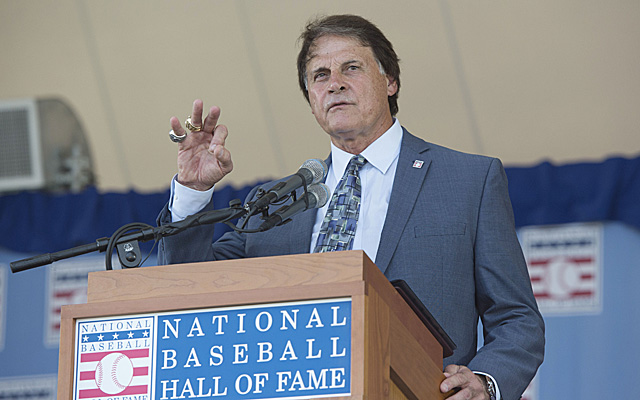 More MLB: Power Rankings | Expert Picks | Latest news & notes | Fantasy news
In light of the recent controversy involving Paul Goldschmidt's broken hand that was caused by a pitch from Pirates reliever Ernesto Frieri and the ensuing Randall Delgado pitch that hit Andrew McCutchen in the back (which may or may not have fractured a rib), MLB and Diamondbacks executive Tony La Russa believes the Diamondbacks have been unfairly criticized nationally.
Some of that criticism has come here, here and here.
From azcentral.com, here are some of La Russa's responses:
"I don't see where the Diamondbacks should catch all this (expletive) they're catching," La Russa said.
---
"Who's got a mind reader?" said La Russa, the Diamondbacks' Chief Baseball Officer. "I don't know that Delgado — he got the ball inside. I'm very careful when I say I know. If I don't know, I don't know."

---

"What surprises me about this one is Pittsburgh is one of those clubs. And I don't judge because if that's the way you want to pitch, you need to understand — with those rewards, it comes with risks. There's an old expression that you learn in competition — there ain't no free lunch."
La Russa also pointed out that the Pirates have hit 61 batters this season, leading the league.
I can clarify that the difference is what I believe to be intent, in that the Frieri/Goldschmidt pitch wasn't intentional but the Delgado/McCutchen pitch was. I would further note that unintentional hit batsmen are a very unfortunate occupational hazard while intentionally drilling guys is an archaic and pretty barbaric practice that consciously risks injury.
On the flip-side, I will gladly concede La Russa's point that we can't read the minds of the pitchers. So I'll say that if Delgado's pitch was an accident, I'm sorry, Arizona. By the same token, if Frieri's pitch was intentional, I'm sorry Arizona.
Moving forward, maybe it would behoove the Pirates to stop pitching inside so often, but I will continue to maintain the idea that accidental hit-by-pitches are totally different than purpose pitches.
The Twins have already fortified the bullpen with Addison Reed, and now they want to address...

The Orioles likely want pitching, and the Indians have plenty of it

Halladay died in a November plane crash off the coast of Florida
The power-hitting outfielder is headed to Toronto

Martinez could add some power to a Boston lineup void of it

It's almost that time of the year again, time for the Tebow madness to return