Tony La Russa: Let PED users in the Hall, but with an asterisk
Soon-to-be Hall of Famer Tony La Russa has addressed the intertwined topic of PED use and Cooperstown.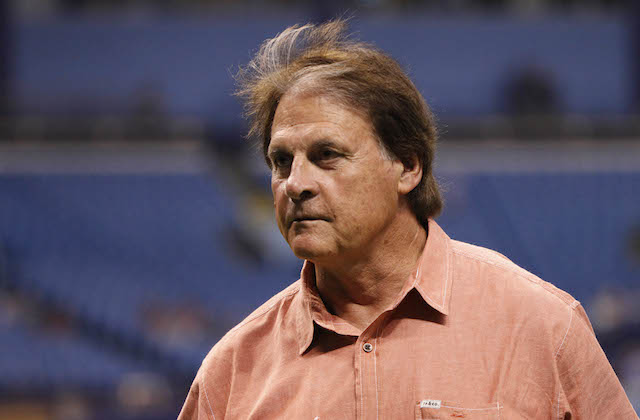 More MLB: Power Rankings | Expert Picks | Latest news & notes | Fantasy news
Decorated skipper Tony La Russa is set to be inducted into the Baseball Hall of Fame on Sunday, and the topic of performance-enhancing drugs/banned substances and how they relate to Hall standards has naturally been broached.
La Russa, of course, presided over Athletics and Cardinals teams that featured Jose Canseco and Mark McGwire, among others. So La Russa has at least some proximity -- knowing or unknowing -- to the issue at hand.  Here, via Bill Madden of the New York Daily News, is what La Russa had to say about all of that: 
"It's my two cents, but I think you should let them in, but with an asterisk. You can't place these guys ahead of Hank (Aaron) and (Babe) Ruth. It was a bad period. But if a player has Hall of Fame credentials, I think they should be allowed in — a lot of them had Hall of Fame credentials before all this stuff came out."
Personally, I think asterisks are silly -- everything that happens on a baseball diamond is beholden to context, and singling out a very specific group of PED users is arbitrary at best. That said, an asterisk seems an improvement over scrubbing out of existence an entire generation of the game's best players. Going back and adding an asterisk to the amphetamine users of the 1960s and 1970s who are already in the Hall isn't going to happen, but, again, I'll settle for allowing a baseball history museum to, you know, tell the history of baseball. Asterisk? Facile, but, sure, whatever. Just put the best players in. 
It strikes me as absurd to penalize the likes of Barry Bonds and Mark McGwire and Rafael Palmeiro and Roger Clemens for failing a moral litmus that was failed by many inducted players of prior generations, albeit on "softer" terms (i.e., "greenie" users proved they had a willingness to cheat, but they had fewer such implements at their disposal). 
I've all but given up on agitating for any kind of consistency when it comes to our treatment of PED users across generations, but La Russa seems to have a better perspective on it than many Hall voters. 
Plus the Indians are now 27-1 in their last 28 games. Here is everything you need to know from...

The soon-to-be 43-year-old Dickey said he wants to spend more time with his family

The two NL Central rivals opened a four-game series at Miller Park on Thursday night
The ballparks in Cincinnati, San Diego and Seattle will have expanded netting in place by Opening...

Mondesi spent six years as the mayor of San Cristobal in the Dominican Republic after reti...

The veteran skipper has been Mets manager since the start of the 2011 season