Top 10 2014 MLB free-agent middle infielders
As we continue our look at the top free agents by position, it's time to check out the middle infielders, led by Robinson Cano.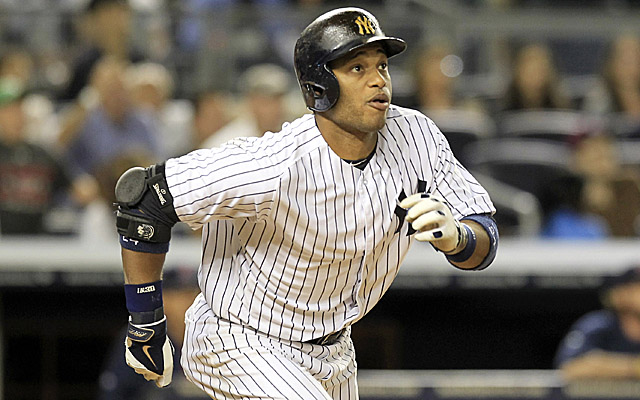 FA tracker: Position players | FA tracker: Pitchers | Top 10 starting pitchers | Top 10 outfielders | Top 10 corner infielders
As we continue our look at the top free agents by position, it's time to check out the middle infielders. There's one superstar and a small handful of decent-to-good starting options. With such a thin free-agent class overall, this actually isn't an awful grouping of middle infielders.
1. Robinson Cano, 30: Far and away the best free agent this offseason. He's a perennial All-Star and MVP candidate who never misses games (he averaged 160 games per season for the past seven years). What's interesting is nearly every team that has the funding needed to pursue Cano has said at some point it's not willing to spend huge money this offseason. It seems possible the Yankees will just be bidding against themselves. Will we see a "mystery team" enter the bidding? It's possible. It happened with Cliff Lee, Albert Pujols, Josh Hamilton and Prince Fielder just in the past few years.
2. Stephen Drew, 31: He's a superb defender at an all-important defensive position who hit .253/.333/.443 with 29 doubles and 13 homers last season. A helpful player for sure -- after all, he was an everyday starter on a World Series champion -- but not a game-changer.
3. Yunel Escobar, 31: Very similar to Drew, actually, in that Escobar is slick with the glove at shortstop and hit .256/.332/.366 with 27 doubles and nine homers last season. He was a regular starter on a playoff team, so it has been proven he can be an important part on a winning ballclub. Also important was the bounce-back season Escobar had after a disgraceful exit from Toronto. [NOTE: His option has been picked up, so he's off the list]
4. Jhonny Peralta, 32: An argument could be made to place Peralta second on this list, but he gets dinged for several reasons. First, he really shouldn't be playing shortstop. He lacks the necessary range. If he's moved to, say, third base, his bat doesn't play nearly as well. There's also the 50-game suspension he just served due to his ties to the Biogenesis clinic. I don't think teams will be worried about bad press as much as a possible second suspension, which would be 100 games. So he's a risk. He did hit .303/.358/.457 with 30 doubles and 11 homers in 107 games last season, making his second All-Star team, though, so we know he can hit.
5. Omar Infante, 32: The versatile infielder has played nearly everywhere on the diamond in his career, but was strictly a second baseman this past season for the Tigers. He's a productive offensive player, having hit .318/.345/.450 with 24 doubles and 10 homers last season in 118 games. Some -- but not all -- defensive metrics show him as subpar, though.
6. Brendan Ryan, 32: A brutal hitter -- .197/.255/.273 (51 OPS+) last season -- Ryan's value is all on his glove. He's one of the best defensive shortstops in baseball. He probably shouldn't be a regular starter due to his bat being so bad, but he's a valuable bench player, especially as a late-inning defensive replacement.
7. Mark Ellis, 37: His respectable career is nearing its end, but he's not falling apart. He hit .270/.323/.351 for the Dodgers this past season, marks that resemble his career line. He's unexciting, but teams desperate for a starter could do worse (see below).
8. Brian Roberts, 36: He has been with the Orioles his entire career, but it's probably time to move on. Roberts finally played more than 60 games last season for the first time since 2009, but he still only managed 77 appearances, hitting a meager .249/.312/.392. His speed and range are mostly gone and he's always going to be an injury risk.
9. Nick Punto, 36: He's far past his prime, but Punto should have a few years left of being a decent utility backup. He hit .255/.328/.327 last season, seeing time at second, short and third.
10. Rafael Furcal, 36: He hit .264/.325/.346 with 18 doubles, three triples, five homers and 12 stolen bases in 2012. Injury limited him to 121 games following two injury-riddled campaigns. Now he's coming off Tommy John surgery. I feel like he's done, but someone may roll the dice and hope he plays like the did in 2010 when healthy (.300/.366/.460 with 22 steals in 97 games).
Neither Josh Donaldson nor Brian Dozier have talked about a new contract extension

Francisco leads the Dominican Winter League with seven home runs

Thome deserves enshrinement and here's why the case against him does not hold up
The Twins have already fortified the bullpen with Addison Reed, and now they want to address...

The Orioles likely want pitching, and the Indians have plenty of it

Halladay died in a November plane crash off the coast of Florida