Top 10 free-agent outfielders for 2014
Let's continue our countdown of free agents by position/role with a look at the outfielder on the market this offseason.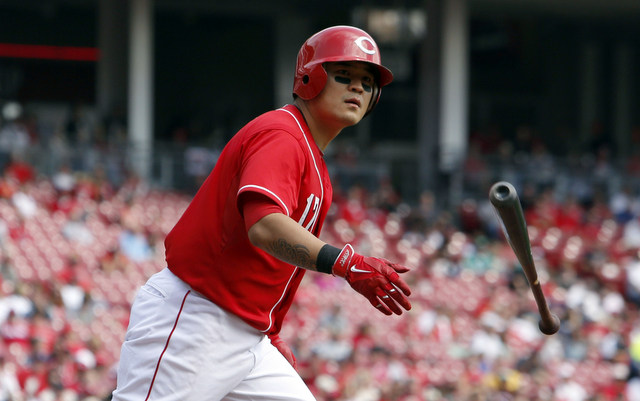 MORE FREE AGENTS: Tracker: Position players | Tracker: Pitchers | Top 10 starting pitchers
Starting Tuesday, free agents are free to shop their services to any and all teams, so in that spirit let's continue our countdown of top 2014 free agents according to position or role. Today we'll look at the 10 best outfielders.
As a reminder, we're not including players whose current team holds an undecided option on them for 2014.
1. Jacoby Ellsbury, 30: The best outfielder on the market isn't a traditional masher. Instead he is the game's best base-stealer and a defensive whiz. Ellsbury had a .355 OBP with a 114 OPS+ this season, stealing a ridiculous (and league-leading) 52 bases in 56 attempts. He was an MVP candidate three years ago and teams will surely have that in the back of their minds while courting him this winter. It's worth noting Ellsbury had a compression fracture in his foot in September and will soon head for an MRI on his injured left hand. He's also a Scott Boras client.
2. Shin-Soo Choo, 31: Choo is another leadoff hitter type but he's cut from a different cloth than Ellsbury. He's an on-base machine, with a .423 OBP this season and a .389 OBP for his career. Choo is also a legitimate 20-homer, 20-steal guy as well. A team could take advantage of his on-base skills and bat him leadoff or decide to use his power towards the middle of the order. On the downside, the left-handed hitting Choo has long struggled against southpaws (.612 OPS this year) and his defense is suspect. The Reds asked him to play center field but he's much better equipped for right. He's also a Boras client.
3. Carlos Beltran, 36: Back-to-back seasons of 145+ games and 600+ plate appearances have assuaged concerns about Beltran's durability, which stemmed from a string of knee injuries towards the end of his tenure with the Mets. The man can still hit, with a 128 OPS+ and 24 home runs in 2013. He doesn't steal bases like he once did and his defense is just okay at this point, but those are minor negatives compared to his switch-hitting skills. A serious contender will surely value his postseason dominance (career 1.128 OPS) as well.
4. Nelson Cruz, 33: The Biogenesis cloud hangs over Cruz, and I suspect teams will be somewhat wary considering the awful year Melky Cabrera had in 2013. Cruz had a much longer track record, however, and his kind of right-handed power is very hard to find these days. He had a 123 OPS+ with 27 homers around the suspension last season and has averaged 27 homers per season since breaking into the big leagues full-time five years ago. Is the Biogenesis stuff really a bigger deterrent than Cruz's long history of hamstring problems?
5. Curtis Granderson, 32: A pair of fluky hit-by-pitch injuries limited Granderson to only 61 games this season, during which he hit seven homers with a 97 OPS+. He led all of baseball with 84 home runs from 2011-12 and while it's easy to think the lefty swinger used Yankee Stadium's short right field porch to hit all those homers, Granderson ranked third in the game with 37 road homers during those two seasons. Power is close to his only selling point these days because he's a low-average, high-strikeout player with questionable defense in both center and the corners, but legitimate 40-homer power is a great tool to have. Someone will pay big for it.
6. Marlon Byrd, 36: This is where the free agent outfield crop really starts to tail off. Byrd had an awesome bounceback season in 2013, setting career-highs with 24 homers and a 138 OPS+, but he was almost out of baseball at this time last year. He's also not young either. Plenty of teams need a productive outfielder and Byrd most certainly was that this past year, but the track record will make some skeptical. I'm very interested to see how teams approach him this winter.
7. Nate McLouth, 32: McLouth resurrected his career with the Orioles these last two seasons, posting a 96 OPS+ with 12 home runs and a career-high 30 stolen bases in 2013. He handles left-handers well enough and is solid defensively in left field, so he's more than a part-time player. With Ellsbury and Choo representing the elites, McLouth is the mid-range leadoff hitter option on the free agent market this winter.
8. Raul Ibanez, 41: Ibanez is still chugging along, swatting clutch homers and making GIF-makers happy with his hilariously bad defense. He hit 29 home runs in 2013, the second most of his career, and has clubbed at least 16 long balls every year since 2002. It's also worth noting Ibanez is very highly regarded in baseball as a strong clubhouse guy and a mentor to young players. Given his age, retirement is a possibility.
9. David Murphy, 32: A disastrous contract year (77 OPS+) likely cost Murphy several million dollars this winter, but I think he's got a chance to be a real bargain. He is what he is, a left-handed platoon corner outfielder, but Murphy managed only a .222 BABIP (!) and an 84 OPS+ against righties in 2013. That's compared to a career .300 BABIP and 109 OPS+ against northpaws. My money is on Murphy rebounding to his career norms and again being a solid role player in 2014. There's a lot of teams that would be willing to bet a one-year contract on that happening.
10. Franklin Gutierrez, 30: The Mariners declined Gutierrez's option on Friday following his third straight injury-plagued season. He has been limited to 173 of 486 possible games since 2011 due to illness, a concussion, a pec strain and hamstring problems. Gutierrez isn't much of a hitter -- though he did manage 10 homers in 41 games in 2013 -- and he makes his money with all-world center field defense. Will the hamstring problems he ran into in 2013 sap some range and defensive ability?
The Astros scored seven runs in Game 6 after scoring nine runs total in Games 1-5

The Astros are still alive, and Justin Verlander is the reason why

With a six-run lead in the ninth, the Astros used closer Ken Giles for 23 pitches
On Saturday night in Houston, it'll be CC Sabathia against Morton

The ALCS will go the distance after all with the Astros offense coming back to life in Game...

Verlander's stuff was insane during Game 6 of the ALCS