Top five 2014 free-agent catchers
Beginning with big name Brian McCann, let's take a look at the top five available catchers in this year's free agent class.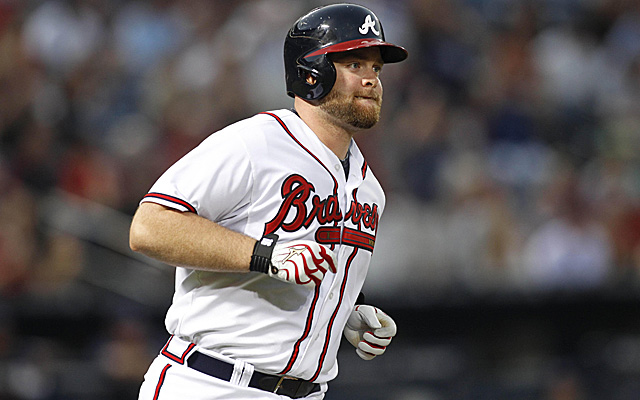 FA tracker: Position players | FA tracker: Pitchers | Top 10 starting pitchers | Top 10 outfielders | Top 10 corner infielders | Top 10 middle infielders
As we plow through the 2014 free agency rankings at each position, we stumble Tuesday upon what is actually a pretty decent class of catchers, compared to what is usually available in free agency at this position. It starts with a guy soon to hit a huge payday, by all accounts.
1. Brian McCann, 30: He came back from injury to have a very solid season, making his seventh All-Star team. He managed 20 homers in just 102 games with a .256/.336/.461 line. What you'll get from McCann isn't much secret. He's going to post 20-25 homers, get on base at a decent-to-good clip (.350 career OBP) and work well with the pitching staff. With probably about three years left of his prime -- and a bat worthy of shifting to designated hitter or first base a la Victor Martinez -- he'll be in high demand.
2. Jarrod Saltalamacchia, 29: Though a qualifying offer is for $14.1 million next season -- more than Salty's made his entire career to this point -- the Red Sox did him a favor in not tendering him an offer. Now he's not saddled with the loss of a draft pick for whatever team opts to sign him -- something that killed Kyle Lohse's value last offseason. So Saltalamacchia is sure to get a multi-year deal worth more total dollars than the $14.1 million. He hit .273/.338/.466 with 40 doubles, 14 homers and 65 RBI for the World Series champs and is still south of 30 years old. Lots of positives there.
3. A.J. Pierzynski, 37: How much longer can he hold on? The veteran backstop is great with his pitchers and has power, but he made a lot of outs last season, posting a sub-.300 (.297) on-base percentage. He did have 24 doubles, 17 homers and hit .272, though, so he'll likely find a starting job. Maybe one last time.
4. Carlos Ruiz, 35: Free agency is definitely one year late for "Chooch." After last season, he was an All-Star who hit .325/.394/.540 with 32 doubles and 16 homers. Now he's a guy coming off a season in which he hit .268/.320/.368 with 16 doubles, five homers and also served a suspension due to his second positive test for amphetamines. He'll also be 35 in January and has racked up 13 years of catching professionally on those knees. He can still work as a starter, but not for much longer. What a difference one year can make.
5. Dioner Navarro, 30: Talk about timing. The stocky switch-hitter is coming off a career year. He only started 53 games, as he was the Cubs' backup behind Welington Castillo, but Navarro hit .300/.365/.492 (132 OPS+) with 13 homers in 240 at-bats. He's also respected for his work behind the plate and a strong argument could be made he was the best No. 2 catcher in baseball last season. He may be in line for a starting job now.
Also available: Jose Molina, John Buck, Kurt Suzuki (unless his club option is picked up).
As I said, compared to other positions this year that are incredibly thin in free agency, finding a decent catcher isn't too tall an order -- though there's only one marquee name.
Boston wants to add two big bats to their lineup, not just one

Even more relievers signed on the final day of the Winter Meetings

Keep tabs on the top 50 free agents right here
The league is not happy Ohtani's medical information leaked

Kansas City and Baltimore were quite busy at the Rule 5 Draft

Piscotty's mother was diagnosed with ALS earlier this year