Top free-agent starter Ervin Santana still seeks $50M, 4-year deal
Santana has the numbers that support that kind of contract, which seems to be the signing figure.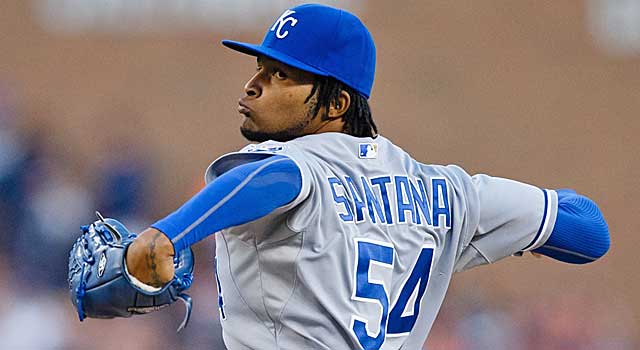 More MLB: Free agency tracker | Latest news & notes
Top remaining free agent starter Ervin Santana's asking price hasn't dropped with spring training starting; it remains about four years and $50-million, according to executives with interested teams.
The market has shown that the going rate for better starting pitchers is $50 million for four years, with Matt Garza and Ubaldo Jimenez signing for exactly that figure and Ricky Nolasco getting $49 million for four years. Garza and Nolasco had the advantage of having no draft choice attached to their signing by virtue of them not receiving qualifying offers thanks to midseason trades.
The Garza deal with the Brewers seemed to set the market, and Jimenez was able to match it weeks later with the Orioles. The perception among some scouts is that Jimenez has a chance to be a No. 1 pitcher (if he pitches to his form of early 2010 or last September), but Santana has been by far the more dependable pitcher. Santana also has been healthier than Garza, so a case could be made he was the best, or at least the safest, bet among the starters.
While some will recall Santana's promotional book pegged his "value" at $112.57 million, that was never the asking price but more a valuation guideline based on past free-agent starters, such as John Lackey and A.J. Burnett, and inflation following their signings years ago for $82 million. The asking price has been four years for a while now, and isn't dropping based on the calendar, Nelson Cruz signing for $8 million or anything else.
Santana, 9-10 with a 3.24 ERA last season, also had arguably the best 2013 season of the free agents. According to a study, he was tied for eighth among all starters in the category of "strong/dominant" starts, at 59.4 percent, tying Yu Darvish, Jordan Zimmermann and Max Scherzer. He was tied for eighth in the category of ratio of "above average" to "below average" starts with a 3-1 ratio (24 above average, eight below average). Not surprisingly, Cy Young winners Clayton Kershaw and Max Scherzer were the top pitchers in that category, at 5.60 and 5.40. Coincidentally, the pitcher who tied Santana was Garza (18 above average, six below average).
One knock on Santana is that he's a flyball pitcher, mostly based on a high homer total in 2012 (a league-leading 39), but the numbers put him very close to the average in the category of groundball-to-flyball ratio, with improvement last year following an alteration in repertoire.
Lest anyone sees this as fluky, Santana was also tied for ninth with 23 quality starts, tying Chris Sale, Hisashi Iwakuma, Patrick Corbin, Mike Minor and Jarrod Parker.
The Orioles, Mariners, Rangers and Rockies are among teams looking at Santana now, with the Jays seen as another possibility. Santana is said for now willing to wait for the right deal, and though no free agents waited until after the June draft last year, that remains an option for the three who remain who have draft choices attached to them, including also first baseman/DH Kendrys Morales and shortstop Stephen Drew. 

Houston's top relievers have been shaky this postseason

Our experts have a unanimous World Series pick

Otani's rare ability to hit and pitch will need to be accounted for in realms beyond real...
Kenny White has won 8 of his last 10 MLB Over-Under picks and has a strong play for Game 1

OOTP's team ran some simulations for us on the 2017 World Series

Reddick spent half the 2016 season in L.A. and did not enjoy it