Top of AL All-Star Game lineup loaded with potential Hall of Famers
The top of the AL lineup was loaded with four possible future Hall of Famers during Tuesday's All-Star Game.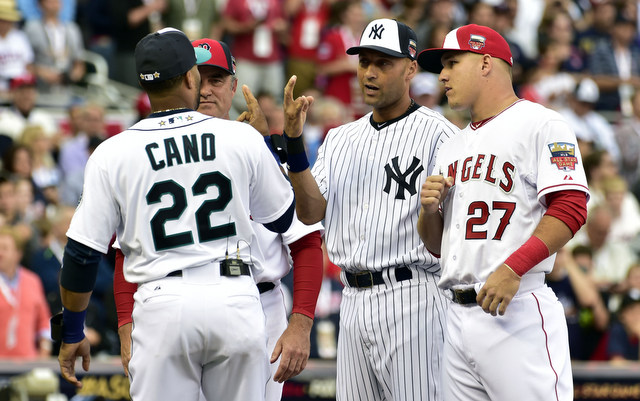 More All-Star Game: AL wins 5-3 | Trout named MVP | Full All-Star Coverage

In 20 years, people will look back at Tuesday night's All-Star Game and remember it as Derek Jeter's final Midsummer Classic. He received the loudest ovations of the night, both during pregame introductions and before his at-bats, and again when he was removed from the game. The entire night was about Jeter and deservedly so.
But, in 20 years, we might look back at this All-Star Game to see that the American League had four Hall of Famers in the starting lineup. Not just in the starting lineup, but one through four in the batting order. Here was the top of the order, assembled by manager John Farrell following the fan vote to select the players:
Jeter is going into the Hall of Fame no questions asked and I'm pretty sure Cabrera will finish his career as one of the 10-15 best right-handed hitters who ever lived, which would make him a safe bet for Cooperstown. Miggy already has the insane peak and hardware (World Series ring, two MVPs, Triple Crown), now he just needs longevity to hit some of those important round-number milestones (3,000 hits, 500 homers, etc.).
Cano doesn't have the same Hall of Fame buzz but his numbers are extraordinary, especially relative to his position. By the end of next season he'll likely jump into the top 10 in home runs, top 15 in WAR and top 20 in hits by a second baseman all-time. He has a legitimate shot at 3,000 career hits and, like Cabrera, already has the peak. He just needs to hang around a few more years to compile numbers.
Trout is the wild card. He could be the next Mickey Mantle or he could be the next Andruw Jones, peaking early and flaming out before his 30th birthday. Just keep in mind that Trout continues to get better each year -- 168 OPS+ in 2012, 178 OPS+ in 2013 and 182 OPS+ so far in 2014 -- and has already racked up 19.6 WAR in his career, the most through a player's age-22 season in history (by 2.2 WAR and counting). That's the stuff that leads to a Hall of Fame career.
Right now, the only thing set in stone among those four hitters is Jeter heading to the Hall of Fame. That's a given. The other three guys are well on their way to having those types of careers but still have work to do. With good health and consistent performance, it's likely that down the road, when talking about Jeter's final All-Star Game, we'll also be talking about the time the AL had four Hall of Famers at the top of the starting lineup.
They still would much rather grab the AL East, however

Sale becomes the first AL pitcher to reach 300 strikeouts since 1999

Steve Balboni's long-standing record of 36 has finally fallen
Several players called for the netting to be extended down the base lines following Wednesday's...

Maria made landfall as a Category 4 on Wednesday

The players are trying to do their job and don't want to see anyone hurt