Torii Hunter fears new replay rules mean end of manager arguments
Tigers outfielder Torii Hunter hopes that expanded replay rules don't mean an end to dirt-kicking squabbles between manager and umpire.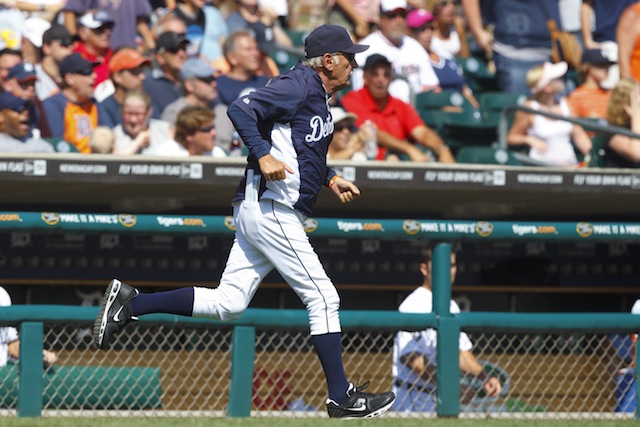 More MLB: Scoreboard | Standings | Probable Pitchers | Sortable Stats | Odds
As you know, MLB is set to expand replay and include managerial challenges as part of the reforms. Personally, I'm all for expanded replay but squarely against any kind of NFL-style challenge system -- let's focus on getting calls right and not on whether a team can correctly identify a blown call, OK?
Anyhow, veteran Tigers outfielder Torii Hunter has some concerns of his own. To wit, he's worried that expanded replay and managerial challenges will mean the demise of on-field skipper tantrums. Here, courtesy of CBS Detroit, are Hunter's words on the possibility of fewer manager-vs.-umpire shouting matches:
"I hope not because that's boring! That is so boring. I hope not because the arguments of Lou Piniella and all those guys, that's what I want to see … I can only imagine the fans. They come and they see the arguments and they see guys kicking dirt and going crazy. That's awesome, man. That's baseball. Hopefully that doesn't change."
I find myself agreeing with Mr. Hunter here. Manager arguments are an indelible part of the sport's culture, and I'd hate to see that go away entirely. It's not certain that the advent of managerial challenges will mean no more Earl Weaver-style eruptions, but it's certainly a strong possibility.
So I join Mr. Hunter in saying: ¡Viva la dirt-kicking!
Plus the Cubs can clinch the NL Central title. Keep it locked right here for the latest from...

The club is expected to part ways with Collins after the season

Here is a preview of what's on the line Tuesday
Jerry Dipoto will have his hands full

Otani is said to be coming over this offseason, though nothing has been made official yet

What do the Mets need to do to get back to the postseason next year? Well, a lot