Torii Hunter seems like an early star in this free-agent market
Hunter should easily beat the $13.3-million qualifying offer that the Angels declined to make by getting a multiyear deal.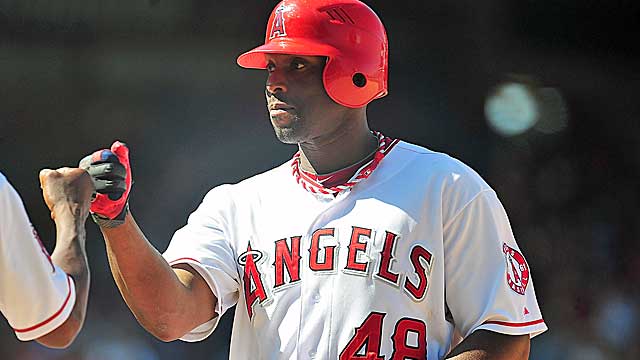 Hunter outplayed Mike Trout and Albert Pujols in the final weeks of the season. (US Presswire)
INDIAN WELLS, Calif. -- Torii Hunter is turning out to be one of the most popular free agents early this free-agent season.
Besides the obvious, Hunter benefits from 1) having no draft pick attached to his signing, as the Angels declined to make the $13.3-million qualifying offer, and 2) many big-market teams seeking a star outfielder.
Hunter should wind up doing a lot better than the qualifying offer. A two- or even three-year deal seems well within reach.
Hunter is expected to seek a salary similar to the one received by Carlos Beltran, who got a $26-million, two-year deal last winter, and Derek Jeter, who got a bit more than that per year coming off a .270 season.
Hunter's big finish, where he even outplayed Mike Trout and Albert Pujols in the final few weeks, doesn't hurt, either. Hunter batted .313 overall with 16 home runs and 92 RBIs, but he hit .350 from Aug. 1 on. Hunter is also viewed as a great team leader.
"He's very popular already,'' said someone familiar with the situation.
The Red Sox, Yankees, Phillies, Rangers and Tigers are among many teams that make sense for Hunter, who lives not too far from Arlington, Texas in Prosper. Prosper, that's an apt name.
No, you're not imagining things. This MLB offseason has been very slow compared to the last...

Francesa will retire from radio next month, so he'll have plenty of free time next summer

Get your sports fans something that they'll wear all year
Get 15 percent off any order of more than $75 at CBS Sports Shop

The Twins need help in the rotation, and they may look to the trade market to find arms

Here are the bullet-points of what went down Tuesday regarding MLB and the Braves' punishm...