Tough decisions coming for Red Sox in wake of World Series win
The Red Sox are still celebrating their World Series win, but as soon as the dust settles, they'll have a lot of difficult decisions to make.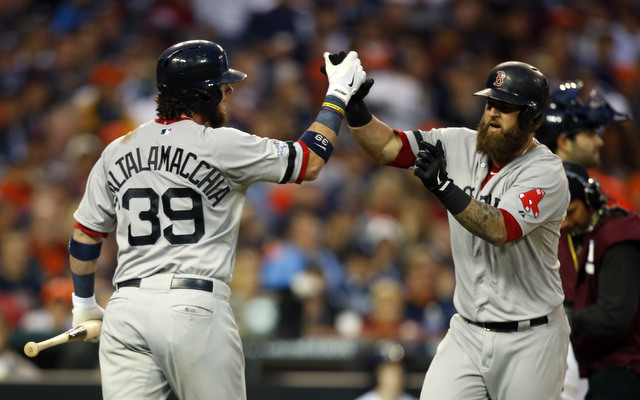 For the third time in the past 10 seasons, the Boston Red Sox are the World Series champions. They bested the Cardinals in the best-of-7 series four games to two with their Game 6 win on Wednesday night. It was the first time they've clinched a title at home in Boston since 1918. The parade is Saturday.
Once the celebration is over, the Red Sox have some serious offseason business to address. That makes them no different than any other team, really, but it seems like they have a surprisingly long offseason agenda for a team that just won the World Series. Some items are more pressing than others, obviously. Here's a rundown of what GM Ben Cherington & Co. have on their hands in the comings weeks.
The team's leadoff hitter and center fielder is a free agent and expected to command a nine-figure contract on the open market. The Red Sox have top prospect Jackie Bradley Jr. ready and waiting to take over, but it might be unrealistic to expect him to match Ellsbury's production right away. Does the team pony up the money to retain their player or give the kid the job?
Unlike center field, the Red Sox do not have a prospect waiting to take over the first base job. Not unless they're willing to move Will Middlebrooks across the diamond, which does not seem to be in the cards at this time. Napoli originally agreed to a three-year contract worth $39 million, but it was cut down to a one-year deal with a $5 million guarantee after a pre-signing physical revealed a degenerative hip condition. Napoli is very productive and should come at a reasonable price, but is Boston willing to take the plunge knowing his hips are a long-term concern?
Shortstop, third base
Stephen Drew had a rough postseason at the plate -- aside from his solo homer in Game 6, of course -- but he dazzled in the field. He is due to become a free agent this winter and reliable shortstops are very hard to find. The Red Sox have superstar-in-training Xander Bogaerts ready to step into the lineup, but they played him at third base in the postseason and could keep him there with Middlebrooks failing to impress in 2013. They have options on the left side of the infield. They could re-sign Drew and play Bogaerts at third, or they could go with Bogaerts at short and give Middlebrooks another chance at the hot corner.
Catcher
Jarrod Saltalamacchia is another one of the team's impending free agents, though he lost the starting job to David Ross late in the postseason. Ross is the best backup catcher in baseball but at age 36 and with fewer than 50 starts behind the plate every year since 2008, pushing him into full-time duty probably isn't realistic. Ryan Lavarnway has been an up-and-down guy these past few years and questions persist about his ability to catch long-term. The Red Sox could go with Ross and Lavarnway next year, but they'll probably want to add a true starting-caliber backstop.
Six starters, five spots
At the moment, the Red Sox have six starting pitchers for five rotation slots: Jon Lester, Clay Buchholz, John Lackey, Jake Peavy, Felix Doubront and Ryan Dempster. That assumes the team will exercise Lester's $13 million club option for next season, which, frankly, is a no-brainer. There is no such thing as too much pitching and these things have a way of sorting themselves out, but Boston is in a position to deal a starter for help elsewhere (catcher?). Especially with Brandon Workman and Allen Webster around to serve as depth. It's an eviable position.
Your one-stop shop for all things MLB Winter Meetings-related

Matt Harvey could be on his way out of New York

The Nationals are looking to improve on the edges of their roster
Ellsbury is due at least $68 million over the next three seasons

Wright was arrested at his home Friday

The former Tigers teammates were voted into Cooperstown by the 16-person Modern Era Commit...