Towers on La Russa hire: 'I certainly don't want to be a pseudo-GM'
Diamondbacks GM Kevin Towers spoke about the team's recent Tony La Russa hiring.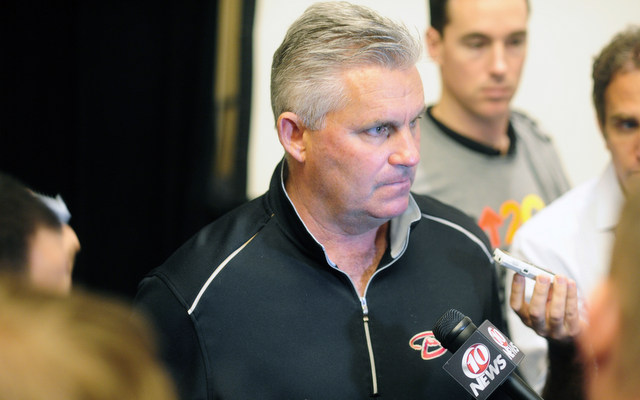 More D-Backs: La Russa hired | Heyman: La Russa just what the team needs

When the Diamondbacks hired Tony La Russa to oversee their baseball operations department, more than a few people assumed it meant bad news for GM Kevin Towers. The team is struggling and there has been speculation about a front office change for several weeks.
On Wednesday, Towers spoke to Arizona Sports 98.7 FM about the team's new front office hierarchy:
"I haven't had a great deal of time, because I've been out on this scouting trip, to really find out what my true responsibilities are," Towers told Doug and Wolf on Arizona Sports 98.7 FM Wednesday. "I'm under the assumption that really the only thing that's changed is now I report to Tony as opposed to (president and CEO) Derrick (Hall) when it comes to baseball moves.

"Until I really get more time to sit down with Tony to really find out structure, process, reporting and job responsibilities, I'm taking the high road and looking at this as hopefully a good thing for the organization."
Towers also confirmed he was in the loop regarding the La Russa addition, but he would not have supported any hire. La Russa made sense to him. He also said it is business as usual right now while making it clear he did not want to be marginalized.
"I certainly don't want to be a pseudo-GM," he said. "The front office role will be new to him and I'm hoping I can help him too, like the daily calendar and what's important in June and July. These are some of the good players in our system -- no different from what Jerry Dipoto did for me in my first year here.

"I'm hoping that we help one another and as we get to talk that he'll have the confidence in the very near future to let me run the club as I have been but everything will go through him and be shared with him. You'd like to think that our vision and everything is on the same page."
I think the writing was on the wall as soon as La Russa was hired. You don't bring someone of his caliber aboard only to dismiss his recommendations, and it seems likely he will look to rebuild the front office in his mold. That's not a knock on Towers or La Russa, it just happens every time a front office gets new leadership.
Towers said he was uncertain about his job security before the La Russa hiring, and it's hard to think he feels any more comfortable right now. The team comes into Wednesday with an 18-29 record, the third worst in baseball.