Trade deadline needs: AL Central
What plans should the Tigers, Indians, Royals, White Sox and Twins be making in advance of the trade deadline?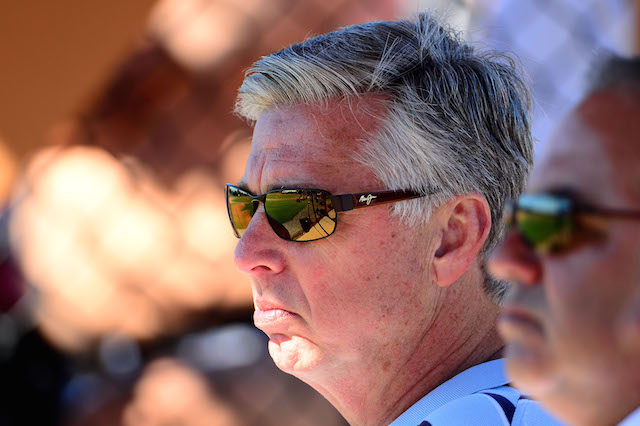 TRADE DEADLINE NEEDS: NL Central
With the July 31 non-waiver trade deadline just around the bend, let's take a quick tour of each of baseball's six divisions and examine what the teams of each division need as said deadline approaches. Up now is the American League Central ...
INDIANS
Even though the Indians and Royals (see below) are tied in the loss column at this writing, I'm about to prescribe different approaches for them. The Indians project much better than the Royals do over the balance of the season (FanGraphs gives the Tribe better than a one-in-four shot at making the playoffs), so I'm saying they -- i.e., the Indians of Cleveland, Ohio, U.S.A. -- should be "soft buyers" as the non-waiver deadline heads their way. Specifically, they could use additional rotation depth. There's still the hope that Justin Masterson will return to 2013 form after his stint on the DL, but another arm wouldn't hurt.
That said, if the Indians opt to do nothing before July 31, then it's a perfectly defensible approach. Hope for a positive regression out of Jason Kipnis, get Masterson back and see what Terry Francona can wring out of his charges down the stretch.
ROYALS
The Royals have been in contending mode since before the start of the 2013 season, but it's not working out. Largely, that's because the core young hitters have failed to develop as hoped (Salvador Perez is the exception). Whatever the underlying causes, it's late July, and the Royals are staring down a 12.3-percent chance of making the playoffs, per FanGraphs. Unfortunately for KC, in the unlikely event that they do make the postseason, it'll likely be as the second AL wild card (the "service entrance," if you will). That, in turn, will almost certainly mean a one-game affair on the road against the AL West runner-up. In other words, the Royals as things stand presently have very little chance of advancing to the ALDS.
That's why GM Dayton Moore should consider parting with ace James Shields (he's a pending free agent and will likely net a nice return package), some of his outfield depth and any veteran middle reliever not nailed down. There's no need for a complete tear-down, of course, but the Royals should be thinking about 2015 at this point.
TIGERS
GM Dave Dombrowski acted wisely in securing the services of Joakim Soria earlier this week, and Soria will upgrade a bullpen that was badly in need of a shutdown arm. However, more is called for. This remains a relief-corps still in need of additional depth. You've now got a workable duo in Soria and Joba Chamberlain, but the Tigers need something else from the left side, at the very least.
Elsewhere, Detroit shortstops this season have combined to "hit" only .213/.280/.289. That's unacceptable, even for a glove-first position like short. The offseason exodus of Jhonny Peralta and the season-ending injury to Jose Iglesias left the Tigers in stop-gap mode, and it's not working. This team is bound for the postseason and maybe the World Series absent any more moves, but with an aging roster and facing the possible offseason loss of Max Scherzer, this is no time for half-measures. A play for Jimmy Rollins, Alexei Ramirez or some other upgrade is in order.
TWINS
Minnesota isn't contending despite their intentions, and this isn't particularly surprising. Relevance in 2015 isn't out of the question, so no need to set anything ablaze. GM Terry Ryan has already dealt DH Kendrys Morales to the M's, and he should also be taking calls on other walk-year guys like Josh Willingham, Kevin Correia and Kurt Suzuki (if ongoing extension talks with Suzuki don't seem to be going anywhere).
WHITE SOX
GM Rick Hahn has done an excellent job of turning over the roster in relatively short order, and over that same brief span he's added a great of young and prime-age talent to the fold. Now's no time to let up. Although the Sox have exceeded expectations thus far in 2014, that's no reason to sit out the deadline. Vets like Alexei Ramirez, Gordon Beckham and John Danks (moving Danks might require the Sox to send along some cash in the deal) should be in play. The same goes for Dayan Viciedo and Alejandro De Aza, provided there's any interest whatsoever.
Gallardo spent the first eight years of his career in Milwaukee

MLB revenues are at a record high right now, but teams aren't spending it on players

Chicago added Tyler Chatwood earlier this offseason but might not be done adding to the ro...
The Dodgers and Braves pulled off a whopper on Saturday

Sabathia will reportedly spend a 10th season in the Bronx

Fowler suffered a knee injury at Chicago's Guaranteed Rate Field