Trade deadline needs: AL East
It's time to wrap up our series previewing the trade deadline with the American League East.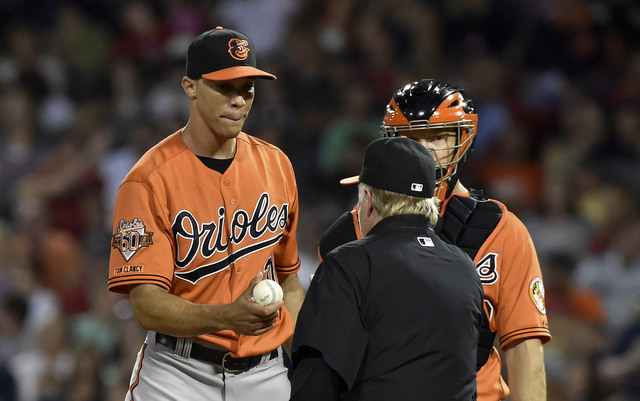 More Trade Deadline Needs: NL East | NL Central | AL Central | NL West | AL West

With the July 31 non-waiver trade deadline just around the bend, we've been taking quick tours of baseball's six divisions and examining what each team needs as said deadline approaches. Up now is the AL East, a division that is completely wide open with three legitimate contenders, a fourth streaking its way into the race and a fifth that is already out of contention and selling.
The O's come into the week with a three-game lead atop the division that is not at all safe. Not this time of year with all those head-to-head division matchups still looming. Baltimore has built itself a decent cushion with a strong West Coast trip, but this race is far from over.
As has been the case for the last, I don't know, two or three years, the Orioles are in clear need of pitching at the trade deadline. The starters rank 18th in baseball with a 3.97 ERA while the top-heavy bullpen is thin beyond closer Zach Britton and setup man Darren O'Day. Kevin Gausman has been a bright spot but Ubaldo Jimenez has been an expensive disappointment.
Furthermore, the Orioles are getting nothing out of the revolving door at second base (.593 OPS). Ben Zobrist would be a marvelous fit here if the Rays were open to trading him within the division. Baltimore's catchers haven't done much since Matt Wieters got hurt either. Rotation and pitching help in general is the No. 1 need. Second base and catcher are lower down on the shopping list.
More than anything, the Blue Jays just need to get healthy. Edwin Encarnacion, Brett Lawrie and Adam Lind are all on the disabled list, taking a huge bite out of the offense. Brandon Morrow is hurt as well, though unfortunately that is not surprising these days.
Toronto has enough offense when healthy -- the Jays average 4.55 runs per game, fifth most in baseball -- and the back end of the bullpen just received some help in top prospect Aaron Sanchez. The rotation is among the worst in the game with a 4.13 ERA, however, and that's only getting worst as Mark Buehrle crashes back to Earth. Marcus Stroman sure has been a nice shot in the arm though.
The Blue Jays have a tendency to fall just short of landing the players they need, it seems. They wanted Ervin Santana over the winter but he went to the Braves. They were looking to trade for Jeff Samardzija, but he went to the Athletics. Chase Headley? Toronto was all over him but now he's in the Bronx. Money seems to be an issue, which will make trading tough. A starter is the priority here.
I don't know how they do it, but for the second year in a row, the Yankees are outperforming their ugly run differential (-28) to stay in the hunt. They've already acquired Headley and Brandon McCarthy but still have plenty of other needs to address.
Injuries to Masahiro Tanaka, CC Sabathia, Ivan Nova and Michael Pineda -- that is four-fifths of their Opening Day rotation -- have created an obvious need for another starter even after the McCarthy pickup. New York needs someone better than recent scrap heap addition Chris Capuano to pair with McCarthy, Hiroki Kuroda, David Phelps and the upstart Shane Greene. An inning-eater is a must.
Offensively, the Bronx Bombers have been anything but this year. They have zero right-handed power -- their righty hitters have hit just 19 home runs this year -- especially after Alfonso Soriano was released. Second base (.638 OPS) and right field (.653) are big holes, especially now that the bone spur in Carlos Beltran's elbow limits him to DH duty.
The Yankees have been one of the more active teams leading up to the trade deadline these past few weeks and there is still work to do. Another starter (or two) and a big bat (preferably right-handed) are the must-have items before Thursday.
A few weeks ago the Rays were clear sellers, preparing to unload Zobrist, David Price, Matt Joyce ... basically anyone not named Evan Longoria. Then they won 26 of 38 over the past month and a half (including nine straight wins recently) to climb back to within 4½ games of a playoff spot.
The hot streak has really clouded things for the front office. Do they add and go for it, or scale back and sell? The Rays do not have a history of making big moves at the deadline -- their biggest midseason additions the past few years have been Chad Qualls and David DeJesus -- and even if they did want to add, money is always an issue. An upgrade behind the plate is probably the biggest need.
I think the Rays are the most unpredictable team heading into the trade deadline. I could see them making a small move or two to improve the roster, or I could see them blowing it all up despite the recent winning.
The defending World Series champions are out of it. They're 10½ games back in the divison and 7½ games back of a wild-card spot with seven teams ahead of them. They've started selling off players (Jake Peavy) and others figure to move as well.
The question is not what will the Red Sox add -- the outfield is an obvious need, all three spots too -- but will they trade Jon Lester? He suddenly looks like the best and most available ace, not Price. Andrew Miller will be in high demand, as will closer Koji Uehara and setup man Junichi Tazawa. Stephen Drew and Jonny Gomes could generate some trade interest as well.
Boston is selling, it has made that clear. Now the baseball world will focus on Lester and where he ends up. He's a game-changer.
Several relievers have signed in the last two days

Several teams are interested in the switch-hitting first baseman

Neshek and the Phillies are closing on a two-year contract
And the team that first drafted Cole is interested

This scout was SUPER into Jeter

Stanton warned Marlins fans about the lean years that are forthcoming