Trade deadline needs: NL Central
What plans should the Brewers, Cardinals, Pirates, Reds and Cubs be making in advance of the trade deadline?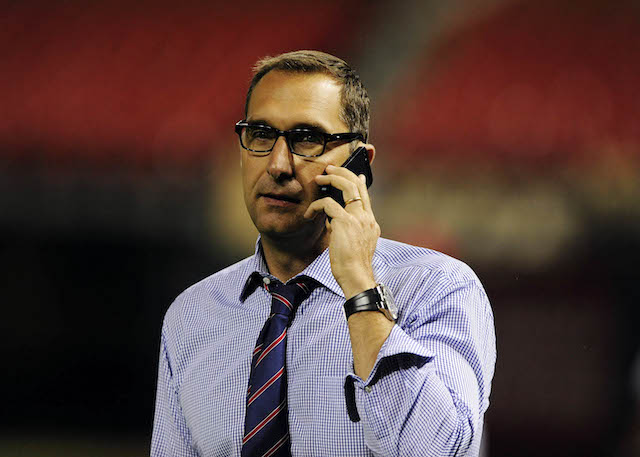 More MLB: Power Rankings | Expert Picks | Latest news & notes | Fantasy news
With the July 31 non-waiver trade deadline just around the bend, let's take a quick tour of each of baseball's six divisions and examine what the teams of each division need as said deadline approaches. Up first is the National League Central ... 
BREWERS
Milwaukee is presently atop the division, but considering this is a loop with three other certifiable contenders, an active deadline may be advisable.
The Brewers have received very little production from first base this season (Milwaukee first-sackers -- mostly Mark Reynolds and Lyle Overbay -- have combined to hit just .214/.296/.343 thus far), so should that be a deadline target for GM Doug Melvin?
Too often, teams make deadline deals based on the very recent past -- i.e., what's unfolded from April through late July. What should really inform such trades is how the weak spot in question projects over the remainder of the season. A lot of bad luck and fluke-ish outcomes can skew the numbers over half a season, and overreacting to a problem that really isn't a problem can be bad for organization's near-term and long-term outlook.
On that point, it's worth noting that FanGraphs projects Brewer first basemen to bat .229/.314/.415 over the remainder of the season. That's not optimal, but it's much better than what they've gotten to date. What they could use is a left-handed first baseman to pair with Reynolds. Overbay doesn't figure to pass muster moving forward, even in platoon-advantaged situations. 
CARDINALS
The Cardinals have been prominently linked with David Price of the Rays, and indeed rotation depth -- contrary to preseason expectations -- is a worry in St. Louis. Michael Wacha likely won't be back before September, Adam Wainwright had elbow concerns earlier in the year, Jaime Garcia is out for rest of the season, and Shelby Miller's inconsistency has pushed him to bullpen detail. So a starter seems like an obvious add, even if the acquisition turns out to be someone well shy of Price in terms of his capabilities. 
CUBS
The Cubs remain in rebuilding mode, and their two most valuable commodities -- starters Jeff Samardzija and Jason Hammel -- have already been shipped off to Oakland in a well-turned deal by GM Jed Hoyer. Some bullpen odds and ends, including swing-man Carlos Villanueva, could be next to go. Any player who doesn't dovetail with the Cubs' timeline for contention is likely available. Unstated, of course, is that any weakening of the current roster has the corollary "benefit" of giving the Cubs a better shot at the top overall pick in the 2015 MLB draft. 
PIRATES
Given how bad the Pirates' rotation has been this season (10th in the NL in starters' ERA, last in starters' WAR), it's a minor miracle that they presently find themselves six games over .500 and just one game out of wild-card position. Moving forward, FanGraphs sees a slight uptick in ERA over the rest of the season, so an upgrade is in order. That's especially the case given the uncertainty surrounding Gerrit Cole's health.
For GM Neil Huntington, the problem is that his tight budget doesn't give him much latitude when it comes to acquiring the kind of starting pitchers who are typically available this time of year. After all, teams don't readily part with starters who are both cost-controlled and effective. This one may require some front-office creativity, such as involving a third team in any such deal. 
REDS
The Reds have been waylaid by injuries in the lineup (Joey Votto and Brandon Phillips, to wit), but a lack of production in left field is also a concern. It's bat-first position, of course, but Reds left fielders this season are batting .270/.320/.390, which is somewhat shy of the MLB average for the position (although not gravely so). Ryan Ludwick should be workable against lefties the rest of the way, but the Reds need to pair him with a capable lefty bat -- one more capable than Skip Schumaker, that is. 
An especially bold play for Walt Jocketty might be to go for Ben Zobrist of the Rays. The switch-hitting Zobrist boasts a rare level of positional flexibility, so he could fill in for Phillips at second and or platoon with Ludwick in left. After a slow start, Zobrist has been trending upward with the bat of late, and he's rumored to be available in trade. 
Coming Thursday: AL Central trade deadline needs
Adell shows part of the reason why Los Angeles drafted him 10th overall in 2017

And, well, they're probably right

Supposedly, MLB execs have discussed letting teams hit any three hitters they want in the...
Keep tabs on the top 50 free agents on the market right here

After the departures of Steven Souza and Corey Dickerson, the Rays add a right-handed bat

Rasmus essentially walked away from baseball during last season