Trade market will be filled with starting pitchers, but who?
Several starting pitchers should be available before the trade deadline, but the market will be much more interesting if Cliff Lee, R.A. Dickey and/or David Price is available.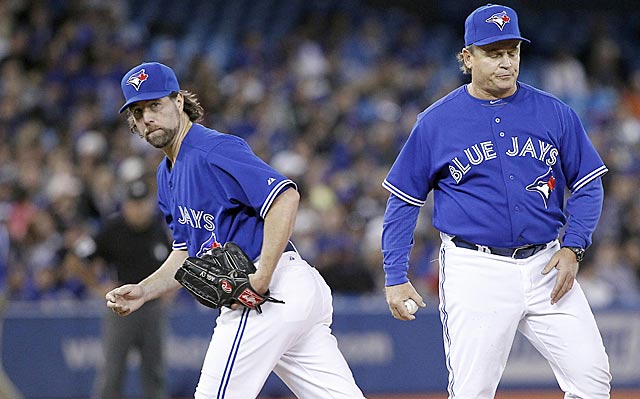 This year's starting pitching trade market has the potential to be a mix of big names, high salaries and surprises.
On the off chance Cliff Lee, R.A. Dickey and/or David Price hit the market (and one GM said he's heard rumblings already that Lee and Dickey might hit it -- though others still doubt it), things will get very interesting.
If none of those three former Cy Young winners ever reaches the trade market, though, there will be more quantity than quality. Without that top-of-the-rotation trio, there should still be a decent-sized number of available arms. A few slow-starting, big-market teams possess proven starters (i.e. the Chicago Cubs , Toronto Blue Jays and Los Angeles Angels ), and that group, a mix of mostly mid-to-back-end guys plus veterans on the downside could be enhanced if a couple more name starters (most notably Josh Johnson and Matt Garza) can make it back from health issues to show they're ready to join the fray by June or July.
Here's the surprisingly lengthy potential trade-bait list, in order based on likelihood to be traded:
1. Ricky Nolasco , Miami Marlins . Hard to say what a player making $11.5 million is still doing with the Marlins (their next highest paid player Placido Polanco makes $8.75M less), with the possible explanation being that they desperately needed to fill out a major-league rotation. Scouts aren't overwhelmed by what they've seen so far (2-3, .414) but it's possible getting out of the Fish tank/cesspool could prove a boon for him, as it did a year ago for the more talented Anibal Sanchez .
2. Bud Norris , Houston Astros . You've got to give it up for any Astros pitcher who's managed to stay at .500 (3-3 with a 3.89 ERA) this "late'' in the season. Better, Norris would have a 2.48 ERA if not for one mid-April shellacking he took in Oakland. The highest paid Astro at $3 million seems ready to go, another plus.
3. Scott Feldman , Cubs. The beautiful thing is that he looked like potential trade bait when they signed him to a one-year, $6 million deal, and looks even moreso now that he has pitched extremely well (3-3, 2.70 ERA). The Cubs are all about acquiring young assets, and perhaps he could bring one back.
4. Matt Garza , Cubs. The Cubs are going to be a theme here, as you'll see. Theo Epstein isn't afraid of a midyear sell-off or the possibility of a second straight 100-loss year, and he has some decent bait, especially if Garza works his way back from his lingering dead arm/elbow issue.
5. Travis Wood , Cubs. When manager Dale Sveum said on Tuesday that Wood is the best pitcher in the game right now, it appeared like Sveum was either giddy or perhaps starting a sales job. He is a team player, after all. Wood (3-2, 2.33) isn't close to the best pitcher in baseball, of course, but the way he's going, they actually don't have to do too much selling.
6. Josh Johnson , Jays. He was expected to be the top free-agent pitcher, but he's 0-1 with a 6.86 ERA and currently out with a shoulder issue. An ace when healthy, that hasn't been often enough lately.
7. Edinson Volquez , San Diego Padres . A weak start (3-3, 5.5) has damaged his marketability, but his $5.725 million salary is in line.
8. Carlos Villanueva , Cubs. The North Siders do have a decent rotation, and Villanueva (1-2, 2.85) is doing a very nice job -- though it's uncertain whether someone who's historically been a spot starter would have enough value for  
9. Lucas Harrell , Astros. Another .500 Houston pitcher (yes, they have two), he has been a solid pickup for them. One reason he may stay: his salary is very reasonable ($482,000, according to Cots baseball Contracts).
10. Jason Marquis , Padres. Solid veteran at a reasonable $3 million. Or as one GM put it, "He is what he is." He's 3-2 with a 4.25 ERA, which is good for a 0.0 WAR (he might be a little better than that, though).
11. Jason Vargas , Angels. Can't think the Angels give up easily, but they certainly don't look like a contender at the moment. The left-hander makes a surprising $8.25 million but he's solid (1-3, 3.72), and better still, a free agent at year's end.
12. Cliff Lee , Philadelphia Phillies . He's still a star, as his 1.07 WHIP attests (he's 3-2 with a 3.26 ERA). And someone last summer was willing to claim him (OK, it was the Los Angeles Dodgers ) and absorb his $25 million salary, and even the $12.5 million buyout at the end. Lee still has about $82 million to go through 2015, which sounds high, especially with the Dodgers quite possibly not being a buyer this time. It's hard to know how much the Phillies are willing to do, too. If available, a game changer.
13. David Price , Tampa Bay Rays . Throw out the 1-3 record and 6.25 ERA. If he's available, he's everyone's No. 1 target. He makes a reasonable (for him) $10.1125 million and has another year before free agency and the really big bucks. Hard to see him staying in Tampa long-term, but the Rays obviously 
14. Jake Peavy , Chicago White Sox . Very talented, professional veteran pitcher, he's coming back Wednesday from a minor back issue (he suffered back spasms after an adjustment). Signed in the winter for $29 million over two years, which could easily be justified by a pursuer.
15. R.A. Dickey , Blue Jays. It's possible it could be a short-lived stay north of the border for the knuckleballer. He's only 2-5 with a 5.36 ERA and was booed off the mound last year, but he's only a year removed from a Cy Young award. His back-loaded $30 million, three-year deal still looks cheap, but that may also be seen as a reason to keep him, especially since "they couldn't get back what they gave up," a rival GM put it about Travis d'Arnaud, Noah Syndergaard and John Buck. The Baltimore Orioles made a try before the Jays got him in the winter.
16. Kevin Slowey , Marlins. He's pitching brilliantly and if this keeps up (1-2, 1.81 ERA with five of seven starts allowing zero or one run) this "strike thrower" will be highly coveted. Three issues: He's cheap enough for even the Marlins to love him, too ($750,000), they need to maintain a rotation and he's a longtime ally of manager Mike Redmond, who caught his first game.
17. Chris Capuano , Dodgers. Veteran lefty has a history of injuries and doesn't seem so cheap all of a sudden (almost $6 million through the end of the year, including a buyout). More to the point, still hard to see the $220 million Dodgers as sellers.
18. Ted Lilly , Dodgers. Things don't seem to be working out for the veteran lefty in L.A. as they have elsewhere.
19. Joe Blanton , Angels. He's 0-5 with a 5.97 ERA. But, hey, teams have taken him and paid him handsomely before when it didn't seem possible.
20. Edwin Jackson , Cubs. The way he's going (0-5, 6.39), Epstein and Jed Hoyer would have to do some pretty fancy talking to deal the pitcher on a $52 million, four-year deal. Of course, there's always someone who thinks they can solve him.
21. Mark Buehrle , Jays. That he's making $50 million from 2013 through '15 might scare off some folks, and if not his uncharacteristic 7.02 ERA might. He's been about the most consistent pitcher in the game until this year, so it cant be ruled out entirely. One possibility: an NL team might figure he'd do better in that league.
Despite an awful month, the Dodgers are again NL West champions

The record of 38 previously belonged to Hall of Famer Frank Robinson

The report also says that Jeter had outgoing president David Samson do the firing
This wasn't a traditional hidden ball trick, but the Blue Jays pulled it off

The Tigers essentially fired Brad Ausmus on Friday, but things are going to be ugly for a...

The club made the announcement on Friday