Trout aims to improve near-perfect rookie year by stealing more bases
Mike Trout isn't focused on numbers but doesn't rule out improvement (at least in some areas) after his alltime great first year.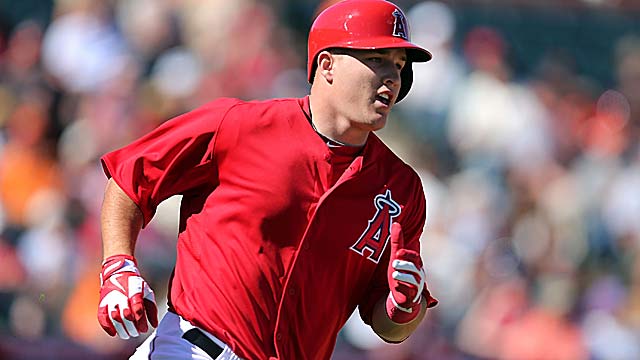 'I'm going to be more aggressive than last year,' says Mike Trout on stealing more bags.
(Getty Images)
TEMPE, Ariz. -- Angels wunderkind Mike Trout isn't a guy who studies numbers, talks about numbers or compares numbers. He'll leave that to the stat guys and rotisserie players. But he knows one thing: He's got a good chance to steal even more bases this season.
"I just go and play my game,'' Trout said. "But if I get a chance to steal, I'm going to go. I'm going to be more aggressive than last year.''
Last year he stole a major league-leading 49 bases in 54 attempts as a rookie and relative neophyte, so that doesn't sound like an obvious area for improvement. But Trout isn't your typical player.
"Last year there were some chances where I could have gone,'' he said. "This year I'm going to take more chances.''
This year he has Josh Hamilton in the middle of the lineup, giving the Angels an all-time great 3-4 pairing and seemingly less reason for the leadoff man to steal a bag. But when the leadoff man gets thrown out less than 10 percent of the time, it's no wonder they aren't putting the wraps on him. Though Angels manager Mike Scioscia wonders if Trout's goal is even possible. "I don't know how he's going to get more aggressive,'' Scioscia said. "When he got an opprtunity [last year], he took it.''
For what it's worth, the issue of Trout allegedly being heavy seems like a non issue here. He looks a bit thicker (especially in the muscle area) but not a bit slower.
He says he's down six pounds since he got to camp at 235, and only up four from the end of last year. (If anyone needs to worry about weight, it was a different star on the field today, the Giants' Pablo Sandoval, who appears immense, though he said his weight is fine. Trout just looks a little bit more imposing with the few extra pounds.)
Scioscia was called on to talk about Trout's extraordinary skills, and he couldn't come up with anyone he has managed with Trout's combination of speed, power and skill for what we can imagine was about the 300th consecutive day he failed to do so. The kid is a marvel, plain and simple.
"He's the best player in baseball right,'' one rival GM said about Trout. "He has a chance to be a more complete player than Barry Bonds and is probably the most excitiing player since Mays and Mantle.''
Trout didn't discuss specific numbers, as they are already embarrassingly high for someone his age. Or any age. He hit .326 with 30 home runs after a late start due to a spring illness and perhaps a concern not to rush him.
But he did say that in addition to steals, he is concentrating on the runs scored category. Last year, despite missing the first 20 games of the season, he led the majors by 20 runs with 129 runs. Had he played a full season, he might have led by 40.
"I'm going to score some runs this year,'' Trout said. "That's my main goal.''
Trout, who has a .667 on-base percentage so far this spring, has the objectives of the leadoff man down pat, though according to Scioscia, ultimately Trout figures to bat a bit lower.
"Long range he's probably better suited to hit second, third or fourth,'' Scioscia said. "Right now, he's part of an elite group of leadoff men.''
If by elite he means all-time elite, then that's an accurate statement. At this time, no one comes close. No other is even in his ballpark. Or his stratosphere.
The most obvious reason he isn't batting third or fourth for the Angels is their great middle-order combo. Plus, why mess with success?
"He could bat from first to fourth in any lineup,'' Scioscia said.
With last year as our guide, that goes without saying. He was the best player in baseball in 2012, and we didn't need the historic 10.7 WAR figure to tell us that. (Second best was Robinson Cano's 8.2 by the way.)
 Miguel Cabrera was fairly the MVP in my opinion because he helped his team get to the postseason, had a bigger finish to ensure the Tigers' October berth, had stats that were close to Trout's (but not quite as good, despite Cabrera's Triple Crown) and gave up his position to play third base adequately.
How many first basemen would, or could, switch to one of the game's harder positions without a hitch? Very few.
Trout was diplomatic about the MVP defeat, though we are imagining a touch of disappointment. He said he was "just happy to be mentioned in that race.''
Trout concluded, hopefully, about his future chances to win one, saying, "I'm still young.''
Yes, at 21 years and six months, he's still young, and will be for many years. A couple teammates got a kick out of that phrasing, as you might imagine.
If Trout never tops last year's performance, that would be nothing to be ashamed of. For years folks had made comparisons to Mickey Mantle, drawing mostly raised eyebrow. Until we saw Trout play, that is.
He seems like a 21-year-old kid (and a very nice one, at that), until you see him play. Then he seems like a man.
Even if he didn't win MVP, he was the best player in the game.
"I was happy with it,'' he said about his rookie season. "I had a blast last year.''  
The only negative anyone can think of is that he started his career so spectacularly, it's hard to see how he can improve.
"There's always things you can improve on,'' Trout said.
A notorious gym rat type (it's impossible to be this good this young without a lot of effort), he sees two particular areas where he can improve (besides stealing only 49 bags, that is). One is throwing accuracy. The other is getting better jumps on balls.
You can imagine him improving those areas without too much trouble, even while he moves from center field to left field to give fellow speedster Peter Bourjos a chance to start in center after a wasted year for him. It ought to be something seeing two of the fastest players in the game cover ground in Angels Stadium. They're so fast, they may seem like they are covering Los Angeles as well as Anaheim.
Left field is a relatively new position for Trout, though he did play there a bit last year. There's no reason to think it will derail him.
Nor is his weight. Or the supposed sophomore jinx.
You can only imagine him having another monster year.
"I'm not a big stat guy,'' Trout said. "Whatever happens, happens. Your numbers are your numbers.''
No reason to believe his will be anything other than otherworldly. Again.
Gallardo spent the first eight years of his career in Milwaukee

MLB revenues are at a record high right now, but teams aren't spending it on players

Chicago added Tyler Chatwood earlier this offseason but might not be done adding to the ro...
The Dodgers and Braves pulled off a whopper on Saturday

Sabathia will reportedly spend a 10th season in the Bronx

Fowler suffered a knee injury at Chicago's Guaranteed Rate Field