Trout, McCutchen and all the 2014 midseason award winners, losers
This time, Angels star Mike Trout is the easy winner for American League MVP in the midseason awards.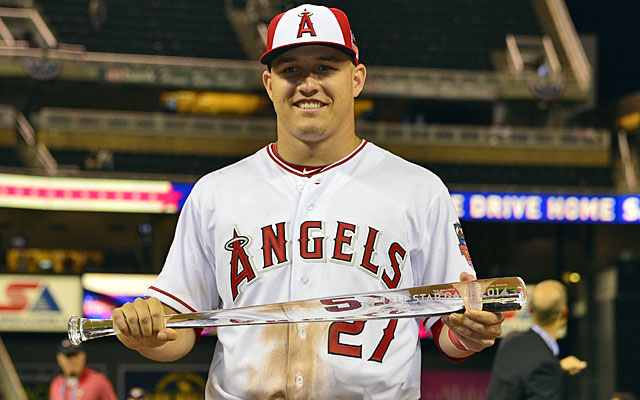 More MLB: Power Rankings | Expert Picks | Latest news & notes | Fantasy news
After two narrow and controversial second-place finishes, this should be Mike Trout's year to win the AL MVP award. He took home the All-Star MVP trophy over Derek Jeter (who was also deserving), and now he seems primed to take home the seasonal trophy.
Whether or not Miguel Cabrera, the deserving AL MVP winner the past two seasons, is hampered by a groin injury, he isn't in the award picture at this point. Really, it's hard to name anyone who's threatening Trout, as a strong case could be made he's putting together an even better season in Year 3. He's certainly showing more power, as the slugging percentage (.606) and OPS (1.005) are improvements over even in his brilliant first two seasons.
It also doesn't hurt that the Angels are in playoff position (though how much, if any, that should matter is a debate for another day).
Trout is simply the best, no debate there.
Here are all the midseason award winners ...
AL MVP
1. Mike Trout , OF, Angels: Those 95 strikeouts are merely a blip in a brilliant half season. No one is even within shouting distance.
2. Nelson Cruz, OF, Orioles: For $8 million, he has been a savior in a season in which Chris Davis (.199) has  slipped, Manny Machado is just starting to hit after a slow start coming off the knee injury and J.J. Hardy hasn't shown much power.
3. Robinson Cano, 2B, Mariners: One of baseball's smartest players, he's doing what he can in Safeco Field, which is nothing like the new Yankee Stadium. Worth every penny of that $240 million so far.
4. Jose Bautista, OF, Blue Jays: The social media champion @JoeyBats19 and leading All-Star vote getter is putting together a very nice all-around season.
5. Victor Martinez, DH, Tigers: It's a surprise the Tiger here isn't Miggy, but V-Mart has won MVP votes five times previously. Very underrated player has 21 homers, just 23 strikeouts and his .991 OPS is the only one close to Trout.
AL LVP (Least Valuable Player): Brian McCann, C, and Carlos Beltran, OF, Yankees. Who says Yankee Stadium is easy? The two stars, signed for a combined $130 million, have identical .671 OPS. Doubtful New York's to blame either, as McCann seems quite comfortable and Beltran has been there before (and still has a place in NYC).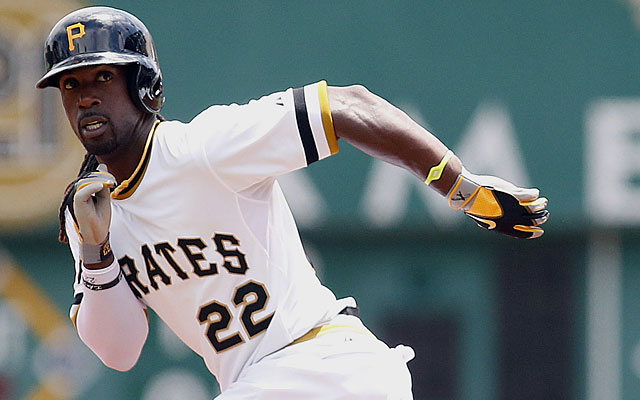 NL MVP
1. Andrew McCutchen, OF, Pirates: He has put himself in position to make it two straight MVPs. His .995 OPS is easily the best in the non-Coors Division. Superb and maybe even underrated all-around player who leads the Outfield of the Future.
2. Giancarlo Stanton, OF, Marlins: He's feeling better about the Marlins now, and it's showing. His 21 home runs top the NL (tied with Troy Tulowitzki, who has the Coors advantage), and he's even 8 for 8 in steals, taking advantage of his excellent speed. Miami could get quite a haul if it would consider dealing him (so far the Marlins are telling teams absolutely not).
3. Troy Tulowitzki, SS, Rockies: Said to be frustrated by the team's continuing difficulty to figure out how to combat Coors and get outs. He does quite well at Coors himself (and not too bad on the road, though not nearly as well as at home). His overall stats are by far the best in the league (1.048 OPS), though the best-in-baseball 5.7 WAR isn't showing up in the standings yet. He gave his consent to ownership to deal him to the right place, but so far Rockies owner Dick Monfort still can't stand the thought of losing him.
4. Jonathan Lucroy, C, Brewers: As he showed in the All-Star Game, he is a special hitter. Also doing a terrific job with the Brewers' pitching staff.
5. Todd Frazier, 3B, Reds: The outgoing New Jerseyan (along with catcher Devin Mesoraco) is carrying the Reds' offense as bigger stars Joey Votto and Jay Bruce battle injuries.
NL LVP (Least Valauble Player): Dan Uggla, 2B, and B.J. Upton, OF, Braves. Hard to believe this sort of underperformance isn't preventing Atlanta from contending. Upton, who has somehow retained his starting job, has a .215 batting average and .618 OPS and actually been the far better player of the two. Uggla, who has a .162 average and .472 OPS and just got suspended a game, reportedly for being late, is doing well not to be released.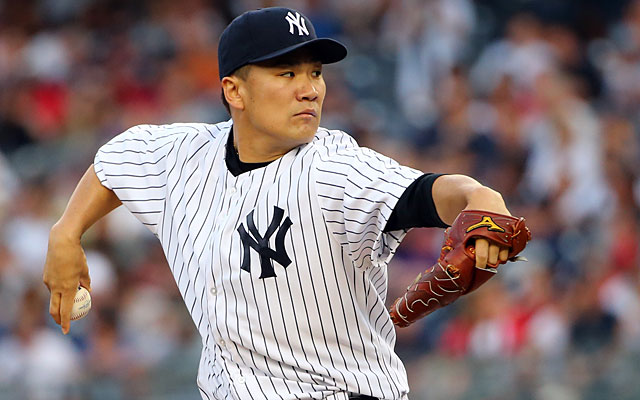 AL Cy Young
1. Felix Hernandez, SP, Mariners: The King's assortment of great breaking stuff is fooling hitters as much as ever, with his 0.90 WHIP and 2.12 ERA to lead the league among qualifiers (Chris Sale is an inning short of qualifying). He's also limiting opposing hitters to a .520 OPS, best in the AL. Nice to see the M's own hitters aren't hurting him too badly this season, as he's 11-2 to tie for top winning percentage with the Angels' Garrett Richards.
2. Masahiro Tanaka, SP, Yankees: He has been every bit the ace the Yankees hoped for when they paid $175 million to get him, with that 12-4 record, 1.01 WHIP and 2.51 ERA. Without him, they would be sunk. (And they'll have to see what that will be like for at least five more weeks as he recovers from a small elbow ligament tear.)
3. Chris Sale, SP, White Sox: His 0.89 WHIP and 2.08 ERA would lead the league if he had pitched one more inning. Having a similar season to Clayton Kershaw (without the no-hitter). Good job by the fans to add him to the All-Star team in the Final Player vote.
4. Scott Kazmir, SP, Athletics: What a brilliant and complete comeback from semi-retirement. His 0.93 WHIP and 2.38 ERA trail only the King among qualifiers.
5. David Price, SP, Rays: The record (9-7) isn't much to speak of, but he leads with 147 2/3 innings and 164 strikeouts (and a near 8-1 strikeout-to-walk ratio) and lately he has been as good as anyone, despite hearing all sorts of trade rumors. Richards, Jon Lester and Max Scherzer all deserve mention.
AL Cy Old (worst pitcher): Rickey Nolasco, SP, Twins. Perhaps he should have stayed in the NL. That 5.90 ERA is rough. Dishonorable mention to Ernesto Frieri, whose ERA is actually worse in the NL with the Pirates than it was with the Angels (13.50 to 6.39)
NL Cy Young
1. Adam Wainwright, SP, Cardinals: Forget the alleged "pipe shot" and the All-Star Game disaster. He has been brilliant, keeping the vaunted but injury-ravaged Cardinals rotation going while posting a 12-4 record and league-leading (among qualifiers) 1.83 ERA.
2. Clayton Kershaw, SP, Dodgers: His stats are the best, but Wainwright has thrown 41 2/3 more innings, thanks to the Dodgers' wisely cautious beginning with their franchise man. Hard to believe, but the two-time Cy Young winner is getting better, and that nearly 10-to-1 strikeout-to-walk ratio (126 to 13) is something else.
3. Johnny Cueto, SP, Reds: In  another year, he could be topping this list, as the 0.89 WHIP, 2.13 ERA, 143 2/3 inning and 141 strikeouts all rank in the top two in the league (he's first in innings and first in WHIP). Opponents are also hitting a league-low .181 against him. Some casino has him at 10-to-1 to win the Cy Young, and if that's legit (and not a PR thing, as I suspect), I would take that bet.
4. Julio Teheran, SP, Braves: Atlanta wisely locked Teheran up with a long-term contract as Braves backup catcher Gerald Laird's prediction that he would be a star has come true.
5. Zack Greinke, SP, Dodgers: Well worth the $147 million expenditure. And he gets bonus points for his brutal honesty/excellent quotes.
NL Cy Old (worst pitcher): Edwin Jackson, SP, Cubs. Paid like Nolasco, and pitching like him as well.
AL Rookie of the Year
1. Jose Abreu, 1B, White Sox: The brilliant Cuban import leads MLB with 29 home runs and a .630 slugging percentage. Can't go wrong with him or Tanaka here.
2. Tanaka: The injury will hurt his award chances, but no one should forget how he has kept the Yankees afloat.
3. Dellin Betances, RP, Yankees: Interesting to see the Yankees take 67 percent of the spots for top rookie. Astros slugger George Springer and Royals flamethrower Yordano Ventura are also in the mix for the third spot.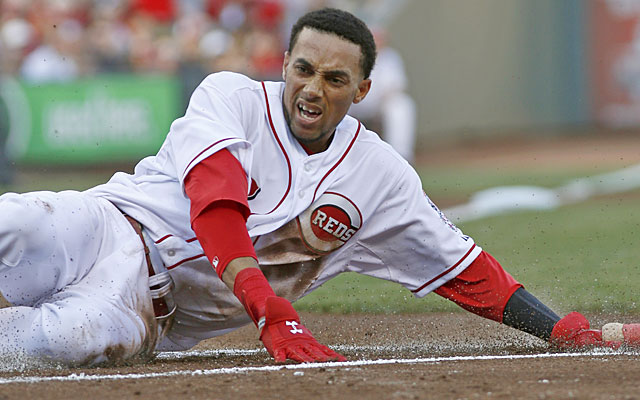 NL Rookie of the Year
1. Billy Hamilton, OF, Reds: He brings incredible excitement, and he has learned how to make that world-class speed work for him. Easy leader.
2. Chris Owings, SS, Diamondbacks: He's out with a shoulder bruise but still put together a very nice first half on both sides of the ball.
3. Tommy Kahnle, RP, Rockies: The hard thrower has been a terrific Rule 5 pickup. Gregory Polanco, who started his career with an 11-game hitting streak, is favored to move into the top three with a full second half, but his callup came too late to be there now.
AL Manager of Year
1. Bob Melvin, Athletics: He was the perfect fit for this perennially surprising (to many) team. This is the Billy Beane era, but he now has a manager worthy.
2. Lloyd McClendon, Mariners: Seattle may have found the right guy to motivate the troops. Nice to see this so-called retread get a second chance (Melvin's on his third, by the way), and he's making the most of it.
3. Brad Ausmus, Tigers: The rookie manager weathered one rough stretch, making it two guys in their first years with new teams on this list. Baltimore's Buck Showalter is doing his usually excellent job.
NL Manager of Year
1. Mike Redmond, Marlins: Sure, it's unusual to place a manager with a losing record in the top spot, but the Marlins have carried a terrific attitude throughout the first half, even after losing wunderkind Jose Fernandez to Tommy John surgery, and are on the cusp on the NL East race despite losing their final four games before the All-Star break.
2. Ron Roenicke, Brewers: He has kept Milwaukee in first place in a very tough NL Central.
3. Don Mattingly, Dodgers: He's commanding respect in a difficult outfield situation (hat tip to Carl Crawford for playing along, too) and getting the most out of Yasiel Puig, who looked lost at the All-Star Game in Minnesota without Mattingly (though that probably was coincidence).
Adell shows part of the reason why Los Angeles drafted him 10th overall in 2017

And, well, they're probably right

Supposedly, MLB execs have discussed letting teams hit any three hitters they want in the...
Keep tabs on the top 50 free agents on the market right here

After the departures of Steven Souza and Corey Dickerson, the Rays add a right-handed bat

Rasmus essentially walked away from baseball during last season