Troy Tulowitzki's dominance at home fueling insane start to 2014
Troy Tulowitzki has been the best hitter in baseball so far this season. His home ballpark is a big reason why.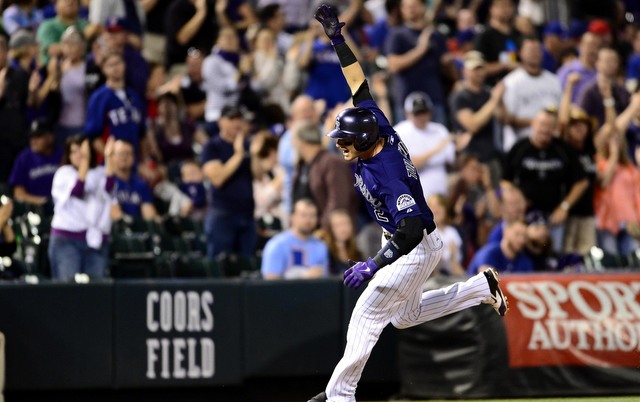 More MLB: Power Rankings | Expert Picks | Latest news & notes | Fantasy news
On Monday afternoon, Rockies shortstop Troy Tulowitzki was named the National League's Player of the Month for April. It was well-deserved. He celebrated by hitting two more home runs on Monday night.
Tulowitzki came into Monday's game hitting an absurd .400/.500/.730 in 30 games on the season. Then he went 2-for-3 with those two home runs plus two walks against the Rangers, raising his season batting line to .408/.512/.786. He has "only" nine homers, but that feels like a mistake. It feels like it should be 13 or 14 by now.
Anyway, Tulo's hot start would not be possible without the comforts of Coors Field, the best hitting ballpark in the big leagues. The ball not only flies in the thin mountain air, but because outfielders tend to play deep to cover the spacious outfield, more bloops drop in for base hits as well. It's a wonderful place to hit and Tulowitzki is fully taking advantage.
Following the two-homer night on Monday, the 29-year-old is now 28-for-47 (.560) at home this season. That is not a typo. Six doubles, six homers and 10 walks give him a .560/.667/1.106 overall batting line in 14 games at Coors Field. Small sample size or not, it's not everyday you see a 1.773 OPS. He's been remarkable.
Tulowitzki has not exactly been struggling on the road either, just in case you thought he was a product of his home ballpark and nothing else. He is hitting .250/.377/.518 with three homers in 19 games away from Coors Field, meaning he is still the most productive shortstop in baseball if you completely ignore what he's done in Denver.
A raw triple-slash line is fun to look at, but when you're talking about an extreme run environment like Coors Field, it's important to add context. According to weighted runs created, or wRC+, Tulowitzki has been 137 percent better than the league average hitter when adjusted for league, ballpark, handedness, the whole nine. The next best hitter is Jose Bautista at 185 wRC+. The gap between No. 1 (Tulo) and No. 2 (Bautista) is the same as the gap between No. 2 and No. 44 (Jayson Werth).
There's no doubt Coors Field has helped Tulowitzki's production, but, even when you adjust for his home ballpark, he has still been the best hitter in baseball by a large margin. This is 2001 Barry Bonds compared to everyone type of stuff. He's been that good so far this season.
It's easy to forget just how excellent Tulowitzki is because of all his injury problems. He's an elite hitter and an elite defender at shortstop who, had he stayed healthy these last few seasons, would have been on the Hall of Fame track. Tulo probably won't maintain a 237 wRC+ all season, but he will continue to be one of the best all-around players in the world and an MVP candidate if he stays on the field.
Sunday's MLB roundup features the D-Backs clinching a postseason spot and the Mariners going...

The 2017 season has been, by far, the worst season of Cabrera's career

The Mariners were eliminated from postseason contention with Sunday's loss
Maxwell became the first MLB player to kneel during the national anthem Saturday

The Blue Jays are not expected to bring Bautista back next season

The Dodgers have already clinched the NL West title, so the D-Backs will be a wild card te...